Summer is just around the corner, and the temperature outside is definitely showing it!
Quick Look at Our Top 6 Picks
And although you may want to catch the rays outside, you don't want to overheat while you're trying to sleep at night.
Cool bed sheets are a staple during the summertime, and can enhance the quality of sleep you get during those hot months!
Not only are cool bed sheets great for the warmer part of the year, but they're perfect for those hot sleepers that wake up in night sweats or have interruptive sleep because they overheat throughout the night.
Qualities of Cooling Bed Sheets
Cooler bed sheets have a couple of qualities in common that may help on your search for a cooler sleep at night.
Fabric: While looking for the best cooling bed sheets, most bed sheets are either made of bamboo (rayon) or microfiber. Lately microfiber bed sheets are increasing popularity, but they're especially known for their moisture-wicking properties, which is great for those night sweaters. Bamboo sheets are also known for their silk-like feels cool to touch, and their breathability.
Texture: This can play an important role in keeping the temperature down. Sateen weaves bring a silk-like feeling to fabrics that feel cooler on the skin.
Weight: Look for a lighter sheet! Durability does not always go hand in hand with the weight of a sheet. Thinner sheets are a great option for summertime, or if you're just looking to keep the temperature down so you can sleep through the night.
Product Reviews: Top 7 Picks
The Nectar Bed Sheet Set
Nectar's bed sheets are made with certified organic cotton. With a soft, silky feel and a luxury-hotel inspired satin finish, these sheets are ultra-breathable so hot air wicks away from your body all night long.  The single-ply 300-thread count construction helps to prevent wrinkles.
Every set of Nectar sheets comes with a luxury bottom fitted sheet, a luxury flat top sheet, and two luxury pillowcases. These sheets are available in Twin, Twin XL, Full, Queen, King, and California King sizes.
Pros:
Ultra-soft feel
Made with certified organic cotton
Sateen finish provides a silky feel
Cool, breathable, lofty weave
Wrinkle resistant
Cons:
Priced a little higher than some other brands
Only available in white
Linenwalas Ultimate Luxury Bamboo Sheets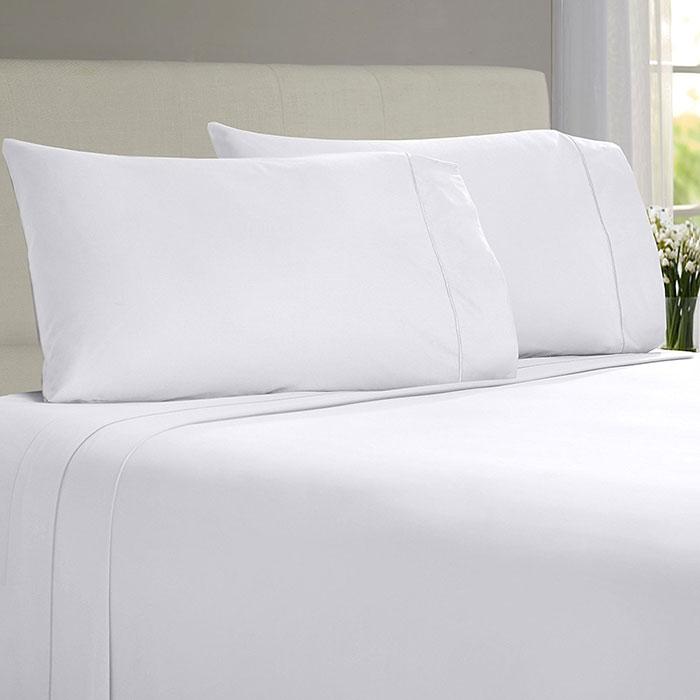 If you're looking for a set of luxury sheets, you've found them. These high-quality sheets are made of 100% natural rayon derived from bamboo.
They have a thread count of 300, and a sateen weave, which will keep you cool during the upcoming summer nights!
These sheets are breathable, and naturally moisture wicking, making them 3 degrees cooler than cotton sheets.
These sheets are on the thinner side, making them great for keeping down the temperature as well, and they resist pilling.
They also come in a rayon fabric bag with a fitting bed sheet, 1 flat sheet, and 2 pillow cases. It's recommended to wash in cold water, as hot water increases the chance of pilling, and to dry on low heat. To avoid wrinkles, remove immediately from the dryer.
Pros:
High quality bamboo sheets
3 degrees cooler than cotton sheets
Resists pilling
Moisture wicking
Breathable
Cons:
Wrinkle easily
Colors may differ from pictures
May not be good for allergies due to washing recommendations
Utopia Bed Sheet Set
Do you sweat in your sleep? These Utopia Microfiber bed sheets are moisture resistant, so they won't keep in the smell of your sweat.
This printed brushed sheet set has added softness due to its brushed microfiber yarns.
Extremely breathable, these sheets are great cooling bed sheets if you don't want to break the bank. To get the best results from your microfiber sheets, wash them before using, as they get softer with each wash!
Not only are these sheets extremely comfortable, but they're wrinkle resistant and hypo-allergenic.
This 4-piece set comes with a flat sheet with a 4-inch self-hem, a fitted sheet fitting mattresses up to 15 inches, and 2 pillowcases. These sheets are machine washable on easy care, and tumble dry low or air dry. If you like the dainty pattern of these sheets, there are also curtains and a comforter set that matches!
Pros:
Moisture resistant
Dainty pattern
Wrinkle resistant
Hypo-allergenic
Gets softer with each wash
Dries quickly
Cons:
Can be stiff at first
May not be exact match in pattern & color to the Duvet Cover Set
On the thinner side
CGK Unlimited Hotel Luxury Bed Sheets
What are some of the best cooling bed sheets? Microfiber sheets. While most are looking for the comfort of cotton with a high thread count, you can save half the money and buy brushed microfiber sheets.
These hotel luxury bed sheets are made of double brushed microfiber yarns, meaning both sides of the sheets are made with a silky soft texture.
Perfect for the summer months when the heat can interrupt sleep, these sheets are made to be breathable and cool.
This set comes with 2 pillow cases, a flat sheet, and a fitted sheet with deep pockets, fitting mattresses up to 16 inches.
With 6 color options, you can even find the best color to compliment your summer décor! Not only are these sheets inexpensive, but there's a bulk discount if you decide to buy more than 1 set.
Pros:
Softer after washing
Great customer service
Stay in place
Light and comfortable
Cute packaging (bag with tassel)
Breathable
Cons:
Thin sheets
Some have issues with pilling
Wrinkle a bit after washing
Cariloha Classic Bamboo Sheets
Looking for a cool bed sheet set for summer that is also eco-friendly? You've found them! These Cariloha sheets are made from luxurious viscose from bamboo, making them incredibly soft and great for the environment.
Not only are these sheets naturally breathable and moisture-wicking, but they are made out of twill weave, making them extremely soft to the touch. These sheets naturally repel odors allergens, and do not cause skin irritations like other chemically treated fabrics.
These Cariloha sheets are on the pricey side, making them an investment for your sleeping experience. They do have a lifetime quality guarantee, so if something happens to your sheets you can exchange them without a problem!
Pros:
Lightweight & Breathable
Soft
Made with extra deep pockets
Cooler than cotton sheets
Feel like silk
Cons:
Some experienced tearing
Pricey
Pillow cases are a bit narrow
Thinner sheets
PeachSkinSheets Night Sweats Sheet Set
Calling all hot sleepers! Just as the product name suggests, these sheets are made for those that sweat at night, and have a hard time sleeping due to the hot temperature.
These sheets are made with breathable SMART fabric that has moisture-wicking management. This material is made with athletic grade, and allows air flow while regulating cool as well as warm body temperatures.
That's right! Not only are these sheets great for hot sleepers, but they keep cool sleepers staying warm with its thermal control qualities.
While these sheets are an investment, you can feel the quality through their sturdiness. Not only are they soft from the start, but these sheets will only get softer with each wash. Also included with your purchase, is a 1 year warranty.
Pros:
Amazing customer service
Extremely soft sheets
Reduce night sweats
Durable sheets
Cons:
Can stick to body while sleeping
Pricey
Some have pilling issue
Mellanni Egyptian Cotton Striped Bed Sheet Set
This Egyptian Cotton sheet set is a steal. With a 450 thread count and a sateen weave, these sheets are made of high quality without having to pay a hefty price tag.
The sateen weave gives the sheets a feeling of luxury rather than the cozy feeling of flannel. While these sheets may be too hot for some during the summer, they're great sheets for cooler months if you tend to sleep hot.
These 100% cotton sheets even have a lifetime guarantee, allowing customers to receive money back if these sheets are not fully satisfying.
Included is 2 pillow cases, 1 flat sheet, and 1 fitted sheet fitting mattresses up to 16 inches. It is recommended to machine wash cold on a gentle cycle, and tumble dry low.
Pros:
Great quality material
Luxurious feel
Become softer after washing
Nice stripe detailing
Stay cool
Cons:
May be not very soft before couple washings
May run smaller than normal
Why Invest in Cool bed Sheets?
They're a simple fix if you're having trouble sleeping because you're waking up hot. While some mattresses do tend to retain heat, like memory foam mattresses, buying a bed sheet set is a much quicker fix to your problem. Plus, it's a lot cheaper.
If you're not a hot sleeper, these sheets are great for the summertime. No one wants to be sleeping in flannel sheets during the summer. These sheets will be thinner, and cooler on your skin, allowing you to enjoy the summer heat outside and not while you're trying to fall asleep.
Flexibility for your sleeping experience. Bed sheets are the clothes for your mattress, and just like we have different clothes for different occasions, seasons, and purposes, so does your mattress! Sheets can even differ in just style and appearance.
Final Thoughts
The hassle of waking up overheating during the night is finally over! Don't settle on sheets that constantly have you waking up in sweat.
You deserve to have a restful night's sleep without the worry of soiling your bed, and there are sheets that can easily solve this. Cooler bed sheets tend to be thinner, are usually made out of microfiber or bamboo, and have a silky or sateen texture to them.
Don't look far for a cooler night's sleep, there are plenty of options of cool bed sheets to make sure you're getting the best sleep you can possibly get. Happy sleeping!