We're able to sleep best when our bodies are at a cool and comfortable temperature. Of course, this isn't always possible. Sometimes bedrooms get too warm. People also get night sweats or hot flashes. This can be bothersome to begin with, and it can cause disrupted sleep too.
Luckily, there is one easy change that you can make. Cooling mattress pads are a relatively affordable way to make your sleeping environment more comfortable. They work to regulate your body temperature by keeping you nice and cool in any room.
Quick Look at Our Top 5 Picks
Considerations When Shopping for a Cooling Mattress Pad
Cooling Mechanism- One of the main contributors to a cooling mattress pad's price is how it's cooled. There are a few different ways that this can be done.
Some mattress pads have a built-in fan. Others have an Outlast cooling technology. There are some pads that have liquid systems.
Before purchasing a cooling mattress pad, you should decide which mechanism you like best. This can narrow your search. Additionally, it will give you a price range to plan for.
Price- Of course, you should consider the price of anything you buy. Mattress pads can be expensive, especially if they include a higher-end cooling system.
Before you start shopping for a cooling mattress pad, it's a good idea to set a reasonable budget. Look around and get some insight on price range.
Naturally, if you spend more you will get a better mattress pad. This isn't always an option for every budget. Take a look at reviews to find cooling mattress pads that will get the job done and not break the bank!
Size- This might seem like an obvious factor to consider, but it's worth mentioning. Make sure that the mattress topper you want to buy matches the size of your main mattress.
Sometimes, people will fall in love with a mattress pad and find out that it doesn't come in the correct size. Most companies do make these toppers in all of the right sizes, but it's worth being aware of early on!
Warranty- Warranties are important to some people and not to others. They offer a nice little bit of protection in case something does happen to your mattress pad. Of course, warranties are not always a necessity.
If you are interested in a warranty, be sure to look for mattress pads that come with a decent one. It's also worth checking what is included in the warranty. Some are more limited than others.
Brand- This isn't to say that the up-and-coming mattress brands can't produce worthwhile products. It is a good idea to do your research on a company before purchasing something from them. Check their reviews and how well their products hold up.
If in doubt, go with a well-known brand with great ratings. Don't be afraid to try a newer business, but just know that they may not have a reputation yet.
Comfort- Keep in mind that a mattress pad is going to be the topmost layer on your bed. Because of this, you'll want to make sure that the mattress pad you buy is extra comfortable.
Just as when shopping for a mattress, you should look for a mattress pad that is firm or cushioned, depending on your preferences.
Material- Mattress pads are made of different materials. These can play a role in how breathable and how durable your pad is.
Most often, you will get to choose between wool, latex, cotton, and gel-infused foam. These are all excellent options, but they have different purposes.
For example, gel-infused mattress pads are going to be the best for keeping you cool. Be sure to do your research on the material options you come across. Keep your needs in mind, and go for what works best for you.
Firmness- One thing that is worth noting is that these mattress pads are actually pretty firm. They work well for heavier people or anyone who doesn't like to sink into their mattress.
Of course, there are softer options as well. Be on the lookout for whichever option suits you well. When in doubt, go for something in the middle so you get the best of both worlds!
Durability- You can usually determine the durability of a product based on product reviews and the price. In most cases, you will want a durable mattress pad if your budget permits it.
It's beneficial if your mattress pad can last a few years. Buying a less durable, more affordable mattress pad might mean you will have to replace it often.
Having a durable mattress topper can also give you a peace of mind. You won't have to worry about being too careful with it.
Note that a mattress pad usually won't outlast a mattress. The pad is on top and will get the most wear and tear.
Compatibility- Some mattress toppers work best with certain mattresses. Others are more generic. You can even find mattress pads that are the same brand as your mattress if you'd like.
In order to ensure that your mattress pad works for your specific mattress type, try searching specific terms. For example, you can look for the best cooling mattress pad for tempurpedic mattresses or the best cooling mattress pad for memory foam.
Top 5 Best Cooling Mattress Pads Reviews
Before you purchase a mattress pad, it's a good idea to look for reviews and further information. If you find yourself asking, "What is the best cooling mattress pad?", this guide is for you! It can be easy to go with the best rated cooling mattress pad, but there are plenty of good ones out there!
Take a look at these mattress pads that can help you to sleep more comfortably. Then, we will get into some of the factors you should keep in mind when shopping. All of this should help you to make a more informed decision about the mattress pad you're buying, which can save you the trouble of returns and exchanges.
These are some of the best cooling mattress pads available! Continue reading to learn more about our favorites and their special features.
Exceptional Sheets Bamboo Mattress Pad with Fitted Skirt
View On Amazon
The ExceptionalSheets Bamboo Mattress Pad is our favorite for a number of reasons.
The top layer is made up of soft bamboo. The bottom is polyester and cotton. This makes for a very comfortable pad altogether.
It comes in six different sizes, from twin to California king. You won't run into any issues trying to find a cooling mattress pad to fit your mattress. Another upside of this mattress topper is that it's good at promoting airflow. It's hypoallergenic too.
It can shift easily on your mattress, which can be annoying. The filling itself is designed to stay in place, which is definitely more important. Other than that, it's a great mattress topper! It's very comfortable and can bring an older mattress back to life. It includes a skirt as well.
This mattress is on the more expensive end. It's worth the price, but it may not work for every budget. If you can spend the money on it, you will be very happy with it!
Pros:
Variety of sizes
Hypoallergenic
Easy to clean
Hassle-free 1-year warranty
Cons:
Shifts easily
On the pricier side
Leisure Town Overfilled Mattress Pad Cover
View On Amazon
This mattress topper is a little bit more affordable than the previous one, but that won't cause you to compromise on quality. The Leisure Town Overfilled Mattress Pad Cover works extremely well at regulating body temperature. It's breathable and comfortable. Note that it doesn't get too cold in the winter either. Many users have said that this is the best cooling mattress pad for night sweats.
This one is a bit thinner than some of the other mattress pads that made this list. It's lightweight, but that doesn't take away from its cushion. It's hypoallergenic too, so you don't have to worry about any allergens.
It comes in every size from twin to California king, so you have plenty of options. The California king, which is the most expensive and the largest, is under $100.
The Leisure Town Overfilled Mattress Pad Cover is waterproof to some degree, which helps with spills. It's machine washable if needed!
One downside is that the warranty information is not publicly available. This could mean that the warranty is limited or non-existent.
Pros:
Affordable
Variety of sizes
Lightweight
Hypoallergenic
Easy to clean
Cons:
No warranty information available
Could be too thin for some users
May not be quite as durable as other options
Lucid 3-inch Gel Memory Foam Mattress Topper
View On Amazon
Lucid is quickly becoming a well-known mattress company, and it's for a good reason! They have a collection of affordable mattresses and accessories. Their 3-inch Gel Memory Foam Mattress Topper is one of the best cooling gel mattress pad options. It's ventilated to help with overall airflow. This keeps the climate nice and comfortable.
This mattress topper comes in both 2-inch and 3-inch thickness options. Additionally, it comes in every size from twin to California king.
It has a unique blend of memory foam and plush gel, which works well to keep the temperature right where you need it to be.
Overall, it's very comfortable and easy to use. Some users have complained that it can tear easily. This is especially noticeable in households with pets.
Pros:
Affordable
Comfortable
Regulates temperature well
Variety of sizes
Variety of thicknesses
Cons:
No warranty information available
Can tear easily
Zen Bamboo Ultra Soft Fitted Bamboo Mattress Pad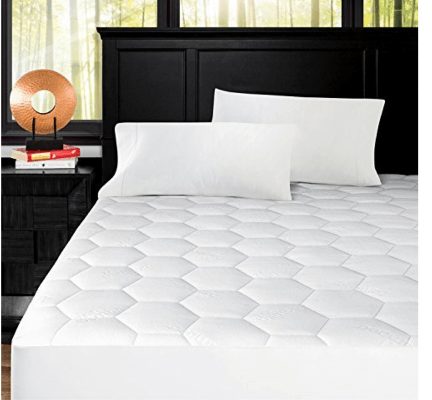 View On Amazon
The Zen Bamboo Ultra Soft Fitted Bamboo Mattress Pad is one of the least expensive options you'll be able to find. This could result in a slight compromise in quality, but it's still pretty durable. Plus, the cooling technology works well to regulate your body temperature. It's comfortable, but it keeps you cool.
We especially like how this cooling mattress pad is easy to clean. It can be washed in a regular washer and dryer.
One highlight is that this mattress topper has a nice elastic band to keep it in place. You won't have to worry about it sliding around too much. It comes in all sizes from twin to California king.
This one also has a 30-day satisfaction guarantee. You can give it a try for 30 days and see how you like it! The warranty information is not published.
Pros:
Extremely affordable
Elastic to prevent sliding
Easy to clean
30-day guarantee
Variety of sizes
Cons:
Less durable than other options
No warranty information available
Zinus 1.5 Inch Swirl Gel Memory Foam Air Flow Topper
View On Amazon
The Zinus 1.5 Inch Swirl Gel Memory Foam Air Flow Topper is the last on our list, but it's not a bad mattress pad at all. It's still functional and works great to regulate temperature. As mentioned about the previous topper, the quality might be slightly compromised. This is still a good option, especially if you're on a budget.
It comes in four sizes from twin to king. This isn't as wide of a selection as the others we have looked at, but it's still enough. It does come in four thicknesses, which is impressive.
It comes with a special air flow pattern, which works to keep you nice and cool throughout the night. It's super comfortable too.
Pros:
5-year warranty
Variety of thicknesses
Affordable
Comfortable
Cons:
Durability may be questionable compared to others
Limited sizing
Cooling Mattress Pads – Final Thoughts
Overall, there are plenty of excellent cooling mattress pads available. It's important to be aware of what's important to you so that you can make an informed purchase. Look at user reviews to get an idea of what features each mattress pad has and which one will best meet your needs.
We chose the ExceptionalSheets Bamboo Mattress Pad with Fitted Skirt as our favorite, because it has the most impressive features and is the most durable. It's one of the best options for cooling mattress pads available. You can't go wrong with it!
Any of the mattress pads that made this list will do the job and keep your temperature regulated throughout the night. You probably won't be disappointed with any of them! Look at what other users are saying and do your research about the company as well to be sure.
Cooling mattress pads can be a great way to fix any sleeping problems you might be having. They can add extra cushion and comfort while keeping your body from overheating. They are meant to be breathable and to improve your sleep quality. If night sweats are a concern, give one of these mattress toppers a try. Most of them are good about keeping you comfortable during the winter as well!