Many parents consider sleep sacks to be the answer to a prayer. Sleep sacks are the perfect alternative to baby blankets, which actually pose a risk to babies at a time when they are particularly vulnerable—when they are alone and unsupervised while mom and dad are trying to get some much-needed rest.
Quick Look At Our Top 5 Picks
In fact, this is where the idea for sleep sacks came from. One parent, and the original inventor of the sleep sack, tragically lost his daughter to Sudden Infant Death Syndrome (SIDS) and was determined to prevent other parents from suffering the same fate. The sleep sack became the solution that many parents were looking for: a safe way to keep your baby cozy and warm at night.
Sleep Sacks— Key Considerations
Material | Since their invention, sleep sacks of all kinds have been manufactured. One way in which they vary is in their material. The most common fabrics used for sleep sacks are cotton, fleece or microfleece, microfiber, and polyester, but the more you are willing to spend, the more options you have. However, the type of fabric you need mostly depends on the climate the sleep sack will be used in. As expected, cotton or microfiber would be best for summer nights, and fleece blends would be best for winter nights. You may want to consider owning a couple of sleep sacks, one for each situation.  
Either way, it is important to keep in mind that sleep sacks are intended to replace a blanket, not pajamas, so consider the fact that this will be a layer on top of clothing. You may also want to look into other options such as organic materials and materials free of toxins. Of course, the goal is to ensure that your baby is comfortable and won't become too hot or too cold while sleeping.
Design | Another way that sleep sacks vary is in their design. Experienced caregivers view sleep sacks as a great way to help babies transition out of traditional swaddling, and as a result, there are several designs that are meant to address each level of development. For very young babies, there are sleep sacks with "wings" that provide partial swaddling. As babies grow older, there are designs that allow for more movement, and for toddlers, there are designs that have openings for feet. Generally, the most common design is more fitted in the chest area but allows for limited movement in the lower body. This design fosters babies' natural tendency to kick their feet but doesn't give enough mobility for them to climb out of the crib, for example.
Two other design considerations to be aware of are sleeves and zippers. Many sleep sacks are sleeveless and give the baby more freedom, some have sleeves for warmth, and others are designed to keep the baby's arms inside the sack. The best option depends on your baby's sleep habits and the temperature in which they are sleeping. On a related note, zippers should always end near the baby's feet so that it is harder for them to reach and unzip themselves. The other advantage to this is that proper zipper placement can make diaper changes a dream instead of a nightmare.
Safety| As mentioned earlier, the most important feature of a sleep sack is that your baby is safe while wearing it. For several years, doctors have advised parents to keep cribs free of blankets and ensure that your baby sleeps on his or her back to prevent SIDS. Sleep sacks address these points by replacing blankets and limiting a baby's ability to flip over onto their stomach. When wearing a sleep sack, a baby still gets the soothing comfort and warmth of a blanket without the risk. The limited mobility also prevents babies from standing in the crib or climbing out of it. Finally, the wearable design of a sleep sack ensures that your baby's face won't become covered, keeping airways clear.
Size| Despite the loose-fitting design, sleep sacks come in several sizes, usually measured in months. This is especially crucial to consider because a sleep sack that is too large can pose many of the same risks a blanket does. On the other hand, a sleep sack that is too small contradicts the mobility a sleep sack is meant to provide. So, like baby clothes, you will have to size up over time. There are, however, certain sleep sacks that are adjustable to account for your baby's growth, which could save you from having to purchase more of them. Usually those sleep sacks have shoulder straps that can be fixed at certain intervals.
What Are the Top Six Sleep Sacks?
Here is a summary of the top six sleep sacks, each offering a unique combination of desirable features. All of these products are highly rated, and parent tested.
Halo SleepSack
View On Amazon
The Halo SleepSack is number one on this list because Halo is the original creator and manufacturer of sleep sacks and their sleep sacks are now used in hospitals. Halo has a full line of highly rated sleep sacks that vary in design, material, and function, and this is just one example. You cannot go wrong with any of their sleep sacks, but this one in particular is for basic, everyday use.
It is made with 100% cotton, microfleece, 100% cotton muslin, and plush dot velboa, and it is rated "Hip Healthy" by the International Hip Dysplasia Institute. The zipper is designed to end by the baby's feet for easy diaper changes and to prevent him or her from escaping. This sleep sack is sleeveless, which prevents babies from overheating at night. The front of the sleep sack is embroidered with the words "Back is best" to remind parents and caregivers that the safest way for babies to sleep is on their back. This particular Halo SleepSack is available in 4 sizes and 18 different colors.
Pros:
Medium weight for general use
Perfect blanket alternative
Cons:
Love To Dream Swaddle UP
View On Amazon
While most sleep sacks look like a v-shaped pillow case, the Swaddle UP sleep sack has a unique shape that keeps babies' arms by their head in a wing position. With this design, babies have a difficult time rolling onto their belly, and it mimics a baby's natural sleeping position that allows them to self-sooth throughout the night. This design more fitted than other sleep sacks to recreate the feeling of a womb, but it's not too tight to restrict movement.
Swaddle UP also has dual zippers that allow you to zip up or down for easy diaper changes, and it is rated "Hip Healthy" by the International Hip Dysplasia Institute. This sleep sack is made from cotton and elastane, which is breathable and suited for general, everyday use. It is available in 3 sizes and 5 different colors.
Pros:
Unique design allows for some freedom
Helps babies transition out of swaddles
Cons:
May be too tight in the neck line
Baby Deedee Sleep Nest Baby Sleeping Bag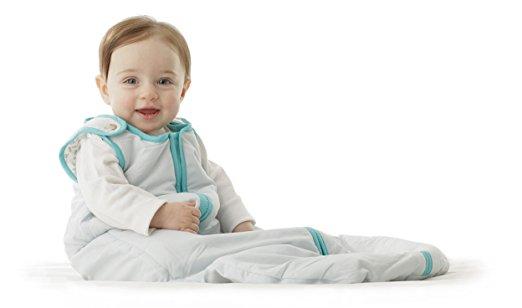 View On Amazon
The Baby Deedee Sleep Nest is a winter weight, high quality sleep sack. It has a reverse zipper that ends near your baby's feet and shoulder straps with snap closure. This sleep sack lays completely flat when open so parents can place it on their baby, even if he or she has already fallen asleep. It is sleeveless for freedom of movement, and it is made with a 100% cotton exterior and a quilted interior for warmth. With its cocoon-like shape and sleeveless design, this sleep sack helps the baby transition out of the swaddling stage. It is available in 3 sizes and 12 different colors.
Pros:
Keeps baby warm without overheating
Durable
Cons:
Neck opening may be too large
Teething babies may chew on snaps
Nested Bean Baby Sleep Bag
View On Amazon
The Nested Bean Baby Sleep Bag has unique and useful features. First, the two-way zipper travels down one side and around the bottom of the sleep sack, rather than down the chest, which opens a large flap for easy diaper changes. Next, there is a small weight on the center of the chest, which mimics the feel of mom or dad's palm gently resting on the baby and providing added comfort. Plus, the shoulder straps have two sets of snap closures for adjustment as your baby grows.
This sleep sack is made with 100% Peruvian cotton, is free of any toxins, and is medium weight for general, everyday use. It comes in 2 sizes and 7 different colors.
Pros:
Provides comfort even when mom and dad aren't there
Cons:
Teething babies may chew on snaps
Disney Wearable Blanket
View On Amazon
The Disney Wearable Blanket is an example of a basic, medium-weight sleep sack. It is made from polyester and microfleece, and it has a v-shaped design with no sleeves. The full-length zipper extends down the center of the sack and ends near the bottom for easy diaper changes. This sleep sack comes in 2 sizes and 7 designs and colors, each featuring an embroidered image of a different Disney character, such as Dumbo, The Little Mermaid, and Pooh Bear, among others.
Pros:
Soft and warm
Features favorite Disney characters
Cons:
SwaddleDesigns Sleeping Sack
View On Amazon
The Swaddle Designs Sleeping Sack is made from polyester microfiber and is suited for colder temperatures. It has a velvet fleece and puffy quilted feel and satin-lined edges for maximum comfort. This sleeveless sleep sack has an eggplant shape and a two-way zipper down the center of the sack for easy diaper changes. The SwaddleDesigns Sleeping Sack gives your baby the freedom he or she needs when transitioning from swaddling. It is available in 3 sizes and 13 different colors and designs.
Pros:
Soft and warm
Easy to clean
Keeps baby warm without overheating
Cons:
What Should You Use A Sleep Sack With Your Baby?
Safety is the number 1 reason to use a sleep sack with your baby, but there are several other advantages as well. To put it simply, sleep sacks make parenting easier. First, they ensure that your baby stays warm and cozy all night or during naps, which also keeps your baby asleep longer. And, when your baby sleeps longer, you get the necessary break or sleep that you need—no more waking up when their blanket falls off.
Additionally, sleep sacks can grow with your baby. As mentioned earlier, sleep sacks are the perfect tool for transitioning your baby out of swaddling. Plus, when babies grow into toddlers, they tend to kick their blankets off, and sleep sacks prevent that. And, if you want to save some money, there are adjustable sleep sacks that can adapt to all of your baby's stages.
Lastly, sleep sacks are perfect for travel. At a time when you have enough belongings to carry, one less droppable item can be a big help. Whether you are traveling by air, train, car, or boat, and no matter where you are going, your baby can get the comfortable sleep he or she is used to at home without a loose blanket that could get lost or tangled in stroller wheels.
Sleep Sacks— Final Thoughts
Although the invention of the sleep sack came out of an unthinkable tragedy, the good that the product has done cannot be discounted. There is no doubt that sleep sacks can make parenting much easier and less stressful. With all of the sleep sacks on the market, there is one (or several!) that can meet the needs of you and your baby. Switch out the baby blanket and replace it with a safer, more convenient option… doctor's orders!