If you have a sofa bed, it might be time to switch out the mattress. Sofa beds are often used for guests, so you might not even think about the mattress. Since it's likely used much less often than the rest of the mattresses in your home, it probably doesn't get replaced very frequently. This is pretty common, but sofa beds shouldn't be forgotten!
Quick Look At Our Top 5 Picks
Still, it's a good idea to replace a sofa bed mattress if you notice that it's looking worn or becoming less comfortable. Try it out to see how it feels. If it's uncomfortable, it might be time to get a new mattress for it. Your guests will thank you!
When you begin looking for a new sofa bed mattress, you should take a look at product reviews. You should also figure out what's most important to you in a sofa bed mattress. You might want a more durable sofa mattress or one that comes with a warranty.
We've done the tricky work for you. First, we've come up with some of the factors you should consider when you are shopping for a new sofa bed mattress. Let's take a look so that you can replace that old sofa bed mattress!
What Should I Consider When Shopping for a Sofa Bed Mattress?
When you begin searching for a new mattress for your sofa bed, you'll want to make sure you know what you're looking for. There are a few factors that you should pay more attention to in order to get what you want in a mattress.
It's good to note that the following considerations are general. Not everyone will need to follow all of them. It simply depends on your own personal prefereneces and what you're looking for in a mattress. Look through these and decide which ones are essential for your sleep or your guests' sleep.
Price
Some folks think that an expensive mattress equals a great one. This isn't always true. Some mattresses that are on the more affordable side function better than the more expensive ones. Don't let a high or low price fool you.
You might be tempted to buy the priciest mattress that you can afford, but it's totally unnecessary. Search for a mattress that gets good ratings and has the features that you're looking for. This might mean that you're buying a rather affordable mattress! There are some good mattresses that do cost a lot. This just isn't a requirement by any means.
Warranty
Not all mattresses come complete with a warranty. It just varies from one company to the next. Mattress warranties will protect you from manufacturer issues. You might be paying for some problems on your own.
For a sofa bed, you might not need a warranty. Most people don't use sofa beds regularly, which means there is less of a chance for something to go wrong with the mattress.
If a warranty is important to you, you should definitely look for a sofa bed mattress with one. They aren't a necessity for most people though!
Trial Period
Some mattresses come with trial periods so that you can test them out for a few days, weeks, months, or even an entire year. After the set amount of time is up, you get to decide whether you want to keep the mattress or return it. These trials can help to ensure that you are getting the mattress that you really wanted!
Not all mattress companies offer trial periods. If this is important to you, then you should make sure that the one you select has a trial period set up.
Durability
In most cases, your sofa bed mattress will only be used on occasion. Many people use sofa beds for their guests. Because of this, you likely won't need a super durable mattress. It's great if your sofa bed mattress is durable though. You'll have to replace it less often, which is one way to save money.
Evaluate how often the sofa bed will be used before purchasing a mattress. It's not necessary to get a very durable one if it won't be used often.
Firmness
Firmness is important because it can affect how well or how poorly someone sleeps. Because you might have a variety of guests sleeping on your sofa bed, you should opt for a mattress that's got a medium firmness. This will be firm enough for the guests who want a supportive place to sleep. At the same time, it will be plush enough for anyone who wants a more comfortable surface.
Size
When you're shopping for a sofa bed in the first place, consider the type of guests you will be having. Is it going to be single people or couples? This can help you to determine the size of the bed you should buy.
Once you own a sofa bed, you will want to make sure that you know what size it is. For most people, this isn't too tricky. It can be overlooked easily though. Just make sure you know the size of your sofa bed frame so that you buy the right size mattress.
Thickness
Some sofa bed frames can be uncomfortable. For this reason, it's important to buy a fairly thick mattress. You do want to be careful though. Some of your guests might prefer a thinner, more supportive mattress.
Since you might have different guests spending the night at your house, it's best to go with a medium thickness mattress. It should work for most of your visitors. Plus, they will usually only be staying over for a couple of days!
Best Sofa Bed Mattress Reviews
In order to help you make your final decision, we've taken a look at the sofa mattresses that are available. We've ranked them from our favorite to our least favorite. All of the mattresses that made it on our list are excellent choices. Keep your own personal preferences in mind as you narrow down your search.
Classic Brands Memory Foam Sofa Bed Mattress
The Classic Brands Memory Foam Mattress is our favorite sofa bed mattress available. It has everything that you could need in a full size mattress, but it folds up nicely when it's not in use. It's made up of memory foam and high-density poly foam, which provide support and comfort. This also works to relieve pressure. It provides the perfect combination of cushion and firmness, so it works for many users. It's ranked at about a medium firmness.
Another bonus is that the memory foam is hypoallergenic. It resists allergens, mold, bacteria, and dust mites. The mattress is only 4.5 inches thick, so it can be a little too thin for some users. This mattress is about the same price as most other sofa bed mattresses. You won't be breaking the bank to get a good sofa bed mattress. It's available in twin, full, and queen sizes. It comes complete with a 3-year warranty as well. There is no sleep trial mentioned. The customer service at Classic Brands is pretty helpful and responsive.
Pros:
3-year warranty
Medium firmness
Supportive and comfortable
Variety of sizes
Cons:
Might be too thin for some users
No trial period
Zinus Cool Gel Memory Foam Sofa Mattress
Next up, we've got the Zinus Cool Gel Memory Foam 5 Inch Mattress. It's made of 1 inch of memory foam and 4 inches of support foam. It's got a pretty firm feel to it, but it's still very comfortable. It provides the right amount of support for anyone with back or neck pain. The mattress is somewhat conforming, but it doesn't make you feel like you're sinking. The price is average for sofa bed mattresses. You can get a good deal on a great sofa bed mattress!
The exterior cover can be removed to be washed, which is nice. If you'd like to, you could wash it between guests or just as needed. A 5-year warranty is included. No trial period is noted. It's available in twin, full, and queen sizes. This accommodates most sofa beds.
Pros:
5-year warranty
Variety of sizes
Supportive and comfortable
Cons:
Might be too firm for some users
Might be too thin for some users
No trial period
PlushBeds Gel Memory Foam Sofa Bed Mattress
The PlushBeds Gel Memory Foam Sofa Bed Mattress is another awesome option. In total, this mattress is 4.5 inches thick. It's made of 2.5 inches of memory foam and 2 inches of polyurethane foam. It's thick enough that you won't be able to feel the bed frame, which is a common concern with sofa beds. This mattress also feels very sturdy and durable. It should last for years! Most users have reported that there's no strong odor like mattresses typically have.
It's available in the standard twin, full, and queen mattress sizes. Again, these options will work for most sofa beds. The warranty information on this mattress isn't published. This usually means that there isn't a warranty available. Additionally, no trial period information can be found. As with the previous two mattresses, this one is very reasonably priced.
Pros:
Variety of sizes
Supportive
Durable
Thick
Cons:
No warranty information
No trial period
Might be too firm for some users
Eco Mattress Store Sleeper Sofa Mattress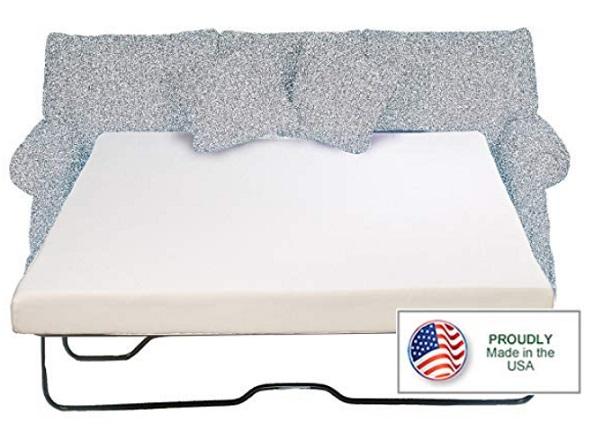 The Eco Mattress Store Sleeper Sofa Memory Foam Mattress is constructed with high density memory foam with a poly cotton cover. This creates a very comfortable surface to sleep on. Both you and your guests will love it! It's around the same price as the three previous options listed, which helps to make the decision easier.
Note that this mattress is only available in a queen size, so it won't work for everyone. One downside is that some users have been able to feel the sofa bed frame, which can cause some discomfort. This is because the mattress is only 2 inches thick. This depends on the design of the sofa bed though. It's got a 7-year warranty, but there isn't a trial period.
Pros:
7-year warranty
Comfortable memory foam
Good quality
Cons:
Only queen size is available
No trial information
Might be too thin for some users or sofa beds
Nature's Sleep Sofa Sleeper Mattress
The Nature's Sleep 4.5" Gel Memory Foam Sofa Sleeper Mattress is the most expensive mattress on this list, but it's still very affordable! If you have a little bit more money to spend on a sofa bed mattress, you might want to get this one. It doesn't boast a lot of extra features for the price. It's only available in full and queen sizes, so you will possibly be limited there.
The 4.5 inches are made of plush cool gel memory foam and high density support foam. It's thick and comfortable. The memory foam conforms to your body without making you feel like you're sinking. Some users have said that they can feel their sofa bed frame, which can be uncomfortable. There is no published warranty or trial information about this mattress.
Pros:
Comfortable
Supportive
Durable
Cons:
Might be too thin for some users or sofa beds
No trial information
No warranty information
Limited sizing available
Final Thoughts
As you can see, there are plenty of great sofa bed mattresses on the market. What's most important is that you find the one that meets the needs of you and your guests. This might seem like a challenge, but it's not too tricky with the right guidance. Using reviews and consumer opinions can help a lot!
Our number one pick isn't necessarily the best option. It's the one that we decided on based on our preferences and what we feel is important. Of course this is going to vary based on what you need in a sofa bed mattress.
As you search for a new sofa bed mattress, make sure you know what you want in a mattress. It's a good idea to prioritize all of the different factors listed above so you can make better decisions. Many sofa bed mattress searches begin with people looking for a cost-effective option. Durability usually isn't too important because sofa beds aren't used as often as regular beds. This might be different for you though!
Overall, there's not a bad mattress on this list. You can't go wrong with any of them, and they'll all give you or your guest a great night's sleep. We found just a few of the best ones available, but there are other great ones out there too if these don't work for you!