What Are The Benefits Of Having A Wedge Pillow?
We all say we need more hours in the day to get things done, but it we are truly honest I think a lot of us would use the extra time to catch up on some sleep! Not only do we love sleep, but we love having a good night's sleep and we enjoy simply relaxing and laying around the house as well.
Quick Look At Our Top 5 Picks
Sometimes however we find it particularly difficult to nod off to sleep, to find a comfortable position to relax in or find it difficult to even watch TV or read from our beds. Oftentimes we can not get to sleep because we have a lot of thoughts on our minds, or are not tired enough, but it could also be that our sleeping equipment, i.e our beds, blankets and most importantly, pillows, are not up to standard or not the proper pillow for us.
A lot of pillows on the market are great as pillows but perhaps they are simply not the perfect ones for you. You may also want a pillow that serves many more functions than simply sleeping or laying in bed at night.
For those of you who have difficulty sleeping due to breathing issues or if you snore in your sleep and keep your partner up all night, then you may consider a wedge pillow. Wedge pillows are designed and structured for you to sleep on a slight incline that allows you to breathe easier and the flow of air and open passageways keep you from snoring throughout the night.
The wedge style pillow is also a favorite for those who are wanting to be propped up in bed or to prop their legs up which might be something you need in the event that you have medical issues. Readers especially as well as avid television watchers tend to enjoy the incline that allows them to rest comfortably and recline while watching TV.
Wedge pillows do not have to stay only on the bed, like most pillows they are also great to be brought to different rooms, on the floor or sofa or chair. There are some very large wedge pillows but you can use the small ones just as effectively.
Does it matter what degree the incline of the pillow is?
The wedge pillows are obviously inclined and not flat pillows in the place you lay your head though the back is completely flat. The incline helps you to sleep, or be propped up more comfortably, but how much of an incline is a good amount.
This depends on your personal preferences to be completely honest with you, you need to know how much you want to be propped. You can try a few pillows out to see if you like a steep incline or a light slant in your pillow.
Some people prefer their pillows to be used primarily not for sleeping but for doing activities when you are in the bed. This may require that you have a steeper slant in your pillow that allows you to be sitting almost upright but more comfortably.
It you are looking for a wedge pillow for your snoring or breathing issues then you may want a flatter pillow that has just a slight incline that is easier to rest on. If you have a cough the incline may also help but you want it to be flatter so that you actually fall asleep.
Special considerations for creating this list
Slanted design: Naturally these pillows should all be wedged which means they should be slanted on one side and flat on the other. The degree of incline is not important when it comes to selecting but it is important that these pillows do not get mistaken for flat pillows.
Durability: The pillow you purchase should not have to be thrown out after such a short time, they should last for months on end and perhaps even years. It should hold up with continual use through the night, during daily use and you should not have to worry if you have been laying on it too often.
Without harsh chemicals: You may or may have not heard this before but a lot of people use harsh chemicals or heavy metals in cleaning and manufacturing products. These pillows are not cleaned, processed or packaged with any harsh chemicals.
Comfortable: Comfort is of course a high priority on the list of things to seek in a pillow and that we specifically choose for ours. You should have a pillow that does not cause you all day discomfort and that is made of soft material.
Top 5 Wedge Pillows on the Market Today
FitPlus Acid Reflux Pillow With Removable Cover
This pillow is one and a half inches thick and is made of memory foam in order to give you the most cushy, soft pillow. The pillow is very supportive without being too firm, and is also marketed as a therapeutic and ergonomic pillow.
For those of you with back or neck issues or who have broken something or have other medical issues you will find this pillow provides ample support. The pillow is 24 by 28 by 7.5 inches meaning that it will be a little larger than other pillows but will support you while you are sitting.
The pillow comes with a two year warranty which is great because if you find issue with it, then you can return it for your money back. This pillow is marketed to help with those who suffer from acid reflux as well.
Pros:
Washable
Strong
Soft
Inexpensive
Cons:
Some report it is a small size
Some report the cover is not high quality
InteVision Foam Bed Wedge Pillow
InteVision has created a double layer pillow that is based on a strong foam base and covered with a memory foam top to make the pillow both sturdy and supportive as well as soft and comfortable. The pillow comes with a 400 thread count, machine washable cover to keep your pillow clean and looking new regardless of how many times you wash it.
You can order one of these pillows in a small, medium or large size depending on your individual needs. The cover of the pillow is made with egyptian cotton and comes with a 30 day no hassle return policy.
Pros:
Two layer foam
Egyptian cotton cover
Supportive
Durable
Cons:
Some report the pillow smelling strongly
Some report extreme lower back discomfort
Restorology Elevating Memory Foam Pillow
This is a multipurpose wedge pillow made out of memory foam that is not only good for your head and back but for your legs as well when you experience pain. While the memory foam will expand and contract in order to mold to your body it will not lose its shape.
This pillow is sturdy and comfortable and made to be extra wide meaning you can stretch out and feel comfortable on this pillow. The cover of the pillow is made of microfiber that is soft and easy to remove in order to wash it.
Pros:
Study construction
Memory foam
Soft
Easy to wash
Cons:
Some report a very steep angle
Some said it is too small
Cushy Foam Memory Foam Wedge Pillow
The memory foam on this pillow is high density so you know that it can handle the impact of your body and keep its shape well. This is a nice sized pillow and will fit well on your bed or for use for you in a chair or on the floor.
The pillow is ergonomic as well as comes with a guarantee that it will help you to stop snoring and have a more comfortable night's sleep. The pillow comes with a breathable pillow cover that you can feel safe sending through the washer without doing any damage.
Pros:
Machine washable cover
Comfortable
Strong
Large size
Cons:
Some report difficult to sleep on
Some report it being too hard
Drive Medical Folding Wedge Pillow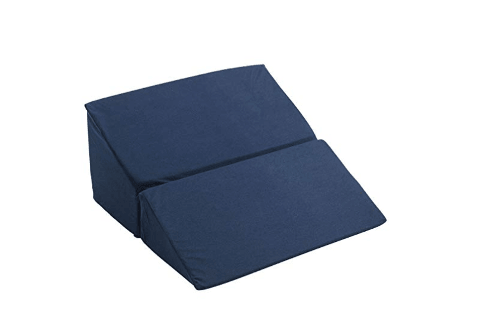 This is a medical quality pillow that is foldable and in wedge form to give you the optimal sleep experience throughout the evening. You can use this pillow as much and as often as you want without worry that it will lose shape or design and then fold it up for easy storage.
You can use the pillow either in wedge format or you can fold it up and have it as a rectangular pillow that is elevated. Either way you will get your head and neck or legs and feet propped up nicely when you need it.
Pros:
Large size
Supportive
Multipurpose
Foldable
Cons:
Some report it being very hard
Some report it being cheaply made
Closing Thoughts
There are a lot of different choices for a pillow to sleep on and even more for pillows to use around the house. If you have decided that a wedge pillow would best suit your needs and sleep pattern then perhaps it is time for you to start testing them out and trying the best one specifically for you.
When you decide on a pillow just check it to see that it will keep its shape and that is it hypoallergenic. Check the instructions to make sure that you know how to carefully wash the pillow in order to not ruin it.