After a long day at work, coming home to a Tempur-Pedic adjustable bed is the best way to wind down from a stressful day.
Nothing ruins the moment like your fitted sheet coming off the corner of bed in the middle of the night.
Sheets should stay on your bed, no matter what mattress you have. Not only do your sheets have to withstand your adjustable bed, but Tempur-Pedic mattresses tend to be thicker than most mattresses, making the hunt for the best sheets even harder. The sheets need to accommodate the changes in position as you adjust the bed for you. They also need to be deep pocketed with a durable elastic to ensure a secure fit.
Mattresses are a large investment, and the sheets you put on them are apart of that purchase. They can make or break your sleeping experience.
***Labor day is almost here and Don't miss Nectar's Labor Day Sale. Shop Now  !!
Other than the sheet simply fitting, then there are other details too, just like with any bed linen. We all have our own preferences when it comes to bedding. Different fabrics will make the sheets soft, cooling or warm. Some prefer cotton, while hot sleepers often prefer the cooler bamboo bedsheets. Then there are different prints and colors that add style and mood to the bedroom!
To help you pick out your next bedsheets, we've put together a list of the best fitted sheets for the Tempur-Pedic adjustable beds below. Your high-end bed deserves high-end sheets, but as you'll see, you don't need to spend a small fortune to get good quality. There are many great options out there that are also very affordable and you can easily find excellent sheets for Tempur-Pedic beds on a budget.
5 Top Sheets for Tempur-Pedic Adjustable Beds
Our 5 Top Bed Sheets Reviewed
Southshore Fine Living Linens Extra Deep Pocket Sheet Set
These Southshore Fine Living sheets have exceptionally deep pockets, that easily fit 19-inch mattresses, making them excellent for Tempur-Pedic adjustable beds. Not only are these sheets deep pocketed, but they're oversized in length and width, to make up for any mattress toppers or just thick mattresses.  Your sheets will simply stay on. The sheets are made out of microfiber and are both wrinkle and fade resistant for easy care. They are also double brushed so they are soft and smooth to sleep in.
All sizes of sheets (except for twin) come with 4 oversized pillowcases so no need to purchase extra pillowcases!
Pros:
Extremely deep pockets
Very soft
Affordable
Comes with 4 pillow cases
Extra room in length & width
Cons:
Thin
Seam goes down the side
Colors may not be accurate to pictures
Empyrean Bedding 14"-16" Deep Pocket Fitted Sheet 4-Piece Set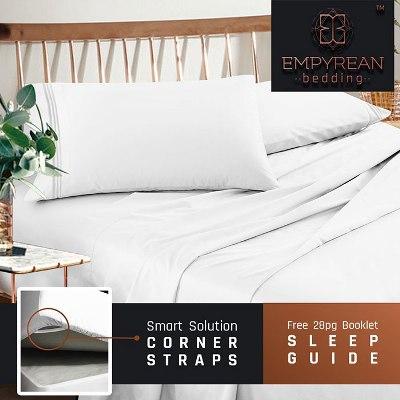 Who said luxury has to be expensive? These sheets from Empyrean Bedding will prove it. Made out of high quality microfiber, these sheets have the feeling of cotton but with more breathability. These sheets are both soft and crisp. It's hotel luxury for your home.
To ensure that your sheets stay on your Tempur-Pedic adjustable bed, these sheets are made with additional corner elastic straps to prevent the sheet from moving out of place when you adjust your bed or move in your sleep. They will fit mattresses 14 to 16 inches thick securely.
For those who have allergies, then you'll be happy to hear these are hypoallergenic sheets on top of being eco-friendly!
Pros:
Deep pockets & additional elastic straps
Extremely soft even before washed
Hypoallergenic
Not thin, feel substantial
Affordable
Cons:
Colors may not match advertised pictures
Elastic stretches out over time
California Design Den Cotton Sheets 600 Thread Count 100% Cotton Sheet Set
What's not to love about a set of 100% cotton sheets? If you're looking to invest in a set of sheets that will last you a long time, these are a great pick to complement your Tempur-Pedic mattress.
These 600 thread count sheets have a sateen sheen, making them not only pleasing to the eye, but also feel like luxury when you lay in bed at night. With high-end stitching, these sheets are a must-have if you're looking for a set of cotton sheets that will stay on your adjustable bed when moved. You can also sleep well knowing that these sheets are certified to be socially responsible, environmentally friendly and are free of harmful substances.
The fitted sheet fits mattresses 9 to 18 inches, so even if you have a topper on your mattress, it will stay on throughout the night.
Pros:
Good quality cotton
Fits mattress 9 to 18 inches
Luxurious weave
Certified environmentally friendly and socially responsible.
600 thread count
Cons:
Limited color availability
Some find sheet is not as soft as expected
Wrinkle easily
Mayfair Linen Egyptian Cotton Sheet Set
These bedsheets are an absolute steal! Not only do these sheets have an 800-thread count, but they're certified Egyptian cotton.
They also have a sateen weave, making them cooler and more breathable than other cotton sheets. If you're looking for cool and crisp sheets, like the ones you find at 5-stars hotels, then these are the sheets for you. They are highly breathable and hypoallergenic. Made with high quality stitching, these sheets are sure to stand the movement of an adjustable bed.
Additionally, these sheets have an 18" deep pocket to fit thicker Tempur-Pedic adjustable mattresses, or ones with mattress toppers.
Available in 20 colors, you're sure to find a color that suits your bedroom décor! Mayfair Linen has a return policy, allowing 30 days to return the product for a full refund.
Pros:
100% Egyptian cotton
Quality stitching
Cool & crisp sheets
Great value for the price
800 thread count
Cons:
King set comes with regular pillow sizes
Flat sheet may be too short
Some have gotten defective sets
Zen Bamboo Luxury Bed Sheets 1500 Series Bed Sheets
Indulge in a spa-like experience for your best night's sleep.
These high-quality bamboo sheets are sure to keep you cool and relaxed. Bamboo sheets are known for being softer and more breathable, making them a great choice if you tend to get too warm at night.
With a silky feeling, and durable quality, these sheets are great for your Tempur-Pedic adjustable bed. The Zen Bamboo Luxury sheets are both fade resistant and wrinkle resistant, so it's easy to care for them. Your sheets will always look sharp and crisp.
Additionally, thanks to the microfiber composition, these sheets are also hypoallergenic, stain resistant, and very lightweight. It also keeps the costs low to make these one of the most affordable bamboo bedsheets on the market.
Pros:
Cool & Breathable
Lightweight
Wrinkle-resistant
Extremely soft
Cons:
Very thin
Some found elastic to be weak
May have too much polyester for some
16 Additional Bed Sheets We Reviewed
Since the selection of bed sheets is so vast, we didn't want to stop at our top 5. Below you can find 16 additional sheets that are a good choice for your Tempur-Pedic bed. They include a range of fabrics, prices, and quality, so you can pick and choose for your needs.
Deep pocketed sheets, fitting mattresses up to 16 inches. The durability of the elastic, as well as the overall sheet set, will guarantee that your sheets stay on your Tempur-Pedic bed throughout the night.
Key features:
Soft, heavy sheets
Deep pocketed
Durable sheets & elastic
2. Bare Home Split King Sheets
If you have a split King size bed, then these sheets are for you. They fit up to 15" mattresses and are double brushed for a soft finish.
Key features:
Extremely soft double brushed microfiber
Deep pocketed for up to 15" mattress
Highly breathable
There really isn't much that beats classic cotton. These sheets are 100% cotton and have a thick elastic that wraps around your bed to make sure it stays on. All at a very affordable price.
Key features:
Affordable cotton sheets
Full wrap elastic
Comes with flatsheet and pillow cases
4. Meridian Gray and White Brushed Sateen Cotton Sheets
If you're looking for some a print on your bedsheets for added style, then these 100% cotton sheets are for you. 100% cotton with a sateen weave.
Key Features:
Fits up to 18" deep mattresses
Modern pattern with different color options
Full wrap plastic
5. Nestl Bedding Soft Sheets Set
These breathable and light microfiber sheets fit 14" to 16" deep mattresses. They're also durable and pet friendly. They don't snag easily, and fur hair doesn't cling to the sheets and will wash off easily.
Key Features
Pet friendly
Wrinkle free
Full wrap plastic
6. Feather & Stitch 100% Cotton Stripe Sheets
Give your bed a classic look with these subtly striped cotton sheets. Highly breathable, even for hot sleepers.
Key Features
15" deep pockets
500 thread count
Made of premium cotton yarn
7. Cosy House Collection Luxury Bamboo Sheets
Made of a mix of bamboo and microfiber, these sheets from Cosy House are breathable, hypoallergenic and wrinkle free. These bamboo bedsheets have 16" pockets and use premium elastic to stay in place.
Key Features:
Light, breathable sheets
Soft and durable
Strong, durable wrap around elastic
8.Royal Hotel Split California King Sheets
These are very affordable bamboo sheets that are excellent at regulating temperature. You won't get too hot, but you'll also stay warm on colder nights. But do note they should only be washed in cold water.
Key Features
Good temperature regulation
Low price for bamboo sheets
Strong, durable wrap around elastic
9. Taupe Solid 5 Piece Adjustable Bed Sheet Set
Another excellent value for money choice. These are classic cotton sheets that fit 18" mattresses with a wrap around elastic. Machine wash cold!
Key Features
400 Thread Count
100% Cotton
15" deep pockets
10. Pizuna 400 Thread Count Cotton Sheets
These classic 100% cotton sheets sheets will give you hotel luxury in your home. The come from an ethically certified factory in India so your purchase will also be socially responsible.
Key Features
Fits 15" mattresses
100% Cotton
Produced in socially responsible factory
11. Royal Collection 1900 Bed Sheet Set
These are very well made microfiber bedsheets that have the quality of bamboo or cotton. You'll be cool in summer and warm in winter. Wrinkle free and fits mattresses up to 16" thick.
Key Features:
Wash well
Very soft
16" deep pockets
12. 800 Thread Count Cotton Sheets by Linen Home
100% Egyptian cotton bedsheets with a satin weave for a smooth, soft feeling. Tested for durability, these sheets will also see no pilling and have high color fastness.
Key features:
Fits up to 19" mattresses
Complete set with flat sheet and pillowcase
100% Egyptian cotton
13. Boston Linen Co. 400 Thread Count Cotton Sheets
These 100% cotton sheets are not only soft and comfortable, but they are also environmentally conscious. You'll notice the packaging is made out 100% recycled craft material and there is no plastic used.
Key features:
Fits up to 17" mattresses
Sustainable and eco-friendly
Breathable, anti-pilling sheets
14. INGALIK Premium Bed Sheets
A set of extremely well made microfiber bedsheets that fit up to 14" deep mattresses. Super soft 120 GSM fabric for a cosy night.
Key Features:
Very soft
Breathable and warm
Easy care
15. Beflax Premium 100% Natural Linen Bed Sheets
If your style is more natural, these French linen bedsheets are made of flax fiber and have a warm, Provençale look. The sheets are stonewashed, soft, breathable and hypoallergenic.
Key Features:
Will not stretch or shrink
Natural, rustic chic
Durable and stronger than cotton
16. Lux Club Bamboo Bed Sheets
Great bedsheets at a low price, these sheets are made from a mix of bamboo and microfiber. Breathable with deep 18" pockets.
Key Features:
Very affordable
Mix of bamboo and microfiber
18" deep pockets
How to Choose Sheets for Tempur-Pedic Beds
The Tempur-Pedic bed is one of the best beds you can get, and you shouldn't compromise that perfect sleep experience with less-than-perfect bedsheets. There is nothing more annoying that having bedsheets come off on your otherwise luxurious bed. We also know it can be tricky trying to find sheets to fit the thicker Tempur-Pedic mattresses and that stay on when you adjust the bed. To help you navigate through all the options when shopping for bedsheets for your Tempur-Pedic online, here are some things you should look for:
Deep pocketed sheets: Mattresses on Tempur-Pedic adjustabled beds tend to be thicker with many different layers and it's not uncommon to see mattresses that are 12" thick. Therefore, you want bedsheets with deep pockets to make sure it fits the mattress. Extra deep pockets also help to make sure the sheets don't slip off when you move your bed into a reclining or sitting position.
Good elastic on the sheet: The elastic is what makes it a fitted sheet. This is especially important for bedsheets on Tempur-Pedic adjustable beds because you need them to stay in place when you adjust your bed. The whole point of this bed is that you can switch from sitting to sleeping easily and the last thing you want is to get up to fix your sheets just as you're ready to doze off! A thicker and more durable elastic in the sheet will also ensure that the sheet won't lose its hold after a few washes.
Cool sheets: Tempur-Pedic mattresses tend to be warmer than regular mattresses. Most of them are made out of memory foam, which means they trap in heat. This all sounds nice and cosy in winter, but sometimes it can get just a little too warm for hotter sleepers. Night sweats are no fun and by choosing bed sheets that are lightweight with cooler qualities like a sateen weave or a rayon fabric, you will sleep well through the night.
Easy care: Wrinkle free sheets will mean that you can pack the sheets away are they are washed, and when you eventually pull them out again and put them out on the bed, they'll still look crisp and sharp. Why spend time ironing bed sheets when there are a million other things you could do?
Fabrics for Tempur-Pedic Adjustable Beds
Here are a few fabrics that you may consider looking into:
Cotton: This is by far the most popular and well-known fabric but ranges a lot in quality and price. Egyptian cotton is generally considered the most luxurious when it comes to bed linen. But, cotton is an extremely versatile fabric and you will find both cool and breathable sheets, as well as soft and heavy sheets. No matter the season, cotton sheets are a solid choice.
Microfiber: As the most up-and-coming fabric, this is a great option for those looking for affordable bedsheets with a soft cotton feel. Other than being cheaper than cotton sheets, microfiber bedsheets are usually hypoallergenic, stain and wrinkle resistant for easy care.
Bamboo/Rayon:Rayon derived from bamboo is a great option if you get extremely hot during the night and are looking for sheets that are cool to touch. Bamboo sheets are becoming more popular because it's even softer than cotton. Not only are they smooth and cool to touch, but they are also sturdier and work better to wick sweat away. Silky and stretchy, bamboo bedsheets will give you the ultimate luxury hotel experience.
Frequently Asked Questions
Does my Tempur-Pedic Adjustable Bed need special bed sheets?
Yes and no. Tempur-Pedic adjustable beds can be changed into sitting and reclining positions on top of being just a flat bed, so the sheets need to be a bit deeper to stay on. A stronger elastic is also recommended, but otherwise it's just about finding something that fits your bed and your preferences!
Where can I find affordable bedsheets for Tempur-Pedic Adjustable Beds?
There are plenty of bedsheets on Amazon that fit Tempur-Pedic adjustable beds. Although they can be expensive, there are also many cost-effective options. The bed sheets we've listed on this page are of high quality, affordable and have excellent reviews from users.
How deep should the pockets the bedsheets for my Tempur-Pedic bed be?
This will vary according to your bed, but generally speaking, most Tempur-Pedic beds have mattresses that are at least 9" thick, and often more.  Usually the deeper the pockets the better and it certainly doesn't hurt if your pockets are a deeper than your mattress' thickness. If the pockets are too shallow, then the bedsheet is at risk of coming off.
What materials do bedsheets for Tempur-Pedic Adjustable Beds come in?
Just like regular bedsheets, you will find Tempur-Pedic adjustable bed sheets in a variety of fabrics. The most popular are cotton, microfiber and bamboo.
Why is it breathability important for Tempur-Pedic bedsheets?
Breathability helps to regulate temperature so you don't get too warm in your sleep. This is especially important for Tempur-Pedic mattresses because they are made of memory foam, which trap heat. Cooler, more breathable sheets will make sure you don't overheat and break into a sweat in the middle of the night.
Final Thoughts
You went all the way and invested in a Tempur-Pedic adjustable bed, one of the best sleeping experiences money can buy, so you shouldn't let mediocre bed sheets ruin it. Other than choosing sheets with deep enough pockets to make sure the sheets stay on, remember to keep breathability in mind as Tempur-Pedic mattresses are known for trapping heat as they're made out of memory foam.
As you see from our pick of bed sheets, there are lots of options out there, with many affordable ones too! Whether you prefer the classic cotton sheets, or bamboo bedsheets, or quality microfiber sheets, you can find excellent value for money online.
Other factors that may influence the feeling of your sheets can be the thread count, weave, or overall processing of making the sheets like the stitching.
All and all, the sheets you buy should be based on your sleeping preferences, and what keeps you comfortable at night.
Don't settle for your mediocre sheets just because of your mattress! You deserve a great sleep, and after investing in a Tempur-Pedic adjustable bed, you want sheets that will enhance the quality you already have. Happy sleeping!