After a long day at work, coming home to a Tempur-Pedic adjustable bed is the best way to wind down from a stressful day.
Nothing ruins the moment like your fitted shit coming off the corner of bed in the middle of the night.
Sheets should stay on your bed, no matter what mattress you have. Not only do your sheets have to withstand your adjustable bed, but Tempur-Pedic mattresses tend to be thicker than most mattresses, making the hunt for the best sheets even harder.
Mattresses are a large investment, and the sheets you put on them are apart of that purchase. They can make or break your sleeping experience.
Quick Look at Our Top Picks
What Kinds of Sheets to Look For
Never, fret. We're here to help with a list of the best sheets for Tempur-Pedic beds. First, it's important to know what qualities to look for in sheets when you have a Tempur-Pedic adjustable bed.
Cool sheets: Tempur-Pedic mattresses tend to be more hot. Since a lot of them are made out of memory foam, they trap in heat and make it harder to let air flow throughout the mattress. Sheets that are more lightweight, and have cooler qualities like a sateen weave or rayon fabric, will really help keep you more comfortable throughout the night.
Deep pocketed sheets: Deep pockets in a fitted sheet will make sure that sheets stay on your mattress without a problem. Tempur-Pedic beds tend to be thicker, with many different layers, and an uncomfortable sheet fit will mean an uncomfortable night's sleep.
Good elastic on the sheet: Elastic is an important part of the fitted sheet when having an adjustable bed. Ensuring the elastic is of great quality, will make sure that your sheets don't fall of the corners throughout the night. Make sure the elastic goes all the way around the fitted sheet as well!
Product Reviews: Top 5 Picks
Southshore Fine Living Linens
Looking to save a few bucks, but don't want to compromise the quality of your sheets?
This is a great option for you. These sheets have exceptionally deep pockets, that easily fit 19 inch mattresses.
This is great for Tempur-Pedic adjustable beds, so your sheets will stay on during the night. Made out of microfiber, these sheets are more affordable but they're double brushed, making them extremely soft.
These Southshore sheets are not only deep pocketed, but they're oversized in length and width, to make up for any mattress toppers or just thick mattresses. All sizes of sheets come with 4 oversized pillow cases, except for twin, so no need to purchase extra pillow cases!
Pros:
Extremely deep pockets
Very soft
Affordable
Comes with 4 pillow cases
Extra room in length & width
Cons:
Very thin
Seam goes down the side
Colors may not be accurate to pictures
Empyrean Bedding Luxury Bed Set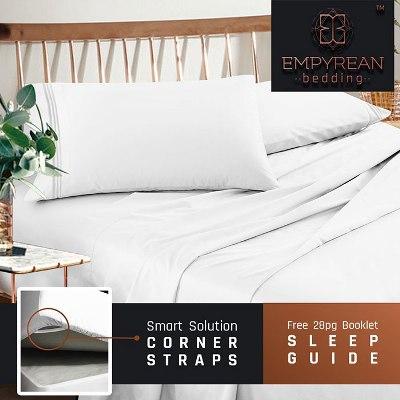 Who said luxury had to be expensive? These sheets will prove it. Made out of high quality microfiber, these sheets have the feeling of cotton but with more breathability.
Not only do these sheets have supreme comfort, but they also fit mattresses 14 to 18 inches. To ensure that your sheets stay on your Tempur-Pedic adjustable bed, these sheets are made with additional corner elastic straps on the fitted sheet to prevent the sheet from moving out of place when you may be adjusting your bed, or from moving in your sleep.
These sheets are also great if you are an allergy sufferer, as they are hypoallergenic and eco-friendly!
Pros:
Deep pockets & additional elastic straps
Extremely soft even before washed
Great customer service
Not thin, feel substantial
Affordable
Cons:
Colors may not match advertised pictures
Some believe deep pocket should be deeper
California Design Den Cotton Sheets
What's not to love about a set of 100% cotton sheets? If you're looking to invest in a set of sheets that will last you a long time, these are a great pick, especially if you have a more substantial mattress.
These 600 thread count sheets have a sateen sheen, making them not only pleasing to the eye, but also feel like luxury when you lay in bed at night. With high-end stitching, these sheets are a must-have if you're looking for a set of cotton sheets that will stay on your adjustable bed when moved.
The fitted sheet fits mattresses 9 to 18 inches, so even if you have a topper on your mattress, it will stay on throughout the night.
Pros:
Good quality cotton
Fits mattress 9 to 18 inches
Luxurious looking weave
Very well packaged
600 thread count
Cons:
Limited color availability
Some believe top sheet isn't long enough
Wrinkle easily
Mayfair Linen Egyptian Cotton Sheet Set
These sheets are an absolute steal! Not only do these sheets have an 800-thread count, but they're certified Egyptian cotton.
They also have a sateen weave, making them cooler and more breathable than other cotton sheets. If you're looking for cool and crisp sheets, like the ones you find at 5-stars hotels, then these are the sheets for you. Made with high quality stitching, these sheets are sure to stand the movement of an adjustable bed.
Additionally, these sheets have 15-inch-deep pocket to fit thicker Tempur-Pedic adjustable mattresses, or ones with mattress toppers.
Available in 11 colors, you're sure to find a color that suits your bedroom décor! Mayfair Linen has a return policy, allowing 30 days to return the product for a full refund.
Pros:
100% Egyptian cotton
Quality stitching
Cool & crisp sheets
Great value for the price
800 thread count
Cons:
King set comes with regular pillow sizes
Flat sheet may be too short
Some have gotten defective sets
Zen Bamboo Luxury Bed Sheets
Indulge in a spa-like experience for your best night's sleep.
These high-quality bamboo sheets are sure to keep you cool and relaxed. These sheets are 40% rayon derived from bamboo, and 50% brushed microfiber, making them extremely soft.
With a silky feeling, and durable quality, these sheets are great for your Tempur-Pedic adjustable bed. The Zen Bamboo Luxury sheets are great for those that are looking for wrinkle-resistant sheets, especially with the constant movement of an adjustable bed.
Additionally, due to the microfiber composition, these sheets are also hypoallergenic, stain resistant, and very lightweight. Great for a Tempur-Pedic bed, these sheets don't trap heat, making them extremely breathable.
Pros:
Cool & Breathable
Lightweight
Wrinkle-resistant
Extremely soft
Cons:
Very thin
Can pill
May have too much polyester for some
Sonoro Kate Bed Sheets
If you're looking for a great set of stretchy sheets, you've found them. Made out of microfiber these sheets are a great value for their quality.
They're made out of 1800 series ultra-soft double brushed microfiber, increasing the softness and smoothness of them.
While they are very affordable, you may even get a larger deal depending on the color. Be sure to compare color prices to get more money off!
These sheets are also deep pocketed, fitting mattresses up to 16 inches. The durability of the elastic, as well as the overall sheet set, will guarantee that your sheets stay on your Tempur-Pedic bed throughout the night.
Pros:
Extremely soft double brushed microfiber
Deep pocketed
Affordable
Durable sheets & elastic
Cons:
False advertised as Egyptian cotton
Needs more color options/better color options
After you've invested a lot of money in your Tempur-Pedic adjustable bed, get sheets that improve your overall sleeping experience, not ones that hinder it.
Having to constantly put your fitted sheets back on your mattress corners is incredibly frustrating, and shouldn't be happening to a luxurious mattress you paid a lot for.
While you may want to ensure your sheets are cooling, deep pocketed, and have durable elastic, it doesn't mean you have to compromise on the sheet fabric! If you like a certain fabric, go for it, but here are our picks.
Fabrics for Tempur-Pedic Adjustable Beds
Here are a few fabrics that you may consider looking into:
Cotton! This is by far the most popular and well-known fabric, but ranges a lot in quality and price. This fabric is extremely versatile, so you can find very cool and breathable sheets, as well as high quality soft and heavy sheets. For each season, and each preference, cotton is a great choice.
Microfiber. As the most up-and-coming fabric, this is a great option for those that want to keep their sheets more affordable but are still looking for that soft cotton feel. These sheets are also wrinkle resistant, unlike cotton, and great for those that are looking for hypoallergenic sheets.
Bamboo/Rayon. Rayon derived from bamboo is a great option if you get extremely hot during the night, and are looking for sheets that are cool to touch. These have the ultimate spa experience, feeling extremely silky and stretchy.
Final Thoughts
Other factors that may influence the feeling of your sheets can be the thread count, weave, or overall processing of making the sheets like the stitching.
All and all, the sheets you buy should be based on your sleeping preferences, and what keeps you comfortable at night.
Don't settle for your mediocre sheets just because of your mattress! You deserve a great sleep, and after investing in a Tempur-Pedic adjustable bed, you want sheets that will enhance the quality you already have. Happy sleeping!