With pregnancy comes many new challenges and being able to sleep comfortably is one of them. Ironically, your body needs extra sleep when pregnant, yet the pregnancy itself causes the insomnia. It's common for pregnant women to suffer from insomnia for no particular reason, or from a sore, growing body, heartburn, or having to get up frequently to use the bathroom.
Quick Look at Our Top 7 Picks
But just because it's hard to sleep while pregnant, doesn't mean it's not important to get rest—both mom and baby need extra sleep to be as healthy as possible. Fortunately, there are a variety of pregnancy pillows available that can help combat that insomnia by providing comfort and support everywhere you need it, no matter what stage of pregnancy you are in.
Pregnancy Pillows— What to Consider
Sleep Position: When you're carrying around a much bigger belly than you're used to, laying down can be uncomfortable, and the sleep positions you typically enjoy may not be an option anymore. It can seem like no comfortable position even exists, but with the right pregnancy pillow, finding a comfortable position is possible for back, side, and even stomach sleepers.
Your favorite sleep position is possible when pregnant, but there is a proper way to accomplish each one. For instance, if you like sleeping on your back, it is best to do so with your upper body propped up so that the extra weight of the belly isn't placing too much strain on your body, plus the incline can help alleviate heartburn. If you like sleeping on your side, it is recommended that you sleep on your left side to keep blood and nutrients flowing easily to the placenta. If you are a stomach sleeper, you will need a larger pillow that you lay completely on top of (like an air mattress), and it will have a bowl-shaped section to accommodate your belly.
The ultimate goal is to find a sleep position that is comfortable to you, and there will be a pillow that can address any of the issues that arise from it. For some, one large pillow will alleviate any and all stresses on your body, but others may find that they need multiple pillows, including between the knees or under the neck or lower back, to feel comfortable.
Types of Pregnancy Pillows: Although there are hundreds of pregnancy pillows on the market, there are about 5 designs that are most common: wedge, c-shaped, u-shaped, s-shaped, and the standard, rectangular body pillow.
Wedge pillows are usually made from a firm foam, don't take up much space, and they are most effective in supporting your belly or back. The other pregnancy pillow designs are large and bulky, usually running almost the full length of your body. Depending on how you use them, the c-shaped and u-shaped pillows can be wrapped around both sides of your body, and can support your head, neck, back, belly, hips, and knees all at the same time. The s-shaped pillows and rectangular body pillows are similar, but they don't wrap around both sides of your body.
Some women find that they are most comfortable with one design for their whole pregnancy, while other women change the pillow based on which stage of pregnancy they are in and their level of comfort. Since there is no real medical reason to use a pregnancy pillow, you can base your decisions about which pillows to use and when solely on what feels good to you. For example, you may find that a large body pillow, as well as another regular pillow, is a good combination for you, or one u-shaped pillow could be all you need for nine straight months.
Materials: Like regular pillows, most pregnancy pillows have polyester fill, but sometimes you will find pregnancy pillows filled with air, memory foam, or microbeads. In some cases, the type of pillow determines the type of fill it has because some materials are more adaptable to certain sleep positions. Either way, it's best to find the fill material that is most comfortable to you.
The most common material used for pillow covers is cotton, but in general, you should look for a cover that has a low thread count for breathability. Pregnant women are naturally warmer, so any material that can accommodate that is a smart choice. Additionally, a machine-washable cover with a long zipper will make your life a lot easier and will help your pillow stay fresh for a longer period of time.
What Are the Top Seven Pregnancy Pillows?
Here is a summary of the top seven pregnancy pillows, each offering a unique combination of desirable features. All of these products are highly rated, and sleep tested.
Queen Rose Pregnancy Body Pillow
The Queen Rose Pregnancy Body Pillow is a u-shaped, full body pillow with bionic polyethylene filling. This unique filling material will not lose shape, and it is ideal for side sleeping or lounging and relaxing. It provides adequate support in several areas of the body to prevent any pain and soreness. This pillow also features a cotton, machine-washable, durable, zippered cover that adds to the comfort. The Queen Rose Pregnancy Body Pillow measures 55'x31'x7.8' and weighs 5.5 pounds. Queen Rose offers a 90-day, money-back guarantee with the purchase of this pillow.
Pros:
Provides comfort on all sides
Stays in place all night
Moldable to your position
Relieves aches and pains
Cons:
Filling may be thinner than expected
Leachco Snoogle Original Total Body Pillow

The Leachco Snoogle Original Total Body Pillow has a c-shaped design that was created by a Registered Nurse and mom. This pillow hugs the body and provides comfort and support while staying cool all night. It supports your head, back, and belly, plus it takes the place of a separate pillow for between your knees. The cover is sham-style, and easily removable for washing. The pillow measures 60'x25'x7.2', weighs 3 pounds, and is free from any harmful toxins or chemicals. Lastly, the Leachco Snoogle Original Total Body Pillow is available in 6 colors.
Pros:
Very comfortable
High quality
Accommodates any height
Cons:
May seem overstuffed/firm
Cover may seem itchy
PharMeDoc Full Body Pregnancy Pillow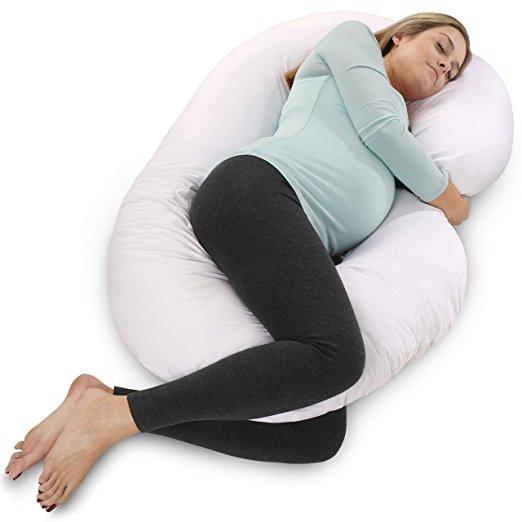 The PharMeDoc Full Body Pregnancy Pillow has a c-shaped design that wraps around the body on both sides. It supports the head, neck, back, belly, hips, and knees. This pillow has premium polyfill and a jersey-knit cotton cover that is zippered and machine washable, plus it is hypoallergenic and free from any harmful chemicals or toxins. It can be molded to fit any position while sleeping or lounging. The pillow measures 57'x30'x7' and weighs 7 pounds, and all seams are double stitched for durability. PharMeDoc offers a 30-day, 100% satisfaction guarantee with the purchase of this pillow.
Pros:
Soft materials
Moldable to your position
Relieves aches and pains
Cons:
hiccapop Pregnancy Pillow Wedge
The hiccapop Pregnancy Pillow Wedge has a low-profile wedge design that provides ideal support for your back, belly, or knees. This pillow allows you to choose your firmness based on your needs—one side has deluxe, soft memory foam, and the other side has firm support foam. It has a soft, washable velboa cover, and the filling foam is CertiPUR certified, meaning it is free from harmful toxins and chemicals. Plus, the perforated foam is breathable and stays cool. Lastly, this wedge pillow is compact, measuring 13'x15'x4.5', and lightweight at 12.2 ounces, making it perfect for travel.
Pros:
Support without bulk
Easy to remove and wash cover
Soft and comfortable
Perfect for late stages of pregnancy
Cons:
Shape and size may not fit every body
Leachco Back 'N Belly Chic Pillow
The Leachco Back 'N Belly Chic Pillow has a u-shaped design that supports all sides of the body equally, so it won't need to be moved or repositioned throughout the night. The support allows you to sleep comfortably without aches and pains in the back, neck, hips, or knees. It has a sham-style, removable cover for washing, and it has polyester fill. This pillow is moldable to whichever position is comfortable for you, whether sleeping, lounging, or nursing. It measures 51'x33.5'x8.8' and weighs just over 7 pounds, plus it is free from harmful chemicals and toxins.
Pros:
Contours to body
Provides comfort on all sides
Stays in place all night
Cons:
Takes up a lot of space in bed
May be difficult to remove cover
boppy Pregnancy Wedge
The boppy Pregnancy Wedge provide compact and portable support for the back, belly, and knees. It is lightweight, making it easy to move and reposition at night or while relaxing. This pillow features a soft, jersey cotton cover that is removable and machine washable, and it is filled with polyurethane foam. It measures 14'x4'x12', weighs just 9.6 ounces, and is available in 2 colors. The boppy Pregnancy Wedge offers firm support where you need it, at home or on the go.
Pros:
Relieves aches and pains
Portable and travel ready
Won't take up much space in bed
Perfect for late stages of pregnancy
Cons:
May not be comfortable for everyone
May be smaller than expected
Coop Home Goods Total Body Pillow
The Coop Home Goods Total Body Pillow resembles a standard, rectangular pillow that is extra-long. It is filled with shredded, gel-infused memory foam and microfiber that can be molded and contoured to your position and body, and it features a combination viscose rayon and polyester fabric cover. All of the materials are hypoallergenic, dust mite resistant, and CertiPUR certified (free from harmful chemicals and toxins). It measures 20'x54', weighs 6.65 pounds, and the entire pillow is machine washable. Additionally, Coop Home Goods offers a 100-night, no hassle trial as well as a 5-year warranty with the purchase of this pillow.
Pros:
Adjustable/moldable filling
Cozy and comfortable
Quality materials
Holds its shape
Cons:
Heavy to move when sleeping
Bulky/takes up space in bed
May have a smell at first
What Else Should You Consider When Using and Purchasing Pregnancy Pillows?
There are a few other points to take into consideration when deciding on a pregnancy pillow, including your comfort, the seasons you will be pregnant in, and the stages of pregnancy. Since choosing a pregnancy pillow depends on your perception of comfort, the best one is the one that relieves your aches and pains and lets you achieve restful sleep. But, what you think is comfortable may change throughout the duration of your pregnancy. For example, the late stages of pregnancy may require a more supportive pillow than you the one that made you comfortable in the early stages.
It's also important to consider the seasons of your pregnancy—pregnant women usually run hot and a bulky pillow could make that worse, especially during the summer months. For this reason, a pillow that will stay cool all night is desirable. Similarly, you will want to find a pregnancy pillow that is hypoallergenic because it is common for women to become irritated by materials that didn't bother them before. So, it's best to choose the healthiest option for mom and baby.
Pregnancy Pillows— Final Thoughts
Pregnancy is full of stress, aches and pains, and emotional ups and downs, and getting adequate sleep can help ease these for you and your spouse. A pregnancy pillow is the tool you need in order to rest effectively, and it provides support that a regular pillow, or multiple regular pillows, can't. So, it's easy to see that the benefits of a pregnancy pillow outweigh the price of buying one that is quality.
Hopefully, you now have a good idea of what to look for in a pregnancy pillow and you find one that is so comfortable that you will want to use it even when you're not pregnant.