Temperature is a touchy subject in most households. Central air conditioning and heating can raise the electricity bills to astronomical amounts when you're not paying close attention. And after you've come to a happy medium about the right temperature, not everyone's happy. Whether it's during the colder months of the year, or during the summer when the AC is blasting too high for your taste, an electric blanket is a great investment.
Quick Look at Our Top 5 Picks
Nowadays there are so many different types of electric blankets, you can find one for every need and situation. Electric blankets aren't just great uses at home to keep the electrical bill down, but electric throws are great for offices that keep the AC on full blast and as travel blankets!
Different Types of Electric Blankets
Electric blankets all have the same purpose: to keep you warm. However, you have a few options to decide which kind of electric blanket you may specifically be looking for.
Electric over-blanket: This is the electric blanket you place on your bed, usually on top of your bedding to keep you warm during the night or while you lay in bed. These blankets are typically designed to be lightweight, so they feel like a top sheet or blanket. Depending on the size of bedding you have, these blankets tend to have 2 controllers to regulate heat on both sides of the bed. The cords are most likely designed to go between your mattress and box spring, and then plugged into the nearest outlet.
Electric under-blanket: Similar to an over-blanket, an electric under-blanket goes on your bed like a mattress pad. This goes on the top of your mattress, and under your sheets so the warmth is coming from underneath you. By having a blanket or sheet on top of you as well, this will trap the heat in, keeping the heat in all night long. These electric blankets also usually have controllers on both sides of the bed for bigger bed sizes.
Electric throw blanket: This electric throw blanket is usually smaller than the other 2 options, and is great for providing warmth anywhere. Unlike the over-blanket or the under-blanket, this electric blanket isn't necessarily made to go on the bed, although that's still an option! This type of blanket has a simple controller and a cord that plugs into the nearest outlet. Whether you need a heated blanket in the office, while you travel, or when you're sitting on the couch, this blanket is great for any purpose.
Features in Electric Blankets
There are many different features that electric blankets can have, and deciding which ones are important to you, will help narrow down your options!
Time Programming: Some electric blankets have the option to program when your heating blanket turns on and off, allowing your bed to be warm when you crawl into it. This feature makes your electric blanket feel like luxury!
Heat Settings: Many electric blankets don't just have on and off buttons. Heat settings can range from low, medium high, to 10 different settings. This makes the blanket more versatile, and you can find your perfect temperature.
Dual Controls: A lot of electric blankets that are made for the bed have 2 controllers if they're a full bed size and larger. This allows for couples to each have their own controller on their side of the bed, and control the heat on their side of the blanket. No compromising is required!
Overheating Protection: A lot of electric blankets have an automatic shut-off feature to prevent the blanket from overheating. On electric throw blankets this tends to be around 3 hours, and on blankets for the bed it could be as high as 10 hours.
Temperature Sensors: More intuitive electric blankets can sensor your body temperature as well as the temperature around you to adjust the heat. This uses infrared heating, bringing warmth that's the perfect temperature.
Extra Foot Warmth: Some heated blankets may be designed to have a higher temperature at the feet, or foot pockets to ensure the blanket stays on your feet and keeps them warm.
Sunbeam Microplush Heated Throw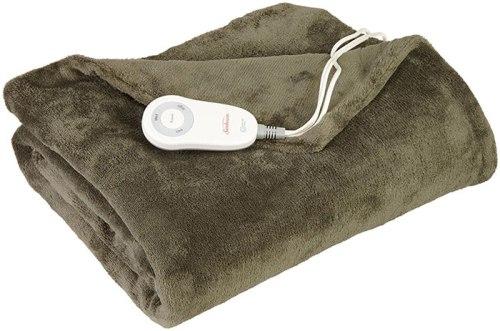 This is a great economical option, if you're looking for an electric throw blanket! Available in 6 different color options, this throw blanket also different in price based on what color you buy. If you're looking for the best bargain, compare colors! It's made out of 100% polyester MicroPlush fabric, making it incredibly soft and great for lounging around the house. This throw blanket is 50 inches by 60 inches, making it the perfect option to keep in your living room or bedroom when you're feeling a little cold. It has a lighted controller with 3 warming settings, and a 3 hour auto off function. There is a 6-foot-long cord, so you can plug in your electric blanket to the nearest outlet without a problem.
Pros:
Long cord
Ultra-plush microfiber (very soft)
Economical
Machine washable & dryer safe
5-year warranty
Cons:
Controller can get too hot & melt
Does not heat around edges of blanket
Utopia Bedding Electric Micro-Mink Throw
Looking for an electrical blanket, but don't want to overheat? Then, this is the heated blanket for you. Perfect to keep on the sofa or your bed, this throw is 50 inches by 60 inches long. It's made out of 100% polyester on the foam base, offering great insulation for those cold nights. This micromink electric throw is lightweight, unlike other bulkier blankets, making it the best electric blanket for those that get cold very easily. It has thinner and more flexible wiring, so it lays flat inside the blanket. This means, you won't feel all the wiring while cuddling up with your blanket. Another feature, is it's 3 hour auto shut off feature to make sure you and your blanket don't overheat.
Pros:
Lightweight
Thin wiring
Extremely soft
Great size for throw blanket
Machine washable
Cons:
No color options
Does not get very hot
Shavel Home Products Thermee Electric Blanket
This Shavel Thermee Electric Blanket checks all the boxes for durability. Made to place on your bed as a comforter or blanket, this Shavel Electric Blanket has 7 layers of warmth. It's made of heated micro flannel. The soft wiring is placed between an electrical damping cloth, then a layer of polyester on the top and bottom around this. Another layer of soft micro flannel is then on the front and back, quilted together with a satin hem for a stylish touch. Available in 9 different colors, you're sure to find a color that will match your bedding, and room décor! Packaged with control units for each side of the bed, the controller cords go between the mattress and box spring to the end of the headboard, so you don't see the wires.
Pros:
Warms up fast
Great quality, thick blanket
Ability to get very warm
Can't feel the wires
Cons:
Controllers do not have light to adjust settings at night
Heavy
Pricey
Sunbeam Microplush Throw Electric Warming
If you have pets, you might have to share this blanket. This electric throw is soft to the touch! Made out of velvet plush, this blanket is sure to keep you warm on those cool nights or when you want to save energy and keep the thermostat cooling during the winter. It's 50 inches by 60 inches, making it the perfect sized throw to have in the living room while you're watching a movie or in the bedroom when your comforter just isn't providing enough heat. It has a ThermoFine warming system, composed of 3 heat settings and a 3 hour auto shut off feature, so it doesn't overheat. Included is a 5-year warranty, making it a great investment! However, you may have to share it with your furry friends, as many reviews have stated their pets loved it as well.
Pros:
Lightweight
Very comfortable plush fabric
Holds heat well
Attracts pets
5-year warranty
Cons:
Cord is not long enough for controller
Controller is very sensitive to movements
Biddeford MicroPlush Analog Electric Blanket
This electric blanket is definitely more on the pricey side, but is also more substantial. Equipped with 10 heating settings and a 10 hour auto shut off, this blanket has a wider range of heating capabilities, which allows premium comfort for everyone. Depending on the bed size of your choice, this blanket either has 1 or 2 controllers, allowing users to regulate the heat directly from their bedside. It takes about 5 to 10 minutes to warm up to the temperature you desire, and after that you can adjust it accordingly to your needs. This blanket can also be used on the couch or wherever you need a little more heat to get through the colder months. Made out of MicroPlush material, this blanket is machine washable and can be dried on a low temperature.
Pros:
10 heat settings
Warms up fast
Great customer service
Machine washable & can be dried on low temp
Cons:
Arrived with odor
No light indication of auto shut off
Only available in 1 color
Beautyrest Heated Electric Throw
Just as the brand name suggests, this electric blanket will give you the beauty rest you need. Or, the relaxation you need. Find yourself always having cold feet? Unlike the other electric blankets, this one comes with foot pockets, making sure your feet are covered with optimum warmth. Perfect for a living room throw, or an extra layer of warmth if you're office is incredibly cold, this electric blanket offers 3 heating settings. It has an auto-shut off feature after 2 hours with UL/ETL safety standards. This Beautyrest heated electric blanket also comes with a 6-foot-long cord that attaches at the bottom of the blanket, making it extremely usable in any space with an outlet close by. It's also machine washable, and able to tumble dry on low heat.
Pros:
Foot pockets to keep feet warm
52 by 62 inches
5-year warranty & 30-day free return
Lightweight feel
Cons:
Only available in 1 color
Less heat at the foot of the blanket
Sunbeam Microplush Heated Throw Blanket
This stylish electric blanket is great for those looking for a heated throw, or even a travel heated throw! This Sunbeam blanket is 50 by 60 inches, making it perfect for a travel blanket if you tend to get cold during long flights. Made with MicroPlush comfort, this blanket is made with microfiber on both sides of the blanket. This makes for easy washing, and also keeps the blanket lightweight. While this blanket is more thin, so are the wires, so they don't get in the way of cuddling up for a warm snuggle. It has 3 different heat settings, allowing the user to adjust the heat to their desired temperature, with a 3-hour auto-off feature. It's machine washable and dryer safe as well!
Pros:
Stylish pattern
Warm & cozy
Not rigid
Lightweight
Machine washable & dryer safe
Cons:
Cord doesn't reach across full blanket
Only 1 pattern option
SunBeam Quilted Heated Mattress Pad
If you're looking for an electric blanket that goes under your sheets and on top of your mattress, this option is made just for that. This is an electric under-blanket, or a mattress pad. This is a great option for the colder times of the year, and also if you want to be "cocooned" in by warmth. This comes with dual controllers, meaning there is a controller for each side of the bed, and you don't have to have your settings the same as your spouses. It has 10 heating settings so if you tend to be cold at night all year round, you have the option to keep this mattress pad on and set to a lower setting. Made out of 100% polyester, this electric under-blanket is soft quilted, machine washable, and dryer safe.
Pros:
Dual controllers
10 heating settings
Machine washable and dryer safe
5-year warranty
Pre-heating function
Even heating
Cons:
May be able to feel wires
Can be very warm on low settings
Plug is at the foot of the bed
Which is the Best Electric Blanket for You?
There are many different electric blankets on the market today, and a lot of them look the same. Here are a few points that may help you determine which is the best electric blanket for you.
Why do you want an electric blanket? Do you find yourself cold while you're sleeping or are you looking for a blanket that will keep you warm while you're sitting on the couch watching a movie? An electric throw blanket can be used anywhere with an outlet, however an electric over-blanket or an electric under-blanket are made to specifically warm you will you're sleeping.
Are you concerned about safety? Many blankets have an auto-shut off feature that prevents the blankets from overheating, but this does not stop some controllers from melting or starting to melt. If you're main concern is safety, investing in a more expensive electric blanket with temperature sensors is a great way to ensure whoever is using this blanket is safe.
Do you want the heat to come from on top of you or below you? As mentioned above, there are electric over-blankets and electric under-blankets. Under-blankets are similar to mattress pads with heating capabilities, while an over-blanket is a heated blanket or sheet on top of you. Both work great, so this is a personal preference.
Is it important that your electric blanket is machine washable and dryable? Many electric blankets are safe to machine wash, and tumble dry on low, but be sure before buying that yours is too!
Beat the colds months, and high electric bills with an electric blanket. Not only are these an amazing Christmas presents for family members that are always cold, but they're great for those that work in freezing air conditioned offices every day. Sometimes regular blankets just don't provide the heat you need. Electric blankets can also work wonders to sooth aches and pains in the body, making them great for those with chronic pain or long-term illnesses. Next time you reach for a blanket, reach for an electric blanket.