Whether you're having trouble falling asleep at night due to anxiety, stress, pain, or symptoms from a disorder, buying a weighted blanket can change your sleeping experience. Weighted blankets are not only comfortable, but they make you feel secure and safe.
The weight and warmth from a weighted blanket use deep pressure touch stimulation, making your body calm and relaxed. Young children can especially benefit from weighted blankets as the blanket creates a cozy and protective environment, shielding them from external stimuli. Weighted blankets have also proven to have a positive, calming effect for teenagers and adults suffering from conditions such as ADHD, Restless Leg Syndrome, Asperger's, PTSD and Alzheimer's Disease, and they are often used in clinics and even in crime victim recovery centers.
But you don't need to have any of these conditions to enjoy the benefits from a weighted blanket. Who doesn't love the constant feeling of a hug?
If you're having trouble falling asleep or staying asleep, a weighted blanket is a great investment in your health. We've put together a list of the best weighted blankets you can buy online, plus some tips on what you should look for in your weighted blanket. Say goodbye to insomnia and hello to deep, restful sleep!
IMAGE
PRODUCT
 

Handmade in Austin, Texas
Wide variety of sizes, weights and styles
Sensory textured options available

VIEW LATEST PRICE →

Made of organic cotton
Good temperature control
Variety of weights and sizes

VIEW LATEST PRICE →

100% Cotton
Hypoallergenic beads
Available in 5 to 20lbs

VIEW LATEST PRICE →

Sensory textured side
Very soft and warm
Zip off option for easy cleaning

VIEW LATEST PRICE →

Silky softness
Breathable Smart fabric for moisture wicking
3-year warranty

VIEW LATEST PRICE →
Our Top 5 Weighted Blankets Reviewed
Mosaic Weighted Blanket
Available in more than 65 different colors and patterns to suit your sense of style, Mosaic weighted blankets are made in America using non-toxic materials, cotton fabrics, and BPA-free pellets.
This company stands out for its many options. Thanks to a helpful blanket weight chart, customers can use to choose the perfect blanket in a size and weight that's just right. After deciding on these important technical details, the fun of choosing a color and pattern begins.
There are suggestions for those who prefer to shop by style, such as classic, artistic, luxurious, or contemporary, as well as for those who would like to shop by age and/or gender. With so many options, it's easy to find a weighted blanket that complements your space while helping you relax and sleep without anxiety.
These weighted blankets are washable. Those weighing 12 pounds and under can be laundered in home washing machines. The company recommends washing heavier blankets in commercial washers on the gentle setting. Air drying is recommended.
Every Mosaic weighted blanket is handmade in Austin, Texas and custom blankets can be made on request. Free shipping is available on certain orders, and international shipping is available. While the company's focus is on weighted blankets, they also offer anxiety blankets, weighted wraps, lap pads, and weighted stuffed animals for children.
Pros:
Choose from more than 65 styles, colors, sizes, and weights up to 20 pounds
Promotes deep, uninterrupted sleep
Reduces anxiety and stress
Sensory textured options available
Cons:
Items purchased on clearance may not be returned
Poly beads are a bit warmer than glass
YmM Weighted Blanket
This YnM weighted blanket has many different blanket sizes and weight options for you to find your best weighted blanket. Made out of organic cotton, there is also an option to personalize your blanket by buying a cover, allowing you to choose a different fabric and color or pattern. The inside is made out of glass beads and polyfill. These are sewn into middle size compartments so that the weight is evenly distributed on the body.
The beads are hypoallergenic, non-toxic, and odorless, making this blanket great for anyone with allergies. The beads are also quiet when you may turn over during the night, and do not make the blanket bumpy like other plastic pellets. The inner weighted layer is machine washable on a low and gentle setting. It is also recommended to purchase a removable cover for easier cleaning.
Pros:
Machine washable
Made of organic cotton
Variety of styles & weights
Reduces stress & improves sleep
Affordable
Cons:
Some users have found the beads shift
Sizing a few inches shorter than advertised
Amy Garden Weighted Blanket for Anxiety
If you're looking for a basic and affordable weighted blanket, this is the option for you. The Amy Garden blanket is available in a few different weights and sizes that range from 5 pounds to 20 pounds. It's is made out of 100% cotton, and is filled with hypoallergenic glass beads.
These are evenly distributed in square departments, that you can see based on the stitching of the blanket. If you don't like how this looks or how the fabric feels, it's recommended to buy a duvet cover, which also makes it easier to wash your blanket. The blanket must be dry cleaned. It may take 3 to 7 days for your body to adapt to the weight of the blanket, and to see the full affects.
Pros:
Made out of 100% cotton
Basic options of weights & sizes
Affordable
Hypoallergenic beads
Keeps warm, but not too warm
Cons:
Could be better quality stitching
Not machine washable – recommended to get cover
Platinum Health Premium Weighted Blanket
Don't want to go through the hassle of deciding which weight your blanket should be? This Premium Weighted Blanket is 60 inches by 80 inches and only comes as a 12-pound weight option. There is a 15-pound option available through this brand if you prefer a heavier blanket though.
One side of the outer cover is made out of 100% minky polyester, making it extremely soft and smooth. The other side has a textured pattern for those that like to fidget or have sensory disorders. This weighted blanket doesn't have bulky stitching or square pockets to keep in the inside weighted system.
This inner weighted system is made out of 100% cotton and polyfil, allowing the feeling of the blanket to stay smooth and flat. This weighted blanket is made as a 2-part construction for easy washing and cleaning, as the outer part of the blanket zips off.
Pros:
Sensory textured side
Comes in 5 different colors
Zip off option for easy wash & cleaning
Minky outer cover
Great for sensory disorders
Cons:
Some find it retains too much heat
Weighted part can move within cover
Pricey
YnM Weighted Blanket for Kids
Looking for a more luxurious weighted blanket? If cotton isn't your style, this bamboo silky blanket is sure to do the job. Not only does it have a more stylish look with its shiny and silky material as well as its calming color, but it also will help you sleep cooler.
A lot of times heated blankets can be extremely warm, and if you're already a hot sleeper, it will only make you sleep hotter. Thanks to the bamboo fabric, this weighted blanket is breathable and moisture wicking, allowing you to have the weighted feeling you need to sleep better while also keeping cool.
While many weighted blankets have the potential of the weighted beads leaking through the stitching, this weighted blanket is equipped with a double layer structure and a 3-dimensional lock bead sewing method, so the weighted beads cannot come out.
Pros:
Extremely cooling
Breathable
No risk of weighted beads leaking
Very well-made
Great customer service
Machine washable but recommended to spot clean
Cons:
Pellets could slide to the sides
A bit pricey
Additional Weighted Blankets We Reviewed
1. ZonLi Weighted Sensory Blanket
This Zonli Weighted Sensory Blanket comes in various colors and styles, making it extremely versatile and great for broad range of needs. This weighted blanket is made out of 100% natural cotton, making is more breathable and durable.
Key features:
Available in many colors and styles
Made out of 100% natural cotton
Variety of weights & sizes
2. Quility Premium Adult Weighted Blanket
You can customize your Quilty weighted blanket. There is a wide range of dimensions and weights from 5 pounds to 25 pounds, and comes with a removable Minky cover with textured bumps to increasing the sensory elements to the blanket.
Key features:
Removable, machine washable cover
Wide variety of sizes & weights
Choice of cover fabric
3.LUNA Adult Weighted Blanket for adults and kids
Luna weighted blanket is constructed to regulate temperature and remain breathable all through the night. It is covered in a soft cotton fabric filled with a cloud-like fabric and the glass beads woven into it for even weight distribution. The blanket is hypoallergenic and free of toxic substances, making it entirely safe to use for children and adults.
Key features:
Sturdy, has excellent stitching and made of 100% cotton
Breathable
Available in several sizes and colors
4. Weighted Blankets Plus (Children)
Specifically made for children, this 100% cotton weighted blanket comes with option to choose by weight and by pressure. There are also many fun animal patterns to choose from.
Key Features:
Variety of sizes & pressures
Fun prints for children
100% cotton
5. YnM Weighted Blanket for Kids
This 100% cotton YnM Weighted Blanket has weight options from 3 pounds to 30 pounds, making this product great for children of different ages and weights.  It's extremely soft and the weight is evenly distributed thanks to the small pockets.
Key Features
Very Soft
Even weight distribution
Made out of 100% cotton
6. Relax Eden Adult Weighted Blanket
Slightly pricier but this is a very well-made weighted blanket. It's 100% cotton and comes with a soft, silky, removable cover for easy wash and care.
Key Features
Comes with removable cover
Excellent craftsmanship
Evenly distributed weight
A 15 lb weighted blanket with that comes with both a Minky cover as well as a silky cover. Made out of microfiber, so you can easily adjust according to the temperature. Even weight distribution with the small squares.
Key Features:
Comes with a Minky cover and a cooler silky cover
Evenly distributed weight
Affordable
8. WONAP Cooling Weighted Blanket
Although a bit more expensive, this is a quality, bamboo weighted blanket is soft and silky to touch. The bamboo fabric also makes it a much better at staying cool than cotton.
Key Features
Very well-made with durable materials
Soft and cool
Hypoallergenic and odorless glass beads
10. Weighted Idea Cool Weighted Blanket
Available in different weights, sizes and colors, this is a soft weighted blanket made out of cotton. The price is also affordable.
Key Features
Affordable
Soft cotton
Different sizes and weight options
This is a plush, weighted blanket made with a cozy and super soft velvet. This does make it more difficult to wash, but adding a cover will make it easier to care for.
Key Features
Very plush and soft
Available in 15 and 20lbs
Affordable
11. Weighted Evolution Weighted Blanket
This is a well-made weighted blanket with evenly distributed weight. It also stays cool, which is excellent for hot sleepers. Bonus points for coming with a bamboo duvet cover for easy cleaning.
Key Features:
Even weight distribution
Excellent temperature regulation
Comes with removable bamboo cover
12.Vtom Cooling Weighted Blanket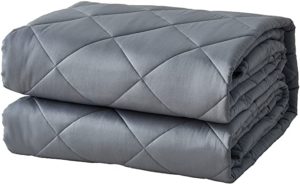 Vtom blanket features compartments with each one housing glass beads that are sewn into place to prevent leaking and to distribute the weight evenly. The blanket is devoid of toxic chemicals, soft and made of quality breathable materials.
Key features:
Very soft and comfortable
Great temperature control
Affordable and easy to clean
This weighted blanket from Kpblis is soft and uses advanced stitching to prevent quilt cracking or bead leakage. Available in weights from 5 to 20 lbs.
Key features:
Soft and comfortable
Well-stitched quilt
Affordable
14. Dozeology Cooling Weighted Blanket
Dozeology uses an advanced stitching technique so that the beads won't leak and the weight of the blanket is evenly distributed. Ships with a soft cotton cover for easy care.
Key Features:
Not too warm
Well-stitched
Comes with soft cotton cover
15. Isilila Glass Weighted Blanket
This is a 100% cotton weighted blanket that's soft on your skin. It's very well-made and comes in different sizes for both kids and adults.
Key Features:
100% cotton blanket
Strong craftsmanship
Sizes and weights for both adults and children.
16. Degrees of Comfort Weighted Blanket
This is a soft and fuzzy weighted blanket that's perfect for a cozy night. Anti-static so that pet hairs don't stick.
Key Features:
Plush and cozy
Repels pet hair
Weighs 15 lbs
Choosing the Size & Weight of a Weighted Blanket
Once you start looking at weighted blankets, you may notice there are a lot of options. There are so many different sizes and weights that it can become overwhelming.
If you're using a blanket that's too heavy, especially on a child, it can become a safety hazard. If you are buying a weighted blanket for a child, you should check with a doctor first.
A general guideline for deciding how much weight you should be looking for in a weighted blanket is using what's called the 10% rule.
If you take the user's body weight and multiple it by 10% and then add 1-2 pounds, this can be used as a general guideline. However, there is room within this for personal preference. Generally speaking, the larger the blanket you get, the lower the weight per square inch will be. Alternatively, the smaller blanket you buy, the higher the weight per square inch will be.
There are many Queen-size weighted blankets available and it may be tempting to get a bigger blanket to share with your partner. However, do remember that you won't get the full hugging effect from the blanket when you share it because it will create a small "tent" where the side of your body next to your partner will not have the blanket falling on it.
What to Look for When Shopping for a Weighted Blanket
With many weighted blankets out there, it may be hard to choose the right one for you. Consider these elements:
Weight & Size:Make sure you're buying the right weight (10% of your body weight + 1 or 2 pounds). This will make sure the blanket is effective and safe. Be especially careful when buying weighted blankets for children, and do not put the weighted blanket above your shoulders.
Material:The material can make or break the experience, especially for those with more sensitive skin or sensory disorders. However, sometimes simply adding a cover may solve the problem. Some weighted blankets have one side of fabric with bumps to help stimulate the user further.
Machine Washable: Some weighted blankets do not come with a cover over the and are not machine washable. Usually if a weighted blanket does not come with a cover there is an option to buy one, and this makes it much easier to keep your weighted blanket clean.
Price:Weighted blankets can vary drastically in price. This can depend on the craftsmanship, the durability of the blanket, or the size of the stitched squares that usually hold the weighted beads. Smaller squares usually mean more evenly distributed weight, and polyfill also means less noisy.
Return Policy:A weighted blanket can be expensive and the option to return it is important. Although the weight of these blankets can help sooth a lot of anxiety, irritability, and much more, it still is a weighted feeling. Some people like the idea of weighted blankets but may end up finding them claustrophobic, which takes away the relaxing effect of the blanket. Plus, great customer service is always appreciated. Do note that it can take a few days to a week before you feel the effects of the weighted blanket.
Frequently Asked Questions
Who Should Use a Weighted Blankets?
Weighted blankets have been proven to help those who struggle with anxiety, sleeping disorders, sensory disorders, PTSD, and many more. They've also long been used to help children with Asperger's and autism to feel calmer.
Can Anyone Benefit from Weighted Blankets?
Although lots of people do find weighted blankets to have a positive effect to their sleep and just generally cozy to wrap around, some may find them claustrophobic. However, most of these blankets do come with a return policy should you find that they're not for you.
How do Weighted Blankets Work?
Weighted blankets use deep pressure touch stimulation that increase serotonin and melatonin to help sleep, all without drugs. This ultimate form of relaxation help improves sleep for many and can improve sensory integration as well.
What's the Difference Between Glass and Plastic Beads in Weighted Blankets?
The blankets' weight come from tiny beads, which can be made of glass or plastic. Although the difference is not usually noticeable, some lower quality plastic beads may have an odor and may retain more heat.
How Can I Choose a Blanket with Evenly Distributed Weight?
The beads are held in pockets. Smaller pockets will help to ensure that the beads don't all shift to one end. Good stitching will also mean prevent the beads leaking.
Are Weighted Blankets Heavy?
Yes. For adults, they're usually 10 to 15 lbs. There's no getting around this because you need the weight to feel the benefit of the pressure.
Are Weighted Blankets Machine Washable?
Generally, weighted blankets are spot cleaned or dry cleaned due to their weight. Washing them frequently will affect their durability. It is recommended to use a removable cover for easy care.
Benefits of Weighted Blankets
You may have heard about the many benefits for weighted blankets, including soothing anxiety and helping many sleep disorders. Just like a hug, weighted blankets can have an extremely positive effect on many people. Weighted blankets can benefit:
Sensory Disorders: When the brain has difficulty receiving and responding to sensory information, it may cause people to become overly sensitive to their surroundings. Weighted blankets help increase serotonin and melatonin levels.
Sleep Disorders:There are many different sleep disorders that people can suffer from, some of the common ones being insomnia, or the inability to fall asleep and then stay asleep. These may also include hypersomnia (when someone is excessively sleepy) or parasomnia (unwanted experiences while sleeping). Weighted therapy, by using a weighted blanket, can again increase levels of serotonin and melatonin during the night to help these.
ADD/ADHD Spectrum Disorders: Those with these attention deficit disorders can easily calm down by using weighted blankets after school, work, or during therapy sessions, or simply to relax and fall asleep.
Asperger's & Autism Spectrum Disorder: Usually children with autism have a secondary diagnosis of sensory dysfunction. Integrating a weighted blanket can help incorporate sensory integration. They can also help calm down the child after stressful situations and during therapy sessions.
Anxiety & Panic symptoms, Stress & Tension:A weighted blanket can bring about a sense of security when feeling a panic attack arising, irritability, or lack of concentration. Anxiety can also keep the mind from relaxing and falling asleep, and weighted blankets stimulates the production of Serotonin and Melatonin, helping one sleep.
Menopause symptoms:Menopause can cause hot flashes, low sex drive, irritability, lack of concentration, and insomnia. A weighted blanket can be used as a way to help relax these unavoidable symptoms for some women, without using drugs or other sleeping aids.
People over the age of 65:Weighted blankets are a great investment for the elderly. Weighted blankets help soothe the aches and pains that come with old age, in addition to other factors that may interrupt sleeping. Also, those with Parkinson's can benefit from the evenly distributed pressure across their body, relieving discomfort from stiffness, tremors, and slow movements. Similarly, a weighted blanket for those with Alzheimer's, can help patients feel calmer and more secure after mood swings, confusion and stress.
Final Thoughts
Weighted blankets provide a relaxing and calming effect that's proven to be helpful for those suffering from anxiety and sensory disorders. Many people also appreciate the cozy feeling the extra weight provides. Choosing the right weight and fabric are key when shopping for a weighted blanket. With all the tips and suggestions on this page, you now have enough information to find the perfect weighted blanket for you. Enjoy the sleep!