Sleep doesn't come easy for everyone, and if you've ever experienced sleeplessness, you know that a lack of sleep can take a real toll on you. Aside from feeling tired all day, a lack of sleep can affect your overall wellbeing and your ability to function properly.
Quick Look at Our Top 5 Picks
When you don't get quality sleep, you may start to gain weight, be unable to think clearly, become ill due to a weakened immune system, experience hypertension and hormone disfunction, and have an increased risk of heart disease. By the same token, enjoying restful sleep can change your health for the better.
Those who achieve consistent, restful sleep will enjoy improvement in memory, balanced emotional and mental health, proficient decision making, and a body that is able to regulate hormones properly and heal quickly. Because adequate rest is so important to our wellbeing, many sleepless people try to find a solution that addresses both sleep and health in the form of natural sleep aids.
Sleep, Life, and Health
Sleep is a large contributing factor to our overall health. As mentioned earlier, there are many disadvantages to losing sleep, as well as many advantages to ensuring you get the proper quantity and quality of sleep. Oftentimes, busy schedules and personal and professional obligations cut into bedtime, but many people don't realize that our bodies never become accustomed to getting less sleep than needed, so any lost sleep needs to be made up in order for your body to recover. However, not having the time to sleep is different from insomnia, or the inability to sleep, which is commonly caused by stress and racing thoughts or a medical condition.
Despite schedule, stress, or medical conditions, the majority of adults should aim for 7-9 hours of sleep each and every night. Of course, there are always exceptions because everyone is different, so certain individuals may need 6 hours and others may need 10. An easy way to determine how much sleep your body needs is to keep track of how much sleep you get at night in correlation to how you feel the next day. If you feel tired during the boring parts of your day, your body could be telling you to get more rest.
The lifestyle and routines you maintain also impact your sleep and health. One of the best ways to combat insomnia or improve the quality of your sleep is to live a healthy lifestyle overall. Eating junk food, smoking, drinking alcohol, and being sedentary can lead to sleeplessness, while exercising, eating right, and taking care of yourself in general can improve your health and sleep.
Living a healthy lifestyle includes maintaining good sleep routines, too. Although personal and professional obligations tend to take priority over sleep, it is important to stick to a consistent sleep schedule of going to bed and waking up at the same times each day; your body will become trained to sleep at those times. Equally important is what you do before bed to prepare your mind and body for sleep. It is recommended that you try taking a bath or shower, reading or writing in a journal, drinking herbal tea, or meditating, and avoid being active, eating, or working before bed. Finally, ensure that your bedroom is conducive to sleep by making it calm and cool and eliminating any noises, lights, or movement.
Natural Sleep Aids
Understandably, many people who experience insomnia want to remedy the problem, but they also want to make sure that the solution they choose won't negatively impact another area of their health. Out of the many sleep aids on the market, those that seem to be most in line with this goal are the natural remedies. Generally, sleep aids are drugs or supplements that treat sleeplessness by creating feelings of drowsiness or relaxation which help users fall asleep and stay asleep all night, but there are other, non-consumable natural remedies for sleeplessness as well. In any case, if insomnia becomes a more serious problem, it is best to consult a doctor.
The natural sleep aid products usually come in pill form as supplements that are made with ingredients sourced from our bodies or the outdoors. While drug-based sleep aids are intended to be used occasionally or temporarily, the natural ingredients in natural sleep aids make them safer to consume on a regular basis.
Many natural sleeping pills contain some combination of commonly used natural ingredients including melatonin, valerian (or valerian root), chamomile, passionflower, hops, magnesium, and 5-hydroxytryptophan (5-HTP). While the effects of each of these ingredients may vary slightly, they are all used to produce soothing feelings of drowsiness and relaxation, and some may relieve tension or anxiety. Each ingredient is intended to help the user fall asleep fast and stay asleep throughout the night.
Finally, there are some natural sleep aids that are not in supplement or pill form. Two of the most common ones are aromatherapy and cognitive behavior therapy. Aromatherapy typically uses essential oils to create a sleep-inducing effect, and cognitive behavior therapy (CPT) involves working with a therapist to improve sleep quality and sleep habits.
What Are the Top Five Natural Sleep Aids?
Here is a summary of the top five natural sleep aids, and each offers a unique combination of desirable features and options. All of these products are highly rated and sleep tested.
Natural Factors Stress-Relax Tranquil Sleep
View On Amazon
The Tranquil Sleep sleep aid is 100% natural and is made up of a combination of hormones and amino acids that govern sleep in our bodies. The active ingredients are melatonin, l-theanine, and 5-hydroxytryptophan (5-HTP). L-theanine and 5-HTP are both amino acids; l-theanine produces a calming effect and 5-HTP is a precursor to melatonin, which regulates sleep cycles.  It comes in chewable tablet form, with a recommended dosage of 2 tablets before bed.
Pros:
Becomes effective within 40 minutes
Highly effective
Energetic feeling in the morning
Safe for children
Relieves anxiety
Cons:
May contain too much sugar/sweetness
Peak Life Somnapure Natural Sleep Aid
View On Amazon
The Somnapure Natural Sleep Aid is highly rated and effective in relieving anxieties and combatting sleeplessness. It contains the active ingredients valerian root, lemon balm, l-theanine, hops, chamomile flower, and passionflower, which are all for relaxation and drowsiness, and melatonin, which helps you stay asleep all night. Somnapure is available in tablet form in 30 or 60 count bottles with a 2-tablets-per-night dosage.
Pros:
Highly effective
Becomes effective within 30 minutes
Relieves anxiety
Cons:
May cause heart to race
Tablets may have unpleasant smell
Hyland's Homeopathic Calms Forté Sleep Aid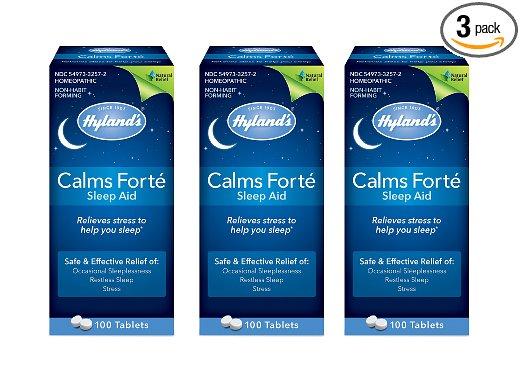 View On Amazon
This sleep aid supplement differs from the others on this list because of its unique ingredients that simultaneously ease anxiety and fight insomnia. It is made with avena sativa, calcarea phosphorica, chamomilla, ferrum phosphoricum, humulus lupulus, kali phosphoricum, magnesia phosphorica, natrum phosphoricum, and passiflora. Each of these ingredients has calming qualities that combat stress and irritability. Calms Forté comes in bottles of 100 tablets, and there are bulk purchase discounts available.
Pros:
Meets standards of the Homeopathic Pharmacopoeia of the United States
Highly effective
Non-habit forming
Becomes effective within 30 minutes
Cons:
May cause odd dreams
May not work for everyone
Zhou Nutrition Driftoff Premium Sleep Aid
View On Amazon
Zhou Nutrition's sleep aid allows users to easily release stress and drift off to sleep. It is 100% vegetarian and made with melatonin, valerian root, chamomile, GABA, passionflower, lemon balm, and hops. This product also contains l-tryptophan, an amino acid from plant and animal proteins that aids melatonin in regulating sleep cycles. The recommended dosage is 2 capsules per night and Zhou Nutrition offers discounts when you purchase two or more of their products together.
Pros:
Won't leave you feeling groggy or "hungover"
Safe for all ages
Relieves anxiety
Cons:
May not overcome stubborn sleeplessness
Genius Sleep Aid
View On Amazon
The Genius Sleep Aid helps users fall and stay asleep while also decreasing anxiety levels, balancing moods, detoxing your body of caffeine, and restoring adrenal function. Active ingredients in this sleep aid include melatonin, l-theanine, glycine, which is an amino acid that improves sleep quality, inositol, which reduces anxiety, and rutaecarpine, which helps detox your body of caffeine. Each dosage is 2 veggie capsules. The Genius Sleep Aid is available at a discount when purchased with two or more of the company's other products.
Pros:
Won't leave you feeling groggy or "hungover"
Energetic feeling in the morning
Relieves anxiety
Highly effective
Cons:
May not work for everyone
Cognitive Behavior Therapy
Cognitive Behavior Therapy (CBT) is a non-consumable solution to insomnia that involves a sleep assessment followed by several sessions with a therapist. The process is adapted to address the needs of each individual patient, but the ultimate goal of CBT is to retrain your brain to sleep properly and adequately. During therapy, patients find the reason for their sleeplessness, change their beliefs and attitude about sleep, as well as form good sleep habits and routines.
Pros:
No side effects
No interactions
Cons:
Not a quick fix—improvement happens over time
Aromatherapy with Essential Oils
Aromatherapy with essential oils is another effective, non-consumable solution to insomnia. When essential oils are diffused into the air, our nose picks up the aroma and sends it directly to our brain. Certain aromas signal our brain to produce a calm and relaxed feeling, which aids in falling and staying asleep. The most common essential oils used as sleep aids are lavender, lemon or yuzu, bergamot, ylang ylang, sage, jasmine, valerian root, and chamomile. Try one of these, or a combination of several, to find which is most effective for you.
Pros:
No side effects
No interactions
Cons:
May not overcome stubborn sleeplessness
What Else Should You Consider When Purchasing And Using Natural Sleep Aids?
Even though natural sleep aids are considered a safe option for remedying sleeplessness, there are several factors to consider before implementing them into your daily routine. A common misconception with natural products is that there will be no consequences when using them, but this is not necessarily true all of the time. Keep in mind that everyone's body is different and could react to sleep aids in a number of ways. The two main points to take into consideration when purchasing and using natural sleep aids are how they will interact with your body and how they are made.
First, what impact will a natural sleep aid have on your body? Usually the answer to this question has two parts: side effect and interactions. Fortunately, natural sleep aids aren't known to produce many side effects, with the exception of valerian or valerian root, which could lead to headache, upset stomach, confusion, dry mouth, and feelings of anxiety. Other mild side effects could include a racing heartbeat or having odd dreams while using the sleep aid.
With natural sleep aids, interactions pose a higher risk than side effects. Adding a new supplement to your diet could interact negatively with other medications you are already taking or with your body in general. An interaction could potentially create a new health concern or worsen an existing medical condition. An allergic reaction is one example of this. As a result, be sure to inform yourself about any natural sleep aid you plan to use.
Next, how are natural sleep aids made? Because the FDA treats supplements as foods rather than medications, natural sleep aids aren't as strictly regulated as their drug-based counterparts. As a result, some natural sleep aids could be manufactured improperly, contain the incorrect dosage, or have the wrong ingredients, for example. Additionally, supplements and their impact aren't studied in clinical settings as closely as drug-based sleep aids are. This means that the true effectiveness and strength of the ingredients in natural sleep aids have not officially been proven, which could explain why they work well for some people and not for others.
Natural Sleep Aids – Final Thoughts
With sleep being such a crucial element of our overall health, losing sleep can bring serious consequences. Natural sleep aids can bridge that gap between maintaining a healthy lifestyle and combatting insomnia. Although natural sleep aids are a safer solution to insomnia, be sure to proceed with caution and be aware of how introducing a new drug or supplement could fit into your individual situation.