What Does Tempurpedic Mean?
Tempurpedic is a name you probably have heard of because it is the brand name for the more popular memory foam mattresses and products that are currently available and have been marketed for years. This is similar to how we call tissues "Kleenex" or how we say "Germ-X" for all antibacterial or antiseptic hand gels or sprays, it is the name a lot of people use to talk about all memory foam mattresses or pillows.
Quick Look At Our Top 5 Picks
If you are not sure what memory foam is, then to make it the most simple for you, it is material that contours to your body and remembers your shape to give you a better quality rest, lounge time or sleep. This is why the foam is called "memory" because it keeps the memory of your shape even after you have gotten up off of the pillow.
Memory foam is easy to test to see the quality you can simply place the palm of your hand flat against the foam and remove it to see your hand print remaining in the mattress or pillow. With this you also see that you can move around a lot on the mattress without disturbing your partner, or else knocking something off the other side of the bed.
Some users do report that the memory foam can, however, be a very hot option for sleeping on as it is a solid block of foam. Though many memory foam's today are being made with shredded or ventilated memory foam that allow for better air flow throughout the pillow.
There are many pillows and mattresses on the market that are memory foam and are not marketed as tempurpedic but fill the same requirements. Many of these pillows are also named ergonomic now as they are objects that conform to your body rather than making your body alter unnaturally and uncomfortably; ergonomic is better for your overall health.
Does tempurpedic have to be costly?
Tempurpedic is a very durable, reliable brand and even the "off-brand" products still hold up to the name. The quality of the mattresses and pillows has been raved about for a long time and garners great reviews so it is seen as a generally high quality product.
High quality and "name brand" products generally come with a rather large price tag attached to them because the demand is high and the reputation can ask for such a great price. While tempurpedic can be an expensive product, not all tempurpedic pillows have to come with an outrageous price.
When you are searching through the pillows to find what you would like, you can factor price into the process of making your decision. Search for a pillow within your price range and do not be afraid that you will be compromising quality.
Special considerations for creating this pillow
Tempurpedic brand: All of the pillows on this list are tempurpedic brand so you know the quality of the product that you are getting.
Machine washable: every pillow on this has a removable cover that can be machine washed as often as you need it to be.
Made in America: The tempurpedic pillows are made in the United States so you know the rule and regulations that are required of the factories that manufacture them.
Top 5 Tempurpedic Pillows Of 2018
Tempur-Pedic Tempur-neck pillow
This tempur-pedic pillow comes in two different editions, either the 2017 style or the 2018 style that have a few differences in their design. You can order this pillow in either a small, medium or large size pillow or even in the travel size to take with you.
This pillow is specifically designed for you to use as a neck pillow that will help support and relieve pressure on your cervical vertebrae. It is shaped to be smaller on one side and get wider as it goes away from your head.
This is an ergonomic pillow that is designed to help you keep your spine more aligned and take the stress off of your neck and head. This is made with 100% polyester knitted together to make sure you have a soft, smooth pillow to lay your head against.
The pillow is not very heavy but does weight slightly less than three pounds, and is sturdy to last your through the night and through the year as well. You can remove the casing on the pillow to allow you to send it through the washing machine and keep it clean and looking new for a long time.
Pros:
Sturdy
Brand name you trust
100% polyester cover
Machine washable
Cons:
Some report an odor
Some report issues with allergies
Tempur-Pedic Tempur-symphony pillow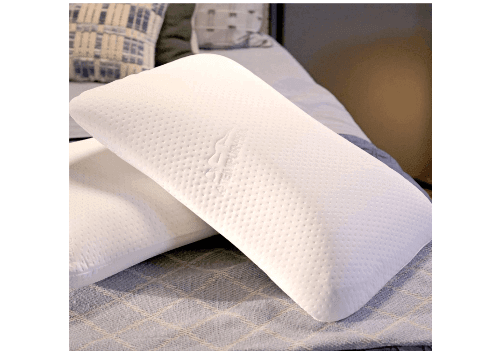 The tempur symphony pillow comes in either the 2017 or 2018 style with slight differences in the design but overall the same pillow. The price difference between the two pillows is going to be less than two dollars, so if you find you like the 2018 version better then it will not be that big of a jump in price.
This memory foam pillow is made in the United States which means that you know the people who work on it and trust how the product has been manufactured. The pillow is made majorly of polyester and the remaining fraction is made from propylene.
The pillow is covered in a soft, breathable cover that can be taken off and washed as often as you need to clean it. The pillow is designed to be flat on one side of the pillow and curved or arched on the other side of the pillow so you can choose which is better for you to sleep on.
Pros:
Two sided pillow
Breathable cover
Machine washable cover
Made in the US
Cons:
Some say it comes with a strong odor
Some report this pillow is too hard
Tempur-Pedic Cloud Conforming Pillow
This tempurpedic pillow was created in the united states so you know where and who is producing your goods without them being outsourced. This pillow is designed to be medium to firm which means sleepers who prefer soft pillows should probably choose something else.
The pillow was designed by NASA to be pressure-forming which means it is resilient and handle the shock of your body or head laying on it. It is also backed by a five year warranty in case you do not find the pillow to be adequate.
You can order this pillow in one of two sizes depending on which bed that you have so it can be either queen or king size. The cover on the pillow is breathable and is also machine washable so when it gets dirty you can clean it easily and quickly.
There is a giant difference in the price, perhaps more than you would have expected in a pillow but it is worth the investment. You can order the queen size for about seventy-five dollars or you can pay thirty dollars more for the king size.
Pros:
Machine washable cover
Made in the US
Designed by NASA
May be expensive
Cons:
Some report neck pain
Not suitable for those who prefer soft pillows
Tempur-Pedic Tempur contour side-to-side pillow
You can order this great pillow in either the side-to-side pillow version or you can order the breeze side-to-side pillow. This pillow is also manufactured in the United States meaning you know exactly the rules and regulations that are in the factory that make it.
Both of these pillows are made of eighty percent polyester and twenty percent propylene to give you a sturdy, soft pillow. This pillow is designed for those who co-sleep or sleep on their sides or even those who combination sleep.
This pillow is made with a cooling gel in the center that keeps the pillow cool throughout the evening regardless of how hot you get. It is designed to have firmer edges that will provide support for you and a softer center to hold your head.
The cover is a very soft, breathable material that can be washed in your washing machine whenever you find that you need to. The pillows themselves are ergonomic and provides you with support and comfort throughout the night.
Pros:
Soft, breathable cover
Made in the US
Perfect for side sleepers
Machine washable cover
Cons:
Some report it is too elevated
Some report it being too hard
Tempur-pedic Side-to-Back Pillow
This pillow is available in either the 2017 or 2018 version and there is a sizeable difference in the price between the two so we will outline the differences. You can choose to pay ninety-six dollars or one hundred and twenty-nine once you have read the specifications.
Both are made to be ergonomic, though the newer pillows have pressure relieving design that was formulated by NASA. Both are designed to contoured to your body and are fatte on the ends and thinner in the center.
The older version is made with polyester and propylene while the new edition is made with tempur material. They are made in the United States and the cover of the pillow is machine washable.
Pros:
2018 model has been perfected
NASA designed
Ergonomic
Machine washable cover
Cons:
Slightly expensive
Some say it is too soft
Final Thoughts
If you are looking for an orthopedic or ergonomic pillow in order to provide you with better relaxation you may find that the tempurpedic pillows will provide you will the proper relief on your bones and muscles. While no pillow is completely lifeproof these are particularly strong, durable and comfortable pillow that can and will hold up to your everyday use.