Money can buy a lot of things, but when it comes to a baby, knitting a baby blanket yourself is still one of the best ways to show your love. Perhaps you are expecting a baby, or perhaps it's your grandchild, or perhaps it's for your friend's child. Whether you're an avid knitter or a total beginner, the time and care put into knitting your own baby blanket always shows.
From the colors to the size of the blanket, to the yarn that is used, you get to choose every single detail that goes into the baby blanket.
All these details come down to one question: which yarn should you use for a baby blanket? The yarn used will not only determine the color, but also softness of the blanket. A baby's skin is very sensitive, so you definitely want to use a yarn that will feel soft so it makes for a comfortable snuggle.
Thankfully, blankets are possibly the easiest things to knit! If you're just learning how to knit, there are many great tutorials online. It's hard to go wrong with a baby blanket as long as you make sure you're using a quality yarn.
We've put together some of the best yarns for baby blankets that you can buy online so that you can focus on the craft! Other than great quality, we also keep an eye on the price and you'll find that many of the yarns recommended here are also very affordable.
Quick Look At Our Top 5 Picks
Best Rated Yarn for Baby Blankets Reviewed
Lion Brand Yarn Creamsicle
This Lion Brand Yarn is made of 100% premium acrylic, making it very soft and easy to work with. This is a 4 worsted weight yarn, meaning it has about a medium weight but is lighter than a bulky yarn. This is an Afghan, Aran yarn that's 16 ounces and 1,020 yards.
The yarn is machine washable, and recommended the first time you wash this, that the temperature does not exceed 40C or 105F. Each skein is about 12 by 5.25 by 5.25 inches.
This bright yarn might remind you of a hot summer day, while you enjoy an orange creamsicle by the pool. The color works for both boys and girls, but if that's not your taste or if you're looking for other colors to make a pattern, there are many more baby colors to choose from. Customers have ordered this yarn on different occasions and have had no problem with dye lots.
Pros:
Machine washable
Available in 25 different colors
Large skein
Very soft yarn
Cons:
Can easily tangle or knot
Mary Maxim Starlette Sparkle Yarn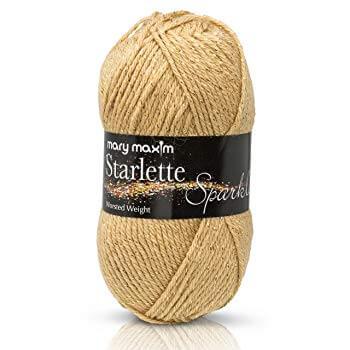 This topaz yarn is a great yarn to use a for baby blanket if you're unsure of the gender but want a pop of excitement. It has an incorporated sparkle, giving this neutral color a hint of playfulness.
This yarn is made out of premium acrylic and polyester, making it soft and cuddly for your little one! Being a worsted weight yarn, it's 3 ounces, 196 yards, and a gauge of 18 stitches for 24 rows at 4 inches. It is recommended to use a needle size of 8/5mm for this.
Not only is yarn very soft and easy to work with, but it's extremely versatile. If you have yarn left over after you've knitted the baby blanket, Mary Maxim has more design and patterns for crochet projects that you can access online!
Pros:
Machine washable
Available in 5 different colors
All-purpose yarn
Return policy
Great yarn for beginners
Inexpensive
Cons:
Color not as golden as photo
Red Heart Soft Baby Steps Yarn
Made for baby projects, this yarn is perfect to knit a baby blanket! It is made out of 100% acrylic. This fiber makes the yarn very soft to touch, with a bit of silky sheen to it. This yarn measures 256 yards long, and is medium worsted in a weight category of 3. It is recommended to use a 5mm knitting needle for this yarn. Even better, this Baby Steps yarn is machine washable and can be tumbled dried or dry cleaned. However, avoid ironing. If you find the yarn to not be soft enough, try washing it a couple times!
This yarn is available in many different colors, including white. This is a great option if you're looking to make a white baby blanket for their baptism or want to go for a more classic nursery look.
Pros:
Super soft
Nice sheen to it
Available in 19 different colors
Nice to work with
Very affordable
Cons:
Some wished it was a center-pull ball
Bernat Baby Blanket Yarn Pitter Patter
If you want to make an unbelievably soft baby blanket, this is the yarn to use. This sunny, pastel colored yarn from Bernat Baby Blanket is chenille style, making it incredibly soft for baby's sensitive skin.
Made out of 100% polyester, this yarn is great for any baby project you're planning on making. This yarn is in a weight category of 6, and is 10.5 ounces, being 256 yards. It has a gauge of 8 stitches for 13 rows, making it 4 inches. It's recommended to use a US 11/8mm sized knitting needles, with a crochet hook size of L11/8mm.
When it comes to care, you can also put this yarn into machine washing and drying. Incredibly easy to work with, this yarn is great even if this is your first time crocheting or knitting!
Pros:
Machine washable & dryable
Soft & thick
Safety Certified
100% Polyester
Easy to work with
Great yarn for baby projects
Available in many different colors!
Cons:
Can have tangles and knots in skein
Colors may differ from photos
Bernat Blanket Yarn Silver Steel
Wanting to make an extremely bulky baby blanket? This silver steel yarn is a great bulky chenille style yarn, making it one of the best yarns for making a blanket.
The softness and thickness from this yarn will add up to a very cozy blanket that's perfect if you're expecting a baby during the colder months of the year! This yarn is in the weight category of 6 super bulky, and has a ball size of 10.5oz/300g and is 220 yards/201 meters long. The knitting gauge for this yarn is 8 stitches for 13 rows, using a US 11/8mm knitting needle.
This yarn can be machine washed and dried, so you will not be left with a dirty blanket if your baby spits up on it. Compared to the Bernat Baby Blanket yarn, the Bernat Blanket yarn tends to come in more solid rather than pastel colors, but they still look great and the material is just as amazingly soft.
Pros:
Available in 31 different colors
Great bulky yarn
Fluffy and soft
Machine washable & dryable
Easy to work with
Cons:
Color may vary within same dye lot
Some skeins knotty
Additional Yarn We Reviewed
1. Lion Brand Yarn Ice Cream Sprinkles
This Lion Brand yarn is tight knit and less bulky. It's 100% acrylic and soft and easy to work with. This yarn has fun self- striping colorways to make a nice mix of blended colors throughout your baby blanket.
Key features:
Tighter, less bulky
Self-striping colorways
Soft, fluffy yarn
This Red Heart Gumdrop yarn comes in bright colors, is made of 100% premium acrylic, and oh so silky. This yarn is 4oz/113, and 204yd/187m, making it a little smaller than other balls of yarn online. Its smooth texture leads to no pilling or knotting.
Key features:
Machine washable & dryable
Bright colors
Soft, thin yarn
No pilling or knotting
3. Lion Brand Yarn Mint Babysoft
An extremely affordable yarn with great baby colors. This yarn is made of a soft 60% acrylic and 40% nylon blend. It is 5oz/140g and 459yd/420m, with a medium sport weight. You will need to buy multiple balls of this yarn for a baby blanket. Machine washable.
Key features:
Soft acrylic & nylon blend
Washes well
Very affordable
Available in 25 different colors!
4. Bernat Baby Sport Big Ball Yarn
This Bernat yarn is 100% acrylic, and is a gauge 3 light sport knit. It's the perfect choice if you want a lighter, airy baby blanket for warmer days. The yarns have beautiful pastel colorways mixed in so your blanket will have a pretty pattern to it without trying!
Key Features:
Big ball of yarn
Light and breathable
Pastel colorways
Softer, bulkier gauge 6 chenille-style yarn that's incredibly cuddly and cozy. The bright colors will add a dash of dare to the nursery! This yarn is 10.5oz/300g and 220yds/201m, making this a very comfy and chunky yarn. Machine washable and dry-able.
Key Features
Bright colors
100% polyester, chenille style
Machine washable & dryable
6. Bernat Baby Blanket Little Denim Print
This Bernat yarn will give you a cute, pastel denim print for your baby blanket. It's 100% polyester very soft, is 3.5oz and 86 yd. The gauge is 8st x 13r and is perfect for any baby crochet project. This lets you buy in bulk for even more savings.
Key Features
Cute pastel denim pattern
100% polyester, very soft
Available in bulk
7. Lion Brand Cupcake Yarn
A 100% acrylic, continuous yarn that changes colors at fixed lengths across a delicious palette. It weighs 5.3 oz and is 590 yards. It's a light #3 yarn with good stitch definition that makes for beautiful baby blankets, shawls and more!
Key Features:
Available in many color combinations
Light 3 yarn
Good value for money
8. Charmkey Chenille Baby Blanket Yarn
This thick chenille yarn is great for beginner knitters. It's thick and chunky weighing in at 8.82oz, 20mm and 26.94 yds for solid colors or 15mm and 39.84 yds for multi-colors. It's soft as a cloud and hand knitting or finger crocheting.
Key Features
Soft, thick and chunky
Machine washable
Good for beginners
9. Bernat Alize Blanket EZ Yarn
A super thick yarn featuring unique performed loops to give your baby blanket a very soft, cuddly texture. You won't need any needles or hooks with this yarn and this is a great way to get crafty even if you think you can't knit! One ball measures 6.4oz and 18 yards.
Key Features
Unique loops in yarn
Machine washable
Good for beginners
A light, 100% acrylic yarn from Bernat available in a range of baby colors. It comes in 4.25oz and 310 yards. You can buy packs of 3 skeins from the same dye lot, which is great for larger projects where color matching is important.
Key Features
Light yarn
Machine washable
Pack of 3 skeins from same dye lot.
11. 10 Pack Set Yonkey Monkey Skein Tencel Yarn
This is a 70% bamboo and 30% cotton yarn that is as soft as it comes. It's lightweight but still silky smooth as you can expect from a bamboo yarn. Durable with no snagging or fraying, this yarn is also anti-microbial and hypoallergenic. Get 10 skeins for a very affordable price.
Key Features:
Light bamboo yarn
Durable and smooth
Great value for money
12. 3 Pack Gazzal Baby Cotton XL
This thin, light 50% cotton, 50% acrylic yarn is smooth and easy to work with. It's made out of Turkish cotton, which stands up well to washes and dries quicker than traditional cotton. Each skein weighs 1.76 oz and measures 114 yards. Each pack comes with 3 balls of yarn.
Key Features:
50% cotton, 50% acrylic
Thin, light yarn
Very soft and durable
13. La Mia Baby Cotton (3 pack)
A super soft, medium and worsted yarn from La Mia. It's 50% Turkish cotton and 50% acrylic. Each ball is 3.5 oz and 218 yards, and you'll get 3 skeins here. If you want excellent quality that's easy to knit with and washes well, go with this yarn.
Key features:
50% cotton, 50% acrylic
Medium, worsted yarn
Washes well
This light 100% acrylic yarn is Oeko Tex Class 1 certified so you can be absolutely sure there will be no harmful substances in your baby blanket. It's a size 3 worsted yarn and is 318 yds and 4.5oz. Machine washable. Proudly made in the USA.
Key features:
Premium acrylic yarn
Certified to be free from harmful substances
Made in the USA
15. Lion Brand Feels Like Butta Yarn
This is a 100% polyester yarn that will give you the feeling of velvety feeling of chenille while being super easy to work with. It's a #4 medium, weighing in at 3.5 oz and 218 yds. It's very soft and durable. Available in pastel colors as well as brighter colors.
Key Features:
100% polyester
Available in bright as well as pastel colors
Very soft yarn
How to Choose the Best Yarn for Your Baby Blanket
When it comes to a unique gift made from the heart, you want to choose the right materials. What should you consider when choosing a yarn?
There are quite a few details to take into account, and we've created an easy guide.
Gauge: This is the stitches per inch, or also referred to as the tension of the yarn. To find the gauge of a yarn, you can simply count the number of stitches over 6 inches and then divide the number by 6. Having the correct gauge will ensure that you're knitting will look exactly like the finished product you're trying to achieve.
Yarn Weight: The weight of your yarn greatly affects the product you're trying to achieve because specific yarn weights are better for certain projects. Both lightweight and more bulky yarn weights can work equally well for baby blankets, depending on the season in which you plan for the blanket to be used.
Fiber: Since this is a baby blanket, harsh fibers like wool are not recommended. Stick to softer fibers like acrylic, polyester, cotton, or bamboo. These will not upset a baby's sensitive skin or irritate them.
Washable: You want to make sure your baby blanket is washable. Babies can spit up at any time and accidents happen, so you want to be able to the blanket it through a quick wash. The last thing you want is a stain on the lovely blanket that you put so much heart into knitting, so you should choose a yarn that's machine washable, and even dryable to make things even easier.
Dye lots: If your baby blanket calls for more than one skein of yarn, you want to make sure that you're going to receive the same color. Yarns are dyed in lots, meaning it's very hard to make yarn from different lots to see the exact same color. Buying yarn in bulk from the same dye lots can ensure your yarn will all be the same color.
Qualities to Consider in Yarn for Baby Blanket
Color: While this may seem obvious, color has a large impact on the end result of your baby blanket. Are you looking for a brighter color or a more pastel color? Certain brands have lines that are designed with bright colors, sparkle in yarn, or lighter colors. Make sure you read reviews on whether the color shown in pictures are true to color of the yarn.
Texture: Blankets can feel incredibly different based on the yarn that's used, and this is especially important in baby blankets as babies are much more sensitive. This also depends on the season the baby is born in, as winter babies would benefit more from a bulky and chenille-style yarn, while summer babies will do better with a blanket that has a thinner yarn that adds more breathability.
Price: Certain types of yarns are definitely more expensive than others. It depends on how much you are willing to spend. Keep in mind, since this is a baby blanket, it probably won't get much use past the first year. Babies grow fast, so you may even want to knit a slightly larger blanket so it can be used for longer. Acrylic, cotton, and polyester yarns tend to be more affordable, while alpaca and bamboo yarns are on the pricier side.
Of course, you can always just go shopping and buy a cute baby blanket, but making one yourself is a gift that is irreplaceable. Plus, it's a gift made of love that is guaranteed to be unique. No other blanket in the store is going to resemble the one you've made!
Frequently Asked Questions
What's the best yarn to use for a baby blanket?
This all depends on the season the blanket will be used in, plus the kind of blanket you want to make, although we would advise against wool. Acrylic and polyester yarns are good choices as they are very soft and usually are very budget friendly!
The skeins' colors vary. How can I avoid this?
For larger projects where a consistent color matters, we recommend buying yarn in bulk from the same dye lot.
Are baby yarns washable?
The yarns we recommend here are all machine washable and can be tumbled dried on low.
I'm a beginner and new to knitting – what's the best yarn to use?
For beginners, a medium worsted yarn is a good yarn to start with. This will be easier to follow and handle.
How many balls of yarn will I need for a baby blanket?
Most of the time, a baby blanket will need 2 to 4 balls of yarn. This depends on the size of the blanket you have in mind, your knitting technique and of course the size of the ball, also known as the skein.
Are there hypoallergenic yarns?
Of course! Bamboo yarns are particularly great if you're looking for a yarn with naturally anti-microbial and hypoallergenic qualities.
Final Thoughts
Knitting a baby blanket is a labor of love. The thought that goes into choosing the right material, texture and colors also show and will be appreciated. Thankfully, a baby blanket is one of the easiest things to make so whether you're a beginner or an avid knitter, once you choose the right yarn you are basically set!
We've listed many affordable and quality yarns that are suitable for babies here to help you get started with your project. They are all soft and you can choose from a range of light, medium and heavier yarns. From thick, cuddly chenille blankets, or a lighter, more breathable blanket for the summer, there is a yarn for you here. So go ahead and knit away to show your love!