Money can buy a lot of things, but when it comes to a baby, knitting a baby blanket yourself is still one of the best ways to show your love. Perhaps you are expecting a baby, or perhaps it's your grandchild, or perhaps it's for your friend's child. Whether you're an avid knitter or a total beginner, the time and care put into knitting your own baby blanket always shows.
From the colors to the size of the blanket, to the yarn that is used, you get to choose every single detail that goes into the baby blanket.
All these details come down to one question: which yarn should you use for a baby blanket? The yarn used will not only determine the color, but also softness of the blanket. A baby's skin is very sensitive, so you definitely want to use a yarn that will feel soft so it makes for a comfortable snuggle.
Thankfully, blankets are possibly the easiest things to knit! If you're just learning how to knit, there are many great tutorials online. It's hard to go wrong with a baby blanket as long as you make sure you're using a quality yarn.
We've put together some of the best yarns for baby blankets that you can buy online so that you can focus on the craft! Other than great quality, we also keep an eye on the price and you'll find that many of the yarns recommended here are also very affordable.
Our Top 5 Picks
IMAGE
PRODUCT
 

Machine washable
Very soft Afghan, Aran yarn
Many baby colors to choose from

VIEW LATEST PRICE →

Versatile, all purpose yarn
Machine washable
Easy to work with

VIEW LATEST PRICE →

Great value for money
100% acrylic
Very soft

VIEW LATEST PRICE →

Does not tangle
Inexpensive
Good-quality product

VIEW LATEST PRICE →

Great for beginner
Does not shed, stretch out, or unravel
Thick and cozy fee

VIEW LATEST PRICE →
Best Rated Yarn for Baby Blankets Reviewed
Lion Brand Yarn Creamsicle
This Lion Brand Yarn is made of 100% premium acrylic, making it very soft and easy to work with. This is a 4 worsted weight yarn, meaning it has about a medium weight but is lighter than a bulky yarn. This is an Afghan, Aran yarn that's 16 ounces and 1,020 yards.
The yarn is machine washable, and recommended the first time you wash this, that the temperature does not exceed 40C or 105F. Each skein is about 12 by 5.25 by 5.25 inches.
This bright yarn might remind you of a hot summer day, while you enjoy an orange creamsicle by the pool. The color works for both boys and girls, but if that's not your taste or if you're looking for other colors to make a pattern, there are many more baby colors to choose from. Customers have ordered this yarn on different occasions and have had no problem with dye lots.
Pros:
Machine washable
Available in 25 different colors
Large skein
Very soft yarn
Cons:
Can easily tangle or knot
Mary Maxim Starlette Sparkle Yarn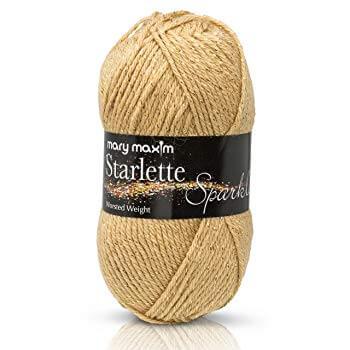 This topaz yarn is a great yarn to use a for baby blanket if you're unsure of the gender but want a pop of excitement. It has an incorporated sparkle, giving this neutral color a hint of playfulness.
This yarn is made out of premium acrylic and polyester, making it soft and cuddly for your little one! Being a worsted weight yarn, it's 3 ounces, 196 yards, and a gauge of 18 stitches for 24 rows at 4 inches. It is recommended to use a needle size of 8/5mm for this.
Not only is yarn very soft and easy to work with, but it's extremely versatile. If you have yarn left over after you've knitted the baby blanket, Mary Maxim has more design and patterns for crochet projects that you can access online!
Pros:
Machine washable
Available in 5 different colors
All-purpose yarn
Return policy
Great yarn for beginners
Inexpensive
Cons:
Color not as golden as photo
Red Heart Soft Baby Steps Yarn
Made for baby projects, this yarn is perfect to knit a baby blanket! It is made out of 100% acrylic. This fiber makes the yarn very soft to touch, with a bit of silky sheen to it. This yarn measures 256 yards long, and is medium worsted in a weight category of 3. It is recommended to use a 5mm knitting needle for this yarn. Even better, this Baby Steps yarn is machine washable and can be tumbled dried or dry cleaned. However, avoid ironing. If you find the yarn to not be soft enough, try washing it a couple times!
This yarn is available in many different colors, including white. This is a great option if you're looking to make a white baby blanket for their baptism or want to go for a more classic nursery look.
Pros:
Super soft
Nice sheen to it
Available in 19 different colors
Nice to work with
Very affordable
Cons:
Some wished it was a center-pull ball
Lion Brand Yarn Babysoft Twinkle Print
This yarn is a beautiful mix of several pastel colors and a 50/50 blend of acrylic and polyamide. The finished blanket made with this yarn has an excellent elasticity that will help maintain the blanket's shape for long. Lion Brand Babysoft yarn is available in a range of assorted colors. This twinkle print design measures 336metres long and is light-worsted in a weight category of 3. It is a medium sport weight yarn that is easy to work with, regardless of your expertise or skill level.
Blankets made from this Lion brand yarn are machine washable. However, care must be taken to ensure the washing water temperature is less than 40degC and that the blanket is neither used with a bleach product or a pressing iron. These measures are to prevent the colors from fading. Also, the texture of the yarn is incredibly soft and quite lightweight. As such, it will make for a great summer blanket for your baby. This yarn is available in many fun, light colors that are gender-neutral.
Pros:
Does not tangle
Inexpensive
Good quality yarn
The silk thread that runs through it adds a nice touch to the finished blanke
Cons:
Color of yarn might fade with continuous washing
It snags easily
Bernat Baby Blanket Yarn Pink/Blue
This super bulky yarn is a 300g, 100% polyester fabric option with a luxurious chenille texture that makes it ideal for your baby blankets. It is so soft, and the thickness makes it easier for persons that are just beginning to learn knitting. The colors are beautiful and gender-neutral so that it is usable for a baby boy or girl. Depending on how tightly your knitting is, a ball of yarn is enough to knit a blanket for a baby. You may have to contend with a knot here and there, but the quality will have you pleased with your work.
This Bernat baby yarn is safe for your baby's soft skin. The company has a safety certification to vouch for it and give you the reassurance you want. It is easy to take care of and can be washed and dried with a machine. For knitting your blanket, you will require a knitting gauge of 18 stitches for 13 rows with a US 11/8mm knitting needle.
Pros:
Machine washable
Great for beginner
Does not shed, stretch out or unravel
Thick and cozy yarn
Very soft and easy to use
Cons:
There may be no consistency with dye lots, so it is best to confirm before purchase
Quite knotty
Additional Yarn We Reviewed
1. Lion Brand Yarn Ice Cream Sprinkles
This Lion Brand yarn is tight knit and less bulky. It's 100% acrylic and soft and easy to work with. This yarn has fun self- striping colorways to make a nice mix of blended colors throughout your baby blanket.
Key features:
Tighter, less bulky
Self-striping colorways
Soft, fluffy yarn
2.Red Heart Gumdrop Yarn Licorice
This gumdrop yarn is exceptionally soft, with beautiful and vibrant color changes. Despite being 100% acrylic, the texture is silky and perfect for making a baby blanket that will last for quite a while. There is no unwinding or strand fuzzing associated with it. Since the yarn is made of acrylic, the quilt would be easy to wash either by hand or machine. Red heart gumdrop is also great for blankets, especially if you are looking for a hypoallergenic yarn that would protect your baby's sensitive skin.
Key features:
Great for beginner
Bright colors
Easy to use
3. Lion Brand Yarn Mint Babysoft
An extremely affordable yarn with great baby colors. This yarn is made of a soft 60% acrylic and 40% nylon blend. It is 5oz/140g and 459yd/420m, with a medium sport weight. You will need to buy multiple balls of this yarn for a baby blanket. Machine washable.
Key features:
Soft acrylic & nylon blend
Washes well
Very affordable
Available in 25 different colors!
4. Bernat Baby Blanket Big Ball Yarn
The Bernat baby blanket big ball is a gorgeous polyester fabric option. It is chunky, making it easy for anyone to knit with and faster to finish a blanket. The yarns are tested for harmful chemicals and certified safe for your baby's delicate skin.
Key Features:
Weighs 300g/10.5oz and has a thread length of 201m/220yds
Machine washable
Available in different colors
Softer, bulkier gauge 6 chenille-style yarn that's incredibly cuddly and cozy. The bright colors will add a dash of dare to the nursery! This yarn is 10.5oz/300g and 220yds/201m, making this a very comfy and chunky yarn. Machine washable and dry-able.
Key Features
Bright colors
100% polyester, chenille style
Machine washable & dryable
6. Lion Brand Wanna Make a Blankie Yarn
This super bulky yarn is long enough to make a complete blanket measuring 42 inches in length and width. It is ideal for making baby clothes and blankets due to its 100% polyester content and soft texture. It is a great winter blanket and is sure to last for a long time.
Key Features
Produces a thick snuggly blanket
Plush and super soft
Saves cost due to size of one skein
7. Patons Silk Bamboo Yarn Almond
A blend of silk and bamboo, the Patons yarn is designed for warm weather with its lightweight texture. It comes in a range of colors, weighs 2.2oz/65g, and has a thread length of 102yd/93metres. Patons yarn is not just great for blankets; you can use it for several other baby clothes and accessories due to its softness.
Key Features:
Hand wash only and dry flat
Lightweight
Easily unravels
8. Bernat Softee Chunky Ultra Blue Yarn
Bernat produces quality yarns, as can be seen in this solid-colored option. The Softee Chunky yarn is easy to clean as it can be conveniently thrown into the washing machine. It is 100% acrylic and is quite thick, weighing about 100g. For making your baby's blanket with this yarn, you will need a US11/8mm knitting needle for 11 stitches and 14 rows.
Key Features
Super thick and chunky
Machine washable
Suitable for first time knitting
9. Caron One Pound Solids Yarn
Caron one-pound yarn is excellent for crocheting or knitting plush blankets and other baby patterns. It has a gauge of 4 stitches per inch, which is a medium worsted weight. Caron one-pound is made of 100% acrylic and is available in a wide range of colors. It can be machine washed and dried, so it is easy to maintain. The ball measures 16oz/453.6g and 812 yards/742metres.
Key Features
Very affordable
Machine washable
Light for baby blankets and other home projects
From Red Heart, this is a 100% acrylic yarn available in various styles ranging from solids to stripes in assorted baby colors. It is soft, durable and can be machine washed and dried without any adverse effect on the shape and color. It is knitted with a 5mm needle size and crocheted with a 6.5mm crochet hook
Key Features
Gauge 4 medium weight worsted yarn
Machine washable and dryable
Yarn length is 370 yards and weighs 7ounces
11. 10 Pack Set Yonkey Monkey Skein Tencel Yarn
This is a 70% bamboo and 30% cotton yarn that is as soft as it comes. It's lightweight but still silky smooth as you can expect from a bamboo yarn. Durable with no snagging or fraying, this yarn is also anti-microbial and hypoallergenic. Get 10 skeins for a very affordable price.
Key Features:
Light bamboo yarn
Durable and smooth
Great value for money
12. 3 Pack Gazzal Baby Cotton XL
This thin, light 50% cotton, 50% acrylic yarn is smooth and easy to work with. It's made out of Turkish cotton, which stands up well to washes and dries quicker than traditional cotton. Each skein weighs 1.76 oz and measures 114 yards. Each pack comes with 3 balls of yarn.
Key Features:
50% cotton, 50% acrylic
Thin, light yarn
Very soft and durable
This yarn is a 100% mercerized cotton option ideal for the most quality baby blankets ever sold. Mercerization means that the thread got treated to improve the strength, luster, and ability to absorb dye colors. Patons Grace yarn comes in many bright shades and is usable for sweaters, scarves, and hats. So even if you do not use all the balls you purchase for your baby blanket, you can put the remainder to good use. It is lightweight and requires gentle care, meaning you should maintain hand wash only, air dry and no ironing.
Key features:
Light and delicate cotton yarn
Great value
The ball size is 50g/1.75oz and 136yd/125m
14. Lion Brand 24/7 Cotton Yarn
This yarn is another 100% mercerized cotton option that is soft, smooth, and easy to handle. The ball has a skein weight of 3.5oz/100g and yardage of 186yd/170m. For knitting, a knitting gauge of 20 stitches for 28 rows is required with a US 6/4mm needle while crocheting requires 14sc for 19 rows with a crochet hook of the US G/6 or 4mm. 
Key features:
Can be machine washed and dried
Has a luster and sheen that will last regular blanket washing
Soft and available in a range of colors
15. Knit Picks Brava Mini Pack Yarn
A perfect yarn for a baby blanket with its vibrant colors and super soft texture. The Brava mini pack is a blend of 24 premium acrylics 100% yarn in different colors with yardage of 218yd per skein and 100g. It can be machine washed and tumble dried at a low temperature.
Key Features:
Medium worsted weightr
Great for knitting blankets when you want to mix up colors
Knitting gauge size is 4.5 – 5 stitches to 1 inch using a US 7-8/4.5-5mm needle size
Choosing the Best Yarn for Your Baby Blanket
Before deciding on buying yarn for making a baby blanket, there are specific properties you need to ensure the final product will have. 
Washable and dryable: Babies will have diaper mishaps, drool, or even spit up on their clothes and blankets, as well as spill food on them. So you want to have one that is easy to maintain. That is, the sheet should be easy to wash and dry. If it is also stain-resistant, that is a bonus. A machine-washable blanket is the best because you do not have to worry that it may get damaged due to washing, and you can also decide to tumble dry it. Hand-washed options are often more luxurious, but with a baby to care for, it becomes less practical and more tedious.
Durability: If you want a blanket that will be used regularly, you will have to choose a yarn that will survive constant washing. Just as you want a washable blanket, it also has to withstand the rigors of washing without color fades, fuzzes, or tears. If you intend to save the sheet after using it for your baby, cotton is preferred, as it can last for several years.
Color: When selecting a color for your baby's blanket, remember that the baby cannot decide for him/herself. So choose a color that you are comfortable with, and it could be dependent on the baby's gender. If you are knitting a blanket to gift a new mother, you may do well by consulting her on her favorite colors or the baby's nursery's color so you can find a yarn color that blends with it. There are many baby yarns with stripes and patches of different colors that are very distinct and unique. You may choose those options if you are unsure about the color or want to mix things up. In purchasing your yarns online, do well to ascertain if the color in the pictures displayed matches that of the actual item, so you do not end up with what you do not want.
Dye lots: Along with the color of the yarn, if you require more than one ball/skein of yarn for your blanket, you should ensure that the balls all come in the same color and shade. The ideal thing is to buy the yarn in bulk to get the same shade. However, if you have already started knitting but run out of yarn, ensure the shade number of the previous thread and the one you want to purchase are the same. Mixing up yarns of different color shades are a sure way of ruining a beautiful end product unless that is your goal.
Fiber Content: For standard blankets, wool that is capable of retaining heat is excellent and recommended. However, the skin of a baby is so soft and sensitive to harsh fabrics that you do not want anything that will irritate it. A thinner and lightweight yarn such as cotton, polyester, bamboo, alpaca, or acrylic is preferable. Bamboo and alpaca are soft but can be expensive, so it leaves polyester, acrylic, and cotton as the best and most affordable fiber content for your baby blankets.
Texture: The texture of the blanket will be directly related to the fiber content you choose. Shy away from yarns that shed fibers as they become loose quickly and get into your baby's mouth or eyes. Choose those that are suitable for the season when the blanket will be needed. Summer blankets should be lightweight to allow for easy passage of air within the quilt. Winter blankets should be thick and snuggly so that the warmth will be retained. Autumn requires a medium-weighted baby blanket that is not too light or heavy.
Price: Your budget and preference will determine the cost of the yarn you should choose. If you want a blanket that will not be in use after your kid has grown, you may consider a cheap thread. However, if you aim to reuse it often and even save it for another baby, then better quality and durable yarns are ideal. Very cheap ones tend to fade colors faster, making them look old and jaded.
Number of Yarn Balls for a Baby Blanket
Often, you will want to know the number of yarns you need to knit or crochet a baby blanket so you can buy all at once. Bulk purchase is recommended because you tend to cut on cost and maintain the same shade of dye lot. To determine the quantity of yarn needed for a project, you will consider:
Pattern: Blanket patterns determine the yardage of yarn required for the completion of the baby blanket. Also, most yarn brands have different yardage per ball. So before purchase, check the yardage of the brand you want, then make the right calculations to get the average number of yarns needed to complete the blanket.
Yardage: Yardage is the estimated length of thread in a skein of yarn. The number of yards in a skein for a particular brand is often different from that of another. Also, the yardage for a thread of the same brand may differ because they are sold based on weight.
Size of blanket: There are several sizes of baby blankets such as bed-sized, crib, car seat sized, or receiving options. The dimensions of what you intend to make will determine the number of yarns you will need. Bigger blankets require larger threads and vice versa. An average baby blanket should measure at least 30 inches wide and 36 inches long. The blanket size you are making should depend on whether it is for a newborn baby or an older one.
Yarn Weight: Check out the thickness of the thread because it determines the yarn weight. Any thickness is viable, depending on your choice and the season in which the blanket is to be used. Bulky and chunky yarns may make the knitting go faster but are no help when you want to produce some delicate patterns on the blanket. They also require a lesser number of yarns than lighter and thinner ones. A blanket may need about two bulky or medium worsted yarns but up to three lightweight skeins for completion.
Gauge and needle/crochet hook size: Knowing the knitting needle size recommended for a particular pattern is ideal. Using the wrong size will make the stitches too tight or loose, and you will end up with a design different from what you set out to achieve. There is also a recommended gauge size for each yarn and pattern. The same applies when you crochet a blanket.
Final Thoughts
Babies look adorable when wrapped up in a cute blanket. They are all available in several shades and styles. You decide if you want more natural fibers like bamboo and cotton, or synthetic ones like acrylic and polyester. Whether it is a simple patterned baby blanket or a more intricate design, these yarns will do the work, and you will have fun knitting with them. Therefore, jump on, show off your creativity by knitting a blanket that will be admired and loved by the baby and parents.