About Layla Sleep
Launched in late 2015 Layla has become quite popular across the country with their trademark copper infused products. Offering one mattress, one pillow, one mattress topper, one foundation, and one frame, Layla stick to the essentials of sleep. They also stick to copper, with every mattress, pillow, and topper being infused with the metal. On top of that they boast the only copper infused mattress that can be flipped, officially titling it the Flippable Firmness option. Finding a way to keep price points low their bed-in-a-box is not only unique but also very affordable.
Quick Points
| | |
| --- | --- |
| Positives | Negatives |
| Usable for adjustable beds | |
Materials and Structure
The Layla is a fully foam mattress coming in at 10 ½ inches tall, constructed with four different layers of foam. Unique in the foam mattress world Layla is able to be flipped and offer the user a second option in firmness. This means the top and bottom layers of the mattress are both comfort layers while the two middle layers focus on support.
Three inches of copper infused memory foam make up the first layer on the soft side. At Layla they truly believe in the healing qualities obtained from the use of copper. Although they do point out scientific studies have been inconclusive, their customers swear by the healing effect of the coppers pressure relief. Whether you believe or not, there's no arguing the other benefits of using copper infused foam. With antimicrobial protection copper kills or inactivates microbes such as bad bacteria, fungus, molds, and viruses. Also copper helps in heat transfer as it absorbs and carries heat away from you as you sleep.

The second layer is 2 inches of convoluted support foam. To provide better airflow the egg carton profile of this layer is designed to promote airflow, unlike that of a flat layer of foam. So more than just solid support as its purpose, the divots in this layer also allow the mattress to breath.
Up next is the main support layer with 4 ½ inches of dense core support foam. This layer is the foundation of the Layla and has a higher density making it much firmer than the other layers.
Now we get into the interesting aspect of this mattress. Unlike most mattresses the last and bottom layer is actually considered a comfort layer. One inch of copper infused memory foam, this layer has the same benefits as the top layer. However because it's only one inch there is less cushioning and the 4 ½ inch support foam kicks in and offers a firmer feel. If you are a lover of firmer mattresses the thinner layer of foam here that meets with the dense support layer is a great option.
Motion Transfer
If you have a sleeping partner motion isolation could be a very important factor when choosing a new mattress. Memory foam mattresses typically offer good motion reduction from a partners tossing, turning, or getting in or out of bed. Layla as a foam mattress does not disappoint. Testing on both the top and bottom of the mattress showed minimal motion transfer making the Layla a great option if you have a restless partner.
Cost and Value
At first the sound of a copper infused foam mattress with two firmness options must have a hefty price tag. However with the blessing of technology online retailers have been able to cut out huge markups normally added at brick and mortar retail stores. So now it's possible to get good quality at a good price. The Layla comes in just under other comparable brand foam mattresses, making it a great value purchase. Also adding to the value is Layla's 120 night sleep trial, free shipping and returns, lifetime guarantee, and option for 0% APR through Affirm. You can take a look at size and price options in the chart below.
| | | | | |
| --- | --- | --- | --- | --- |
| | Dimensions | Warranty | Weight | Price |
| Twin | 39 x 75 x 10 | Lifetime | 50 lbs | $399 |
| Twin XL | 39 x 80 x 10 | Lifetime | 55 lbs | $499 |
| Full | 54 x 75 x 10 | Lifetime | 70 lbs | $699 |
| Queen | 60 x 80 x 10 | Lifetime | 80 lbs | $799 |
| King | 76 x 80 x 10 | Lifetime | 90 lbs | $899 |
| Cal King | 72 x 84 x 10 | Lifetime | 90 lbs | $899 |
Comfort
Layla put all their eggs in one basket with the copper infused memory foam. And from customer reviews their gamble paid off greatly. The added copper has proven to offer good heat transfer, good support, good cleanliness, and good pressure relief.
Layla created a unique cover to compliment their unique mattress. Very soft and luxurious to the touch the cover is made up of polyester, viscose, and lycra. Some have said it is midway between cotton and silk. Furthermore to help keep you cool at night the cover is woven with thermoGel helping to reduce heat retention.
Also their ingenious way of creating two firmness options in one mattress is a great way to ensure you'll find what's most comfortable for you. If you prefer a softer plush feel you can go with the top 3 inch layer of memory foam. Prefer more firmness and support? No problem, just flip the bed over and go with the lesser 1 inch layer of memory foam.
The softer side of the Layla does a fantastic job of hugging you. With the 3 inches of memory foam there is some sinkage before you meet the support layers. However as you sink the copper infused foam meets and supports those important pressure points in the shoulder and hip area.
The firmer side removes the sinkage by quite a bit making it much firmer and offering stiffer support.
Durability and Maintenance
Mattresses are an investment. As with most investments there should be a return on your money. A return of investment on a mattress normally comes down to its lifespan. If used daily many memory foam mattresses last around 10 years. The Layla appears to be a durable and long term mattress with no reports of real support loss over time. On top of that density of the foam used by Layla suggests good quality that will last.
Of course the Layla is able to be flipped, but not for the purpose of maintenance or to promote even wear. Although the cover is removable, it is not washable. Dry-clean only! It is also recommend to have a mattress protector for an extra layer of defense.
Lastly it's recommended by Layla to rotate the mattress 180° whenever the sheets are changed or at least once per month.
Firmness and Sinkage
Layla has two firmness options so we'll look at them one at a time.
First we have the soft side. With three inches of memory foam you definitely feel some sinking. Softer mattress lovers, this side is most assuredly for you. This layer offers more cushion and sinkage. Have a look at our sinkage test chart to see how the soft side responded to the different test weights.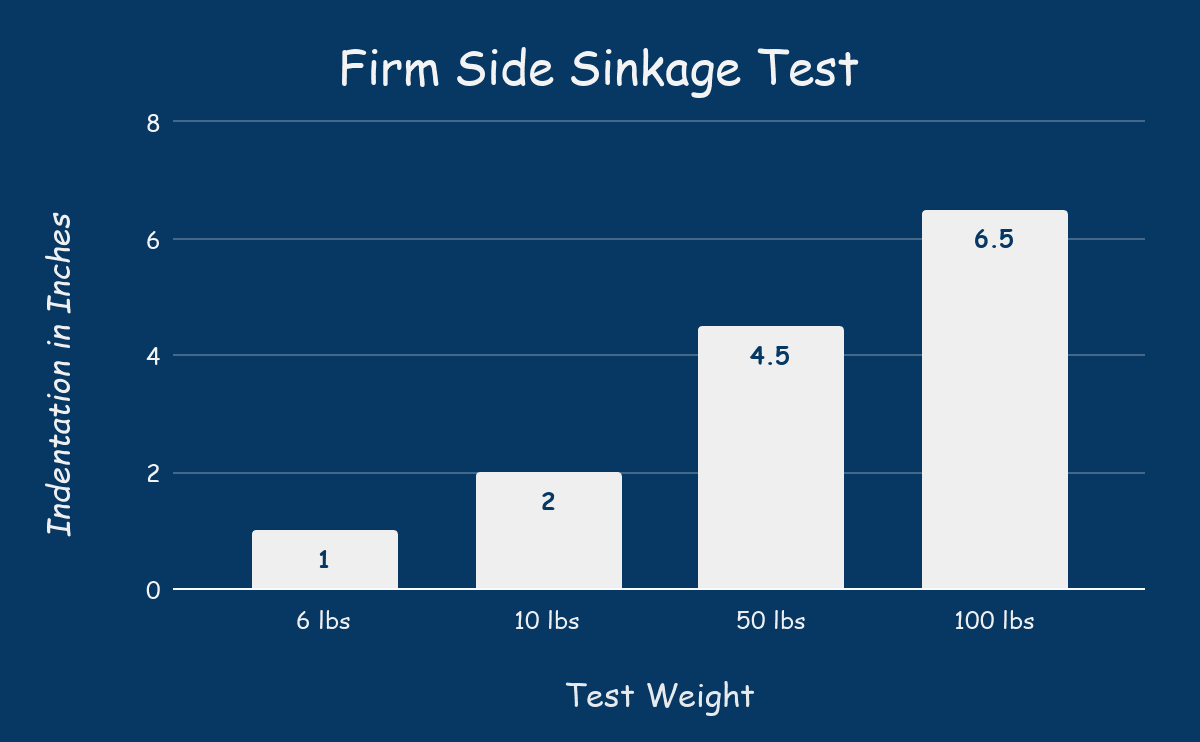 Second we have the firm side. This time we only have one inch of memory foam. Due to less comfort foam the support foam underneath works much faster. This means firm mattress lovers, this side is definitely for you. In the chart you can take a look at how the firm side responded to different test weights.
Production and Certifications
The Layla mattress is produced proudly in the USA. The foam used by Layla is poured in Georgia and California, then shipped to Arizona where assembly takes place. Both the mattress cover and label are made in North Carolina. When experiencing high volumes of orders Layla has confessed to sending their American made fabric to El Salvador and Mexico to be cut and sewn. 
Layla only uses CertiPUR-US certified materials. All products are made without ozone depleters, without PBDEs, TDCPP or TCEP(all know to be toxic) flame retardants, without mercury, lead, and other heavy metals, without formaldehyde, without phthalates regulated by the Consumer Product Safety Commission, and Low VOC (Volatile Organic Compound) emissions for indoor air quality. As a fully foam mattress, there could be a concern about off-gassing. With that being said, the Layla rated great with off-gassing, having little to no odor reported. 
Sleeping Culture Rating: Overall Results 

At Sleeping Culture we work hard to bring you honest and neutral information you can trust. We like to focus our attention on things which matter most to the shopper. Our rating looks in-depth at materials and structure, motion transfer, value, comfort, off-gassing, breath-ability, and durability. With a our rating system it's possible to evaluate and compare each mattress on the market today. We hope our rating gives you confidence in choosing the right mattress for you.
Is The Layla Mattress For You?
Lets see if this mattress is right for you now that we've looked at the materials, structure, motion transfer, firmness, and cost. Our main recommendation is to memory foam mattress lovers. If you like the feeling a foam mattress give, you will love the Layla. No matter which side you choose, the mattress provides the traditional contouring associated with memory foam mattresses.
The next big benefit of the Layla is its great motion transfer ability. The Layla is for you if your partner frequently wakes you in the night with their stirring. Also, just in case you're worried the motion transfer is great with both the soft and firm sides of the Layla.
Furthermore if you are someone who needs pressure relief you may want to give the copper infused memory foam a chance. As stated before, many customers swear by the healing powers of the copper. Combined with the already great pressure relief of memory foam, the copper compresses at pressure points to give extra supporting relief.
For More Check Out Layla Sleep
If you have any further questions we recommend heading over to the Layla website. Click on the bubble in the corner and ask your question, or contact them via email and they'll get back to you. Apart from their own website, you can also find Layla for sale on Amazon.