Millions of Americans suffer from sleep apnea, a serious sleep disorder in which one's airway becomes obstructed during sleep. In fact, many people who have sleep apnea haven't been officially diagnosed.
Diagnosed or not, there are several treatments for sleep apnea that address both mild and severe forms of it.
Many people start treating their sleep apnea with nasal sprays or nose strips, but eventually move on to specialized pillows and CPAP (continuous positive airway pressure) machines.
Quick Look at Our Top 6 Picks
IMAGE
PRODUCT
 

Keeps tubing and mask in place
Relieves aches and soreness

VIEW LATEST PRICE →

Best for snoring and sleep apnea

Relieves aches and soreness
Very comfortable
High quality

VIEW LATEST PRICE →

Best wedge pillow for sleep apnea

Comes with a breathable pillowcase
Provides neck and shoulder support
Very comfortable

VIEW LATEST PRICE →

Stays cool all night
Relieves aches and soreness

VIEW LATEST PRICE →

Stays cool all night
Adjustable
Relieves aches and soreness

VIEW LATEST PRICE →

BEST for side sleeper with sleep apnea

Comfortable and functional
Customizable
Fits CPAP mask well

VIEW LATEST PRICE →
Sleep apnea pillows are an affordable tool that can address mild to moderate cases of sleep apnea.
Some sleep apnea pillows address the symptoms of sleep apnea alone or they can work with CPAP machines to provide the necessary relief.
These specialized pillows come in a few different forms, but all of them aim to open airways and facilitate breathing while asleep.
What Is Sleep Apnea?
Understanding sleep apnea is the key to understanding how sleep apnea pillows work.
According to WebMD, sleep apnea is a disorder in which a person's breathing is interrupted while sleeping, so in other words, people who suffer from this disorder stop breathing repeatedly during sleep.
This is a serious condition because it results in a lack of oxygen to the brain and the rest of the body, which can have major consequences.
Aside from not being able to complete everyday tasks, untreated sleep apnea can lead to high blood pressure, stroke, heart failure, diabetes, depression, or headaches.
There are two main types of sleep apnea: obstructive sleep apnea (OSA) and central sleep apnea.
Obstructive sleep apnea is more common, and it occurs when a person's airway becomes blocked by the soft tissue in the back of his or her throat.
With central sleep apnea, the brain forgets to tell your body to breathe, so the issue is in the respiratory control center rather than a blocked airway.
Symptoms of either type usually include loud snoring, waking up with a sore or dry throat, waking up gasping for air, tiredness, restless sleep, morning headaches, decreased libido, mood changes, or insomnia.
Although sleep apnea can be diagnosed in anyone of any age, there are certain factors that put some people at a higher risk than others.
People most as risk for sleep apnea are male, overweight, over the age of 40, have a larger than average neck size, have a family history of sleep apnea, have larger than average tonsils and tongue, have a smaller than average jaw bone, have some form of nasal obstruction, or suffer from gastroesophageal reflux (GERD).
Pillows for Sleep Apnea
Sleep Position: One of the first steps in treating sleep apnea is positional therapy, and specialized pillows are the perfect complement for it.
Most sleep apnea experts recommend side sleeping to prevent the tongue and soft tissue from collapsing and blocking the airway, which can happen easily when back sleeping.
Because of this, most sleep apnea pillows have been developed to train sleep apnea sufferers to sleep on their side.
However, back sleepers can get some relief from their symptoms if they elevate their body from the waist up while sleeping.
The extra elevation can prevent the airway from becoming obstructed, and there are specialized wedge pillows that address this.
Pillow Type: In general, the best pillows for sleep apnea are made of foam or memory foam, but most important is the shape of the pillow.
Some sleep apnea pillows are designed to be used with CPAP machines, others are intended to align your neck, back, and head in the proper position to relieve sleep apnea symptoms.
CPAP machines use a mask that fits over a person's nose and mouth and supplies the necessary air pressure to keep the airway open while sleeping.
So, sleep apnea pillows that work with CPAP machines will make wearing the mask much more comfortable by reducing pressure on the face from the mask and keeping the mask in place throughout the night.
These pillows have a specialized design that accommodates both the mask and the tubes that feed it.
Other sleep apnea pillows usually fall into one of two categories—cervical or wedge— and they work by supporting the spine and ensuring the ideal sleep position.
Usually cervical pillows are for side sleepers and wedge pillows are for back sleepers, but some back sleepers can find relief with cervical pillows, too.
Cervical pillows (also called contour pillows) keep the neck straight, preventing the throat from closing.
Most CPAP machine pillows can also be considered contour pillows.
Wedge pillows elevate the upper body, which stops gravity from collapsing the airway while back sleeping. Either way, a firm pillow is the best option.
What Are the Top Six Pillows for Sleep Apnea?
Here is a summary of the top six pillows for sleep apnea, each offering a unique combination of desirable features. All of these products are highly rated, and sleep tested.
EnduriMed CPAP Pillow
View On Amazon
This contour pillow can accommodate any CPAP mask so that you breathe easy all night.
The specialized design ensures that your mask won't shift and cause leaks, plus it relieves pressure on the face. This pillow's unique shape allows for ultimate comfort from any angle and gives adequate space for mask tubes.
All of the materials are resistant to allergens and dust mites, and the pillow is made with high-quality memory foam that provides firm neck and spine support, especially for side and stomach sleepers.
The EnduriMed CPAP Pillow fits standard pillow cases, but there is a custom cover available as well.
Pros:
Keeps tubing and mask in place
Relieves aches and soreness
Cons:
Sleep Innovations Memory Foam Contour Pillow
View On Amazon
The Sleep Innovations contour pillow is made with high-quality memory foam and provides enhanced spine support.
The memory foam adapts to the size and shape of your head and neck to align your body into the proper sleep position.
With two levels of contour, you are free to choose the amount of support that fits you, so that your airway remains clear.
This unique design ensures that you will not wake up with pain or stiffness. Lastly, Sleep Innovations offers a 5-year limited warranty with the purchase of this pillow.
Pros:
Relieves aches and soreness
Very comfortable
High quality
Cons:
Coisum Back Sleeper Pillow
With a Coisum Back Sleeper Pillow, you can never wake up with neck or shoulder pain. The high-quality memory foam that it is made of will keep the pillow firm enough to support your head and neck, so it aligns properly with the rest of your body. Due to this feature, the pillow is the perfect solution to that unpleasant crooked neck and sore shoulder you sometimes get when you sleep with a traditional soft pillow.
It is designed to cradle your head for better support, as well as reduce the pressure on the neck when you sleep on your back.
Coisum Back Sleeper Pillow also comes with a skin-friendly pillowcase. This breathable surface slows air to circulate while you are sleeping. In addition to that, the pillowcase can be removed and washed anytime.
This pillow is the best health care gift to get your grandparents, office workers, or people who sit all day. Getting them this gift shows how much you love and care for them.
Pros:
Made of high-quality memory foam
Comes with a breathable pillowcase
The pillowcase can be easily removed and washed
Provides neck and shoulder support
Medium-firm density
Cons:
Might take a few days for your neck to adjust to the pillow
Visco Love Celliant Sleep Therapeutic Wellness Memory Foam Pillow
View On Amazon
This advanced therapeutic pillow stays cool while contouring to your body, which relieves aches and pains and promotes clear airways.
It is built with 100% visco-elastic memory foam, which is hypoallergenic and durable.
The unique design features air channels that regulate temperature to allow you to sleep comfortably all night.
This Visco Love pillow can be used with a CPAP mask or without one because of the specialized slopes and cutouts that are built into the design.
Pros:
Stays cool all night
Relieves aches and soreness
Cons:
May have an odor at first
Snuggle-Pedic Ultra-Luxury Bamboo Shredded Memory Foam Pillow
View On Amazon
Unlike the other pillows on this list, the Snuggle-Pedic pillow does not have a unique shape.
This hypoallergenic, toxin-free pillow sleeps cool and can adapt to whatever position is best for you, whether that includes CPAP machine or not.
It is filled with shredded memory foam, which is what allows for the support and customization, and the cover is made of viscose of bamboo, polyester, and lycra.
The ultra-luxury pillow is machine washable, available in 3 sizes, and comes with a 20-year warranty as well as a 120-night sleep trial.
Pros:
Stays cool all night
Adjustable
Relieves aches and soreness
Cons:
May seem lumpy
May be too firm
Contour Products CPAPMax Pillow 2.0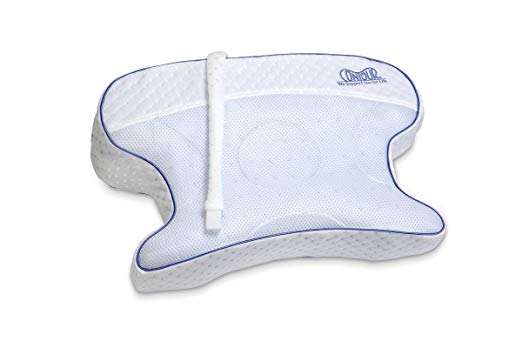 The CPAPMax 2.0 is most similar to the EnduriMed CPAP pillow above.
It features specialized cutouts to fit anyone's sleep preference and to accommodate CPAP masks and tubing. It also has a Velcro strap that can be fixed to CPAP tubing for added shifting and leaking protection.
There are two sleeping surfaces to choose from: a plush, traditional pillow surface and a ventilated foam surface.
Plus, this hypoallergenic pillow allows you to add or take away layers, so your spine and neck can stay straight. The adaptability of this pillow ensures ultimate comfort while sleeping with or without a CPAP machine.
Pros:
Comfortable and functional
Customizable
Fits CPAP mask well
Cons:
What Else Should You Consider When Using and Purchasing Pillows for Sleep Apnea?
Sleep apnea pillows are a great way to address breathing issues while sleeping, but there are a few other points to consider when using and purchasing them.
First, sleep apnea pillows will work better for some people than they will for others, especially because there are many different options to choose from.
Since sleep apnea pillows often have unique designs, it is reasonable that certain shapes won't be comfortable for every person.
Even pillows that adapt to the shape of your body may not be satisfying for everyone.
So, don't get discouraged if the first sleep apnea pillow you try falls short of your expectations; there are plenty more to put to the test.
Keep in mind, though, that the ultimate goal of the pillow is to help you breathe, so if you've found one that does that, the other features of the pillow may not seem as important.
Another point to consider is price. Even though pillows are a more affordable alternative to expensive medical treatment for sleep apnea, the quality ones can get pricey.
As a point of reference, the recommended sleep apnea pillows above range in price from $28 to $70, but most of the time you can count on paying $50 to $60 for a quality pillow.
The price of the pillow is largely based on the unique features it has, as well as the materials it is built with.
Next, one of the biggest criticisms of sleep apnea pillows is that they tend to sleep hot, meaning that they retain body heat throughout the night, and that can be uncomfortable for some people.
If this is something that could affect you, you may want to look for pillows with gel layers, which are more likely to stay cool all night.
Finally, if you find that sleep apnea pillows aren't adequately addressing your symptoms, it may be time to consult a sleep professional.
Although it may be expensive, sleep experts can conduct a sleep study to get to the bottom of the issues you are experiencing. The information gleaned from the study would allow your doctor to create a more intensive treatment plan.
Pillows for Sleep Apnea – Final Thoughts
Ultimately, the best pillow for sleep apnea is the one that allows you to enjoy comfortable sleep while relieving the symptoms and effects of sleep apnea.
Keep in mind that not all sleep apnea pillows are the same; in fact, they can differ quite a bit, so it may take some trial and error to find the perfect one.
Nevertheless, pillows specially designed to treat the symptoms of sleep apnea have been proven effective and are even recommended as a first step for treating mild to moderate sleep apnea, before formal medical treatment.