Thousands of people struggle with anxiety, depression, insomnia, and a number of other unpleasant disorders that could easily be treated if they were able to get enough rest.
In our modern day, fast-paced society, we are constantly checking our phones, our computers, emails, and worrying about how to take care of ourselves and our families in such a hectic time period.
If you feel that you can relate to this, you're not alone; today you'll see strangers, friends, family, and maybe even yourself using Ambien, Xanax, and other prescription medications to deal with their inability to relax or get any real sleep.
Quick Look at Our Top 5 Picks
IMAGE
PRODUCT

100% Vegan
No drowsiness or lingering exhaustion
Keeps you from waking up too much through the night

VIEW LATEST PRICE →

Won't be accompanied by a "morning hangover" or grogginess
Can be used for children 12 and up for long plane or car trips

VIEW LATEST PRICE →

Vegan and Vegetarian Friendly
No sleepiness or fatigue upon waking
No bad dreams or side effects from the Melatonin

VIEW LATEST PRICE →

Works as an excellent alternative for anyone taking Ambien or other habit forming sleep aids
No morning grogginess, drowsiness, or fatigue

VIEW LATEST PRICE →

Tart Cherry and French Melon help to produce natural melatonin and antioxidants
Gaba and L-Theanine (green tea derivative) helps to calm the brain

VIEW LATEST PRICE →
Later on, this leads to addiction, financial issues, and dependency on the prescriptions to get through your day to day activities. It doesn't have to be this way!
Try a Natural Pill
While some prescription medications have their purpose, most are addictive, habit forming, and some are completely unnecessary.
Instead, try a sleeping pill that contains natural ingredients like Chamomile, Lavender, and Melatonin. Existing as a naturally occurring hormone within our bodies, Melatonin is the feeling inside that lets you know it's time to go to sleep.
Some people don't produce enough of this hormone, so sleeping can become challenging. The options below contain their own distinct blend of these herbs along with others, adjusted perfectly to create a soothing feeling and ease your tension.
There's also a reason why Chamomile is used for relaxation in just about every product available. Aside from helping you sleep and relax, Chamomile helps to ward off inflammation in the gums, digestive track, and viral infections.
This awesome herb is often consumed in the form of a tea, or burned as an essential oil, which is something you could try doing before switching over to sleeping pills and see how it makes you feel.
Those who have allergies to pollen should avoid using chamomile as could trigger a reaction. If you experience any type of nausea or vomiting after using sleep aid products that contain chamomile, including pills, discontinue use.
Also Read: Best Tea for Sleeping
Lavender on the other hand has a calming, and pleasant scent this also frequently used in essential oils and teas. It's helpful for anxiety, depression, and postpartum depression in new mothers who also experience significant sleep loss within the first few months after giving birth. Lavender happens to be one of few ingredients to sleeping pills that doesn't have side effects, or if it does, they're only mild.
Look out for ingredients that do have side effects.
Side effects are pretty common for certain kinds of sleeping pills. Look out for brands that contain high doses of Valerian Root, or Humulus Lupulus. Valerian Root is regularly noted for causing bad dreams in         some people; not everyone experiences this issue, but if you happen to fall in that category, avoid using products that contain this derivative. You'll also feel thirst, have persistent cotton mouth, and an inability to concentrate if Valerian Root has a negative impact on your system.
Humulus Lupulus on the other hand, can make symptoms of depression worse in people who already experience mood swings or feelings of extreme sadness. Also known as Hops, this herb is much like Lavender in that it can be a trigger for allergies if used by people who are allergic to pollen.
One other thing to look out for is whether or not the pills your taking seem to give you more energy, wake you up in the middle of the night, or create chaos and dysfunction in your sleep cycle. This can be a side effect of Melatonin; some people experience the opposite of the effect that this hormone is supposed to provide.
Use sleeping pills as instructed.
Abusing pills or taking more than what is advised on the bottle is not a good idea.
Unfortunately, you'll find that many people ignore the labels and the warnings and choose to take anywhere from 4 to 8 more than what's suggested! It's better to be safe than sorry, overuse of any type of medication can cause significant damage to your stomach, your liver, and your kidneys.
Most labels will also make it very clear whether or not a sleep aid is appropriate for children, and the age groups that can take them; usually, you'll see 12 and up as the most common age group.
Best Over the Counter Sleeping Pills – Our Top Picks
Genius Sleep Aid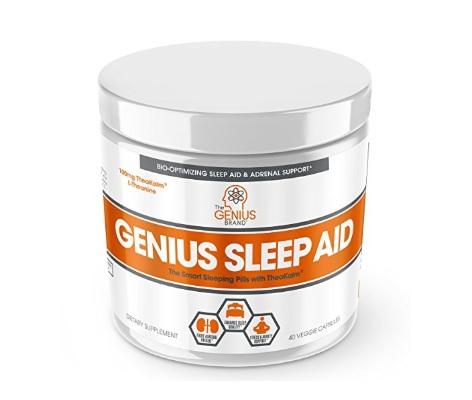 View On Amazon
Working as both a non-habit forming sleep aid and a detox method for caffeine and other forms of toxin buildup. Made with Melatonin, L-thiamine or TheaKalm, Glycine, and Inositol, falling asleep will no longer feel like active daily chore. The Genius Sleep Aid is also a vegan dietary supplement, which means you can literally and figuratively fall asleep with a clean conscious.
Pros:
100% Vegan
No drowsiness or lingering exhaustion
Keeps you from waking up too much through the night
Cons:
Some people had the opposite effect, felt more awake after using
Everyone's body works differently, and each one of our brains has its own chemical balance. So if you are part of the twelve percent of people who experience this, it could be that you are consuming too much Melatonin and need to decrease your dosage or purchase a different brand with a low dose.
Hyland's Calms Forte Sleep Aid Tablets
Swallowing pills can be difficult to do for many, after all it's only human nature to want to chew our food. Luckily, these pills are small and easy to take down with a little bit of water! This sleep aid not only provides a restful sleep, but it can also be used to help you relax if you're having difficulties with it. Hyland's all natural ingredients include Avena Sativa, Chamomilla, and Passiflora 4X HPUS, which stands for Homeopathic Pharmacopeia of the United States.
Pros:
Won't be accompanied by a "morning hangover" or grogginess
Can be used for children 12 and up for long plane or car trips
Cons:
Some negative experiences with mood swings and bad dreams
A small percentage of people have reported migraines after using
This sleep aid contains Humulus Lupus, so if you have clinical depression this ingredient might make it worse. Try a sleep aid that mainly uses Chamomile and Lavender instead; it's a basic blend that might not be as potent, but you won't have to sacrifice your mental health when using it.
Sleep Well Vegan Natural Sleep Aid
View On Amazon
Like most sleeping pills, the Sleep Well Vegan Natural Supplements contain a base mixture of Chamomile, Lemon Balm extract, and Melatonin. This formula includes Deodorized Valerian Root, which is ideal since it tends to have an unpleasant smell that comes out in your urine. Sleep Well is an inexpensive alternative to pure Melatonin, and animal lovers will be happy to know that no animal products are used in these sleeping pills.
Pros:
Vegan and Vegetarian Friendly
No sleepiness or fatigue upon waking
No bad dreams or side effects from the Melatonin
 Cons:
Valerian Root smell is still noticeable
Large pills, difficult to swallow
Vegan products are described as being free of any and all animal products. With pills, it's challenging to find things that don't contain gelatin, so this is a great option for anyone who is very strict about veganism and take the nutrition portion very seriously.
Better Rest Natural Sleep Aid
View On Amazon
The Calm Company is dedicated to helping people sleep better at night, and uses their own special blend of Valerian Root, Melatonin, Chamomile, L-Theanine, Tryptophan, Hops, Gaba, Lemon Balm, and Passionflower. You should only need 1 to 2 tablets to fall asleep, and these should be taken about an hour to 20 minutes before you plan to hit the sheets. Avoid using televisions, phones, and products that require you to look at LED and Blue Lights, as this hinders your body's ability to respond to the sleep aid and drift off. Give yourself adequate time to prepare for bed and practice some relaxation techniques or read a book.
Pros:
Works as an excellent alternative for anyone taking Ambien or other habit forming sleep aids
No morning grogginess, drowsiness, or fatigue
Cons:
Doesn't work for a small percentage of people
Although it works as an alternative, you should never combine Ambien or other drugs with sleep aids. Bad reactions can occur and could cause irreversible damage to your body, or even prove fatal. If you plan on using Better Rest Natural Sleep Aid, discontinue use of all others while you're taking it.
Xenuro Sleep It Off
View On Amazon
You don't need to take 2 or 3 of these to fall asleep, one Xenuro Sleep It Off tablet is enough, and then its lights out. Do you spend hours rolling around, tossing and turning, lying there with your eyes closed while your mind is still racing? Well, we've all been there and you don't have to continue fighting every single night to fall sleep. The major ingredients include Tart Cherry, French Melon Sod, Black Pepper, Gaba, Melatonin, 5-HTP, and L-Theanine are essential in assisting to induce a deep sleep. You might be surprised to see Black Pepper on this list, what purpose could it possibly have? Pepper actually helps your body absorb nutrients more effectively. This is why you only need to take 1 one of these tablets, your body is able to break it down and use it quickly.
Pros:
Tart Cherry and French Melon help to produce natural melatonin and antioxidants
Gaba and L-Theanine (green tea derivative) helps to calm the brain
Cons:
Ineffective for a small portion of consumers
While this sleep aid may not have been very helpful for some, it works well for the majority of those who have purchased it.
Sundown Naturals Melatonin 5 mg Gummies
View On Amazon
Personally, I have no problem swallowing a pill regardless of the size, but what if you can't swallow pills at all? Not to worry, gummies are a great alternative for anyone who is unable to get a tablet down the hatch. They're soft, strawberry flavored, and contain a very small amount of Melatonin in each one, but they do the trick! All it takes is one or two, and you'll soon be on a journey through the dreamland of your subconscious.
Pros:
Gluten free, dairy free, non-GMO
They stay soft and fresh over long periods of time
No grogginess associated with this sleep aid
Cons:
Could be considered an allergenic based on production
Contains corn syrup (causes breakouts for those with sensitive skin)
Some reports of nightmares have been associated with this product
Although this sleep aid does not contain gluten or dairy, it was produced in a facility that also processes eggs, fish, shell fish, soy and tree nuts. For a truly vegan sleeping pill, try BeCalm Premium Stress and Anxiety Relief instead. It's not a gummy, but it is still a guilt-free choice for those who don't wish to consume animal products.
Unisom SleepTabs
View On Amazon
These sleeping pills are a little different from the others on this list, the active ingredient is Doxylamine Succinate. Since there are always going to be folks out there who are unable to consume herbs due to allergies and other conditions, it's good to know there is a simple solution available. The Unisom SleepTabs are also non-habit forming, so you can stop taking them at any point if you feel like you won't need them anymore.
Pros:
Can be taken with vitamin B6 to get rid of pregnancy nausea/morning sickness
Doesn't give you a headache or migraine
Excellent alternative to Nyquil and Tylenol PM
Cons:
A full dose can make you feel groggy
Can have the opposite effect on some people/makes them feel more awake
The Unisom SleepTabs are popular among pregnant women and recommended by doctors as a safe sleep aid.
MidNite Natural Sleep Dietary Supplement, Cherry Flavor
View On Amazon
Sometimes it can be difficult or downright painful to swallow pills, especially if they're quite large. The MidNite Natural Sleep Supplement is chewable and cherry flavored so that you can easily take them down with a glass of water. The popular blend of Lemon Balm, Chamomile and Lavender will ease your tense muscles and comfort your mind so you can snooze without waking up every few hours and give yourself a full 8.
Pros:
Extremely helpful to those who suffer from insomnia
Provides a deep sleep, no waking up randomly at 2AM
No "morning hangover" or grogginess accompanied upon waking
Cons:
Can cause bad dreams as a side effect
Even if you do have a chewable tablet, you should never take any kind of medication without eating or drinking something first. Taking sleep aids on an empty stomach, especially flavored varieties, can upset your stomach and induce nausea. So be sure to have a small snack or a smoothie before you take your evening dose of MidNite Natural Sleep Supplement.
STAR6URN PM
The STAR6URN PM sleep aid is a surprising concoction of Melatonin, Ashwagandha, Macuna Pruriens, and Magnesium. This supplement also serves as a natural carb blocker, if you're carrying extra pounds it could factor into why you aren't getting good enough rest. The Green Coffee Bean extract will pump up your metabolism without pumping a single drop of caffeine into your bloodstream. The T6 brand offers a variety of different products for bodybuilders and fitness fanatics who need some supplements to go along with their STAR6URN PM.
Pros:
Helps you lose weight
Made for bodybuilders and gym rats
No grogginess or morning headache
Cons:
Not very potent, some people took higher doses of this product to be effective enough for sleep
May cause nightmares if you take it with Ambien or prescription medications for mood alteration
While you should mostly rely on this product as a sleep aid, it's important to realize that you cannot lose weight simply by taking a pill. You have to eat clean, exercise daily, and be disciplined in your daily routine. The STAR6URN PM will help you get there as long as you're consistent, and of course you'll need to get your rest in order to recover from those intense workouts.
BeCalm Premium Stress and Anxiety Relief
View On Amazon
Losing sleep over anxiety and overthinking is tough on your physical and mental being. No one wants to like awake for hours into the night trying to remember if they called a client, set up a meeting, or whether or not their presentation for work is going to be good enough. Take a deep breath and try the BeCalm sleep aid, it's meant to decrease your stress and anxiety levels enough to help you get a fuller sleep at night. The Passionflower and Hops Flower will help you relax while Valerian Root and Chamomile will help you slip away into a gentle slumber. The Stearic Acid in this supplement is derived from plants- no animals were harmed in the production of the BeCalm sleep aid.
Pros:
Vegan and GMO-free
30-Day money back guarantee
Packed with Vitamins C, B1, B2, B3, B4, B5, B6, B12, Magnesium and Calcium
Cons:
Some consumers have said this sleep aid increased feelings of depression
Large pills, difficult to swallow
Keep in mind that if you start having bizarre or upsetting dreams at night, it could be a side effect of Valerian Root. A small portion of people have had strange, vivid nightmares while using the BeCalm sleep aid. Discontinue use if this happens, you can still return your pills for a full refund as long as it's within the 30-day period. Generally, you'll still start to notice any issues with sleeping within the first 2-3 weeks of use.
Final Thoughts
Pay attention to your evening habits, there might be other reasons why you can't sleep.
At least 30 minutes to an hour before you go to bed, put away your phone and turn off your television.
Read a book, meditate, burn some scented oils, drink some tea, listen to some relaxing music, or do any other activity that doesn't involve you sitting in front of a screen.
The LED light confuses your body and tricks your brain into thinking that you're seeing sunlight; this causes dysfunction with your biological clock, making you want to stay up later.
Another thing to consider is whether or not you're using the right equipment.
You're probably wondering what kind of equipment you could possibly need for sleep, but think of your mattress, pillow, eye masks, and other things as tools for bedtime.
If you're trying to get a job done, the result is only going to be as good as the tools you had to work with. So, look at your mattress and pillow as tools to that help you sleep; is your mattress lumpy?
Too firm? Do you feel comforted as soon as you lie down, or do you toss and turn hoping to find a good position?
Is your pillow old, discolored, and beat up? Toss it and buy a new one! Before you skimp on a mattress or pillow though, look at them as investments for the future.
If you're pregnant or nursing, consult your physician before using sleeping pills.
It can be uncomfortable and difficult trying to sleep when your belly is carrying a whole person, but even all-natural products can be harmful to your baby depending on what it is.
Get the okay from your doctor before you make a purchase, you don't want to consume anything that could be harmful to your baby.
Sleep aids such as Tylenol PM and Benadryl are frequently used for pregnant women who can't sleep, for any other kind of ingredient, it's best to check with your doctor first.
Most sleep aids are safe, just pay attention to what your body tells you.
There's nothing wrong with trying sleeping pills, especially if you do have a really hard time falling asleep.
Just remember to keep an eye out for signs that you don't feel well, or just aren't feeling like yourself. Everyone is different, so if you do feel like something is wrong with your medication, stick to your gut feelings and stop taking it.