Eye masks are a fairly common remedy for anyone who has to sleep during the day, or has a hard time resting comfortably due to light sensitivity. However, I bet you didn't know that these useful tools can often be used in more than one way. The varieties of these masks include gels that can be frozen and used on other body parts, beads for a better fit, and specialized hypoallergenic materials for sensitive skin. The athletic person can use the freezable gel material for their neck, shoulders, legs, and back after a long day of practice; just don't apply too much pressure or the gel could leak out of the mask.
Quick Look At Our Top 5 Picks
IMAGE
PRODUCT

Can be placed in the fridge or freezer for extra cooling
Soothing for people with sinus problems
Can be removed from the mask for washing purposes

VIEW LATEST PRICE →

Multi-purpose, can be used for muscles as well
Adjustable Velcro strap for a secure fit
Great for hot evenings when you need some extra cooling

VIEW LATEST PRICE →

Includes a carrying case for the earplugs and draw string bag to hold your items
Perfect for travel by airplane or train, light and easy to carry
Pocket attached to neck pillow gives you hands-free access to your cellphone

VIEW LATEST PRICE →

Complete darkness when used, no light coming through
Stays in place, won't come off when you roll over
Adjustable headband keeps your mask from being too tight

VIEW LATEST PRICE →

Easily adjustable Velcro straps for added comfort
Durable, doesn't fall apart easily
Completely blocks out light as long as you lie on your back

VIEW LATEST PRICE →
Women who partake in beauty enhancements such as false eyelashes need a mask that protects their aesthetic investments; look no further, you can find a 3D mask you'll love just by scrolling through this list. Keep an eye out for the items that come with package deals that include other items, like earplugs and neck pillows. They're exactly the right tools for anyone who works overseas or frequently travels by air. A 16 hour flight shouldn't cost you a full 16 hours of sleep!
My personal favorite are the gel masks. I have fairly painful and long lasting migraines that prevent me from living life like I would normally, some say that it must be nice, getting to lie in bed all day. The truth is, it's a miserable time, and getting to sleep is incredibly difficult when it feels like someone is pounding your face with a hammer. Gel masks just make it that much easier, what used to be a damp, soggy cloth against my forehead is now a comfortable, form fitting get sleeping mask. Now, I fall asleep much faster; when I wake up I feel like a brand new person and it's almost like headache was never there to begin with. However, you should review the options below and decide for yourself.
Best Eye Mask for Sleeping – Our Top Picks
HOMMINI Memory Foam Eye Mask with Adjustable Strap
This cold, refreshing mask is especially designed for any man, woman, or child who suffers from insomnia. The HOMMINI keeps your head nice and cold, which is a plus for people like me who suffer from long lasting migraines every now and then. The silky material won't leave indentations on your skin and the elastic strap doesn't pull at your hair. Ladies, we all know how important our beauty sleep is, the gel pad keeps your eyes from becoming swollen and puffy. Wake up feeling confident, gorgeous, and ready to take on the challenges of the day; all the while knowing that you look fabulous as ever!
Pros:
Can be placed in the fridge or freezer for extra cooling
Soothing for people with sinus problems
Can be removed from the mask for washing purposes
Cons:
Can be flimsy, doesn't stay in place all the time
Could be a bit thicker to add more comfort
Holes and leaks are possible if not used carefully
A few last words of advice regarding this sleep mask, would to be to handle it with care. Products that contain gel inserts are likely to bust or break open if too much pressure is applied them. Make sure that it is stored properly, don't leave it underneath heavy items like books, laptops, other normal home items that you wouldn't normally think about. Avoid leaving it on the floor or in chairs where it can be sat or stepped on, and be sure to take it out of the freezer after about 20 to 30 minutes to avoid bursting.
The HOMMINI can be incredibly helpful, useful, and long lasting if you take the necessary steps to take care of it. Keep yourself looking and feeling young, don't miss another night of rest.
Gel Bead Eye Mask by FOMI Care
If you like the frigid temperature of a gel mask, but need something with a different texture, the Gel Bead Mask by FOMI Care might just be the thing you need. Don't worry about crow's feet, dark circles, or strap marks across the sides of your face. The cooling gel beads conform to shape of your face, ensuring that it doesn't move while you're fast sleep. The soft, vinyl cloth isn't itchy or course, but it's not so smooth that it slides off of your face either. The best part of the FOMI Care mask? You can use it for muscle cramps, too! Place it on your shoulders, neck, or back for pain management. Keep it in the fridge for 20 to 30 minutes for maximum efficiency.
 Pros:
Multi-purpose, can be used for muscles as well
Adjustable Velcro strap for a secure fit
Great for hot evenings when you need some extra cooling
Cons:
Not very durable, seams start to loosen after several uses
May not get cold enough to stay frozen for long periods
Silicone leaks out when broken or popped
Gel masks are always an excellent solution for migraines, headaches, and puffy, irritated eyes. However, you must be careful when using them because they tend to be fragile and leak when pressed upon. Although some gel masks are advertised for children as well, young children should be supervised when using the masks that contain beads. If they happen to pop out, they can easily become a choking hazard, so keep an eye on your kids if they're using it. Otherwise, the FOMI Care eye mask is both reputable and can last for quite some time as long as you're gentle with it.
Everlasting Comfort Travel Kit with Sleep Mask
Sometimes a sleep mask isn't enough to help you fall asleep, luckily the Everlasting Comfort Travel Kit has a solution. It includes a set of earplugs and a neck pillow made from 100% Memory Foam. The case for the neck pillow is removable by a zipper and it is machine washable. Getting a deep sleep is much easier when you can block out light, sound, and have no fears about a sore neck in the morning. The earplugs are surprisingly comfortable and keep out all the distracting, irritating noise of the world. The mask itself is light, soft, and doesn't allow light to seep in through the nose area. It is super soft, form fitting, and the perfect combo for a red eye flight.
Pros:
Includes a carrying case for the earplugs and draw string bag to hold your items
Perfect for travel by airplane or train, light and easy to carry
Pocket attached to neck pillow gives you hands-free access to your cellphone
Cons:
Dye from the eye mask rubs off, wash before using
Neck pillow feels a bit stiff for some
Even though the eyes mask is the most important part of the package, there are some minor complaints about the neck pillow. Memory Foam has a tendency to be very firm because it is supposed to be form fitting, but also bounce back without lumps and bumps.
Aside from that, dye rubbing off isn't all that big a deal; it's mainly a small annoyance. For some, this can cause allergic reactions that range from mild to serious. It's always best to wash personal care items before you use them, there's no telling what could be on it as it makes its way through the manufacturing process.
Anti-Aging Sleep Mask with Copper Ion Technology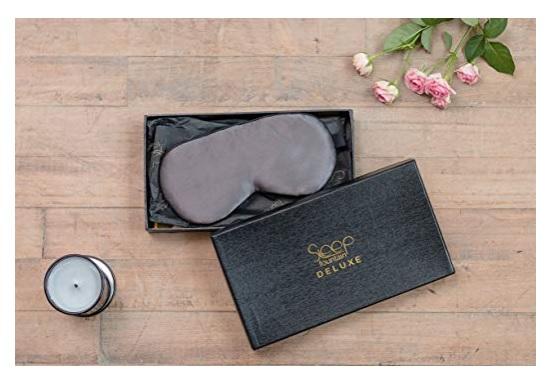 Aging, wrinkles, and sagging skin are all sensitive topics for women who happen to be getting older. Skin creams, supplements, and facial enhancements seem to be on the rise these days, but no one ever seems to encourage good old fashioned rest. With ionized copper woven into the gentle and luxurious silk fabric, you can bet that this sleep mask will make you feel younger the second you put it on. If you're not sure what to get your mom for Mother's Day, consider the Anti-Aging Sleep Mask!
Pros:
Complete darkness when used, no light coming through
Stays in place, won't come off when you roll over
Adjustable headband keeps your mask from being too tight
Cons:
Smaller than it appears in logo
No returns or exchanges can be made on this mask
Design has changed, issues with updated product
While this mask is a miracle worker when it comes to falling asleep, you shouldn't depend on it to magically fix your skin. Like sleep, diet, exercise, sun exposure, and other circumstances factor into the quality of your epidermis.  Activities such as meditation and yoga can help you relax and slow your breathing and relax your body, consider burning some essential oils or candles for a better experience. Just don't forget to blow the candle out before you fall asleep!
Homello Sleep Mask with 3D Eye Contour Shade Technology
There are quite a few sleeping masks listed here for women, but we can't forget about the guys! Men typically have larger skulls than woman, and the Homello mask provides a 3D shape that compensates for the difference in size. You'll have complete coverage over the bridge of your nose that doesn't create uncomfortable pain or pressure, but still gives you total blockage from the sun and bright lights for anyone who is on the night shift. This sleeping mask includes a bonus set of earplugs and a Premium Quality Travel Pouch so that you can be prepared for any situation that life throws at you.
Pros:
Easily adjustable Velcro straps for added comfort
Durable, doesn't fall apart easily
Completely blocks out light as long as you lie on your back
Cons:
Not as comfortable for those who sleep on their sides, no flexibility
Might not stay in place all night
Unlike other "personal care" products, the Homello Sleep Mask can be returned if you decide you don't like it, but I think you will. Several other peer reviews suggest that other people who have used this mask couldn't find very much they didn't like about it, I have yet to see a one star review. Although it is quite thick, you'll still find that the extra curvature for the eye is completely unnoticeable while you're asleep.
Hot or Cold Medicinal Eye Mask
So far, we've seen a few sleep masks that can be frozen, but what if you would rather have a mask that retains heat? Most of the time you don't want a mask that might cause you to sweat, but migraine sufferers rejoice at the idea of hot and cold compression. If you don't know what a migraine is, imagine having a headache while someone shines a flashlight in your eyes while screaming in your face simultaneously. Sounds horrible, right? That's because it is.
Migraines make it impossible to sleep, the throbbing sensation in your head matched with the straining of your neck muscles is enough to reduce a person to tears. When the cold compress is failing because the pain has moved into your neck, just stick the Medicinal Eye Mask in the microwave, take it out and get the relief that you need. After about 15 minutes, you should be feeling well enough to fall asleep without difficulty.
Pros:
Can be frozen or microwaved in case you need to rotate your compression
Use it on sore muscles like your back and neck
Cons:
Not enough gel beads included, prevents you from getting full coverage
Cold temperature doesn't make it through the material very easily
Can only be heated for a few seconds at a time, or it expands and is difficult to handle
To heat this eye mask, microwave it for a minimum of 20 seconds and a maximum of 40 seconds; do not go over the 40 second limit. Everyone's microwave is different, so you might need to lower the heat depending on the strength of the model that you have. For your own safety, be sure to test the temperature of the mask before you put it on your face, if it's too hot for your hands it's definitely going to be too hot for your eyes.
Fitglam Natural Silk Sleeping Mask with Eyelash Pattern and Earplugs
When you constantly need to have glamour and glitz in your life, even while sleeping, the Fitglam Natural Silk sleep mask is perfect for you! Even when you're travelling, you can keep your eyelashes looking camera ready at all times thanks to the cute pattern on this eye mask. The material is soft, light, and never leaves you with a scratchy feeling like cheaper linings do. You'll also be pleased to know that this mask comes with a free set of earplugs to assist you in your mission for a full night of rest.
Pros:
Hypoallergenic, excellent for those with dye allergies
Comes with a free set of earplugs for travelling
Adjustable strap ensures a comfortable fit for the entire evening
Cons:
Company has accidently sent out used and returned products to new customers
Bleeds dye, washing is recommended before using this item
Might be flimsy or easy to crumple and crease
This mask is adorable, and it's a great tool for helping you fall asleep. However, this is one of many items that definitely need to be rinsed out or washed before you put it on. My suggestion, would be to place the mask in cold water and soak it completely. Squeeze it out several times until you've completely removed all of the excess dye within, then use a blow dryer to dry it off or hang it up and allow it to air dry. By doing so, you allow the water to drain out of it gently, and you won't have to worry about damaging your mask in the drying machine, or accidently dying the inside of your machine black.
Tempur Sleep Mask
Sometimes a tiny, light sleeping mask isn't the right thing for everyone. Some of us want a larger mask with more padding and coverage, it's definitely a little bit more comfortable when you have what feels like a pillow for your face. The bottom half has an additional layer of filling to help match the contour of your nose, without letting in light. A single Velcro strap that measures from 15 to 17 inches creates enough wiggle room so that you can easily tighten or loosen your mask to fit your eyes just the way you like it.
Pros:
Can be used by both men and women
Works perfectly for back sleepers
Durable and long lasting
Cons:
Not as fluffy as depicted in advertising photo
Might not work very well for those who sleep on their sides
Even if it is a bit thinner than it looks in a photo, this Tempur sleep mask still blocks out all light in a room. It also works as a compression mask for people dealing with migraines; even though it's not all that fluffy, it's still soft enough to sit comfortably when pressed against your eyes and forehead.
GiniMax 3D Light Blocking Memory Foam Eye Mask
3D eye masks seem to be a favorite among many consumers, generic masks don't have much padding for comfort and press against your eyeballs. The GiniMax is a high quality item that can be used for both men and women. Although it has somewhat of a bulky design, it still keeps the light out whether it's sun from your window, or lights from the job that you sleep at. The material is breathable, so you won't wake up with a sweaty forehead or nose.
Pros:
Product is long lasting and durable
No pressure on eyelids or discomfort
Cons:
Seams are noticeable/ somewhat rough along the top of your cheeks
If you purchase the GiniMax and decide that you don't like it, you'll be happy to know that this item can be returned to the manufacturer. The company offers a 100% money back guarantee for dissatisfied customers. People are encouraged to wash this mask before using to prevent dye from bleeding onto pillow cases and bedsheets, this is typical for most face masks. After you've finished washing and drying it, put your mask on and get a good night's rest.
3D Soft Eye Sleep Mask Padded
Last but not least, the 3D Soft Eye Sleep Mask Padded is yet another great item with egg-shaped folds to take pressure of your eyes. It works well for brides and bridesmaids who might need to take a little nap after hours and hours of preparing. The 3D mask will prevent any type of smearing or damage to your eye makeup, so you can feel well rested before the big moment. The elastic band is adjustable, if you're experiencing more compression than you need, just loosen the strap and voila!
Pros:
Curvature around the bridge of nose stops light from leaking in
Excellent for college students who can't sleep while their roommate studies
Cons:
Seams can be irritating when pressed against your face
The company offers a value pack for couples, so you can get one for your significant other as well! For the most part, everyone who has tried this mask has loved it. You'll notice high remarks about this product across the web, so take confidence in your purchase.
Final Thoughts
Keep in mind, eye masks, earplugs, and other items that you use to help you sleep are considered to be "personal care items." Products that fall under this category aren't typically returnable due to the risk of contamination; any items that absorb body oils, or cover the ears, eyes, nose, mouth, hair, and private parts are not to be resold to the public once used. Fortunately, some companies are kind enough to include a return or exchange policy so that you don't lose your money completely. You should keep receipts and paperwork on anything that you buy just in case you do need to return it at a later time, most companies won't offer refunds without the necessary packaging and paperwork.