Camping with kids can be a challenge, but it can also teach life lessons and create lasting family memories. So, each year campgrounds around the world are flooded with eager trekkers. But before the trip, there is a great deal of preparation, which often means purchasing all the gear you will need on your adventure, including sleeping bags. It may be tempting to head out to the nearest big box store and grab any kids' sleeping bag, but this could prove to be a mistake later.
Quick Look at Our Top 5 Picks
Since kids' bodies aren't as susceptible to stiffness and soreness when sleeping, it may seem like kids can fall asleep anywhere, but children aren't totally equipped to adapt to new situations quickly and without incident. This is especially true when there are factors involved that could affect their sleep. Every parent knows that when their kid is tired, things can go downhill fast. Because of this, choosing the correct sleeping bag for your kid-friendly camping expedition can be one of the most important decisions your make before your trip.
Kids' Sleeping Bags – What To Consider
Fill: The two types of insulation that are found most often in sleeping bags are synthetic and down. Camping enthusiasts will almost always recommend down insulation because it is lightweight, easily compressed, durable, and usually down-fill sleeping bags are a higher quality. However, down-insulated sleeping bags are usually much more expensive and more difficult to clean than synthetic, and when down insulation gets wet, it is very hard to dry. This can be dangerous if you find yourself with a wet sleeping bag on a cold night.
Most casual campers choose to purchase a sleeping bag with synthetic insulation, especially for kids. Synthetic insulation refers to fill made of polyester, nylon, or cotton. These sleeping bags can also be lightweight, easily compressed, and durable, plus synthetic insulation dries much more quickly than down insulation, it is easier to clean, costs less, and is hypoallergenic.
Size & Weight: One of the main factors that makes a kids' sleeping bag a kids' sleeping bag is that it's smaller than an adult bag. Kids' sleeping bags are designed to fit a smaller frame, which helps to keep heat inside the bag. Some kids' sleeping bags are made for toddlers and others are made for children, so be sure to consider your kid's height and weight when choosing the right bag for them.  
Part of the size of the bag is its weight. A sleeping bag is one of the heaviest and bulkiest pieces of camping gear, so it is important to consider this if you plan on hiking with sleeping bags in tow or sleeping in cold temperatures. In general, the warmest sleeping bags are the heaviest. So, it's best to look for a bag that your child is capable of carrying themselves, and one that will provide the appropriate level of warmth.
Shape: Sleeping bags usually come in one of four shapes: rectangular, barrel shaped, mummy, and double wide. Rectangular sleeping bags are obviously shaped like a rectangle, and they are designed to be more spacious and comfortable. A barrel-shaped sleeping bag is similar to a rectangular sleeping bag, but it is narrower in the feet. Mummy bags are fitted and snug to the body for the entire length of the sleeping bag. Lastly, double wide refers to an extra-large version of a rectangular sleeping bag that can fit two sleepers. 
The best shape for your child depends on a couple of factors—their sleep preferences, the temperatures they will be using the sleeping bag in, and the weight of the bag. Some of the sleeping bag shapes described above may be more comfortable for kids who like to spread out when they sleep or for kids who like to wrap themselves up in a ball. Plus, the more fitted the bag, the warmer it is, which is best for colder temperatures. And if the weight of the bag matters, rectangular and barrel-shaped bags are usually lighter than mummy or double-wide bags.
Durability & Maintenance: When it comes to products for kids, durability and cleanliness always matters. In general, kids are rougher with their possessions than adults are, so finding a sleeping bag that can hold up to tough love is best. Plus, the terrain the sleeping bag is placed on can wear it down over time. As a result, you will want to find a kids' sleeping bag that has sturdy zippers and is made with durable materials and insulation that repel moisture.
Kids are also known to spill things and make messes, so the wrong sleeping bag could get ruined by one of these incidents. Sleeping bags also become dirty from the bodies that sleep in them. Because of this, purchasing a sleeping bag that is easy to clean and water resistant will prove to be a good decision later.
Climate: Climate, specifically temperature and precipitation, plays a major role in selecting a sleeping bag. Before you buy a kids' sleeping bag, be sure to consider where and when it will be used.
All sleeping bags have a temperature rating that indicates the lowest temperature at which the sleeping bag will keep a person warm while wearing one layer of clothing. But, warmth is perceived and varies from kid to kid, which is why it is best to purchase a sleeping bag that is rated for temperatures lower than what you expect to encounter, but not too low to cause overheating. The zipper on the sleeping bag can also help to regulate the amount of heat that's kept inside by allowing the sleeper to adjust for ventilation. Since kids don't have as much body mass to keep themselves warm, erring on the side of caution is smart.
Precipitation is directly related to warmth. As mentioned earlier, a wet sleeping bag will be much colder and could be dangerous. Because of this, many sleeping bags are built to be water-resistant, but if you want extra protection, consider treating the bag with a water-resistant chemical or adding a water-proof shell to the bag.
What Are the Top Five Kids' Sleeping Bags?
Here is a summary of the top five kids' sleeping bags, each offering a unique combination of desirable features. All of these products are highly rated, and sleep tested.
Wenzel Moose 40-Degree Sleeping Bag
View On Amazon
The Wenzel Moose sleeping bag is designed to keep young campers comfortable and warm in temperatures as low as 40 degrees Fahrenheit. It has a polyester shell with synthetic, hypoallergenic Insul-Therm insulation. This sleeping bag also features a self-repairing zipper that won't snag, plus it is lightweight at only 3.25 pounds. It measures 66 inches long and 26 inches wide, and it comes with a stuff sack for storage and transport. Finally, it is available in pink and blue, and both colors feature an appealing moose design.
Pros:
Holds up to washing
Fluffy and comfortable fill
Cute design
Cons:
May not live up to temperature rating
Coleman Youth Sleeping Bag
View On Amazon
Coleman's Youth Sleeping Bag has several special features. It is filled with ThermoTech insulation and has a ComfortCuff along the neckline of the sleeping bag to keep heat in. This sleeping bag also features a small interior pocket with Velcro closure and ZipPlow, which keeps fabric away from the zipper to prevent snags. It is rated for temperatures as low as 45 degrees Fahrenheit, and fits children up to 5.5 feet tall. This sleeping bag is available in two design options: blue with camouflage print inside and pink with multicolor squares inside. Coleman also offers a limited warranty with the purchase of this product.
Pros:
Lightweight for carrying
Easy to roll up and store
Very warm
Cons:
Wenzel Backyard 30-Degree Sleeping Bag
View On Amazon
Wenzel's Backyard model sleeping bag is the only mummy-shaped bag on this list. It measures 26 inches wide and 66 inches long, and it is built with breathable yet warm materials. The synthetic polyester insulation along with the mummy shape lock in warmth. This sleeping bag also features a double zipper that can open from both ends and provides draft protection. Unlike rectangular sleeping bags, the Wenzel Backyard has a hood to keep heads warm and keep heat inside the bag. It is lightweight at only 2.2 pounds, plus it comes with a stuff sack for carrying and storing. Lastly, this 30-degree Fahrenheit kids' sleeping bag is available in green and purple.
Pros:
Extremely warm
Fluffy and comfortable fill
Cons:
Coleman Kids 50-Degree Sleeping Bag
View On Amazon
The Coleman Kids bag is similar to the Coleman Youth bag above, but they differ in their temperature rating, and this Coleman model features a glow-in-the-dark design. This bag is rated for 50-degree Fahrenheit temperatures and can accommodate children up to 5 feet tall. It also has ThermoTech synthetic insulation and ComfortCuff to prevent drafts from getting in through the seams. The zipper is equipped with ZipPlow, which moves fabric out of the way of the zipper to prevent snags. This sleeping bag is lightweight and easy to carry at 2.4 pounds, and it comes with its own stuff sack for storage and transport. It is available in teal, pink, and blue, each with glow-in-the-dark designs.
Pros:
Cute design
Easy to roll up and store
Very warm
Cons:
Zipper requires gentle use
Teton Sports Celsius Junior Sleeping Bag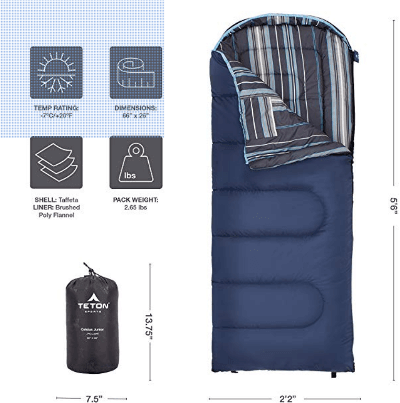 View On Amazon
The Teton Sports Celcius Junior is the warmest sleeping bag on this list with a 20-degree Fahrenheit temperature rating. It is a rectangular sleeping bag with a hood for extra warmth. This sleeping bag features draft tubes, which run along the two-way zipper to prevent drafts, and it has a small interior pocket for storage. The Celcius Junior is available in 3 colors—brown/pink, blue/stripe, and blue/plaid—each with a matching stuff sack. Unlike other kids' sleeping bags, this one gives the option of having the zipper on either the right side or the left side, and Teton Sports offers a limited lifetime warranty with the purchase of their sleeping bags.
Pros:
Lightweight
Easy to roll up and store
Roomy and comfortable
Cons:
May not live up to temperature rating
What Else Should You Consider When Using And Purchasing Kids' Sleeping Bags?
There are a few other factors to consider when purchasing a kids' sleeping bag, including price, comfort, and looks. In general, kids' sleeping bags are affordable. Since many kids' sleeping bags are made with synthetic insulation, the cost of down fill is eliminated, so other features of the sleeping bag determine the price. The recommended kids' sleeping bags above range in price from $23 to $38, and luckily some of them come with warranties. Keep in mind that your children will grow out of their sleeping bag and that it may need to be replaced when considering your sleeping bag budget.
Next, consider the comfort that the sleeping bag will provide. As mentioned earlier, it is vital that your kids can get the sleep they need in order for everyone's experience to be more enjoyable. A small pillow or a sleeping pad can add more comfort if necessary.
Finally, the look of the sleeping bag matters to kids. Unlike adults, kids will always pick the sleeping back that looks the best rather than the one that has all of the qualities necessary. Fortunately, most of the sleeping bags that are made for kids are available in appealing colors or they feature popular characters from T.V. shows or movies. It may be helpful to find a small number of sleeping bags that fit your child's needs and have them pick their favorite look out of those options.
Kids' Sleeping Bags – Final Thoughts
Ultimately, everyone's goal when searching for the best sleeping bag is to find one that is warm, dry, comfortable, and easy to carry, and that is no different when searching for a kids' sleeping bag. Although kids have different needs than adults, the recommended kids' sleeping bags above are all designed to address those needs with some specialized features added. Parents and the makers of kids' sleeping bags know that kids' sleep, especially when they are away from home, is important for everyone involved.