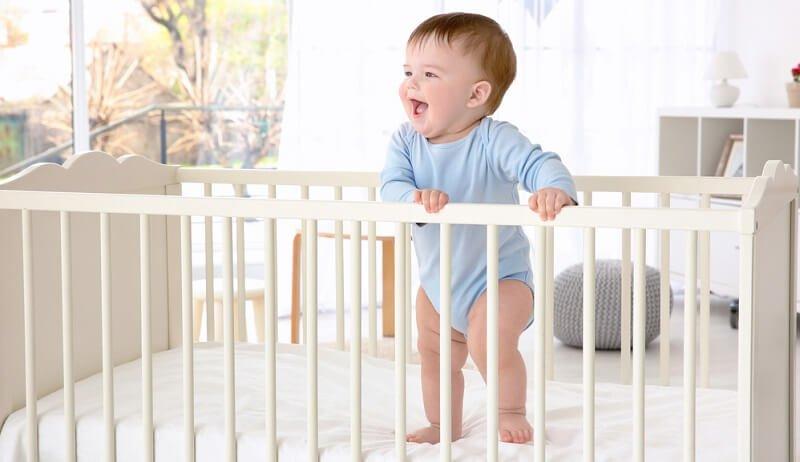 If you've got a little one on the way, you're probably looking for the safest and healthiest baby items for them. If you haven't thought about it, an organic crib mattress is a great way to protect your baby from chemicals. Some people don't know that standard mattresses are made with toxic materials, which can be unsafe for humans overtime. By using an organic mattress, you will be reducing the amount of chemicals that you or your baby come into contact with.
Quick Look At Our Top 5 Picks
Organic mattresses are made up of safer materials and are treated with alternatives to flame retardants. What's great is that there are plenty of organic mattresses available. Likewise, you can find an organic crib mattress for your baby!
Babies spend much of their day sleeping, especially when they are newborns. Having an organic crib mattress is an extra way to protect them from dangerous chemicals. It's definitely worth the extra work and research to find an organic crib mattress.
We've explained some of the most important considerations to make when it comes to shopping for an organic crib mattress. Then, we have highlighted some of the best organic crib mattresses for your baby so that you don't have to do the hard work!
What Should I Consider When Shopping for an Organic Crib Mattress?
If you're wanting to purchase an organic crib mattress for your baby, there are few things that you should keep in mind when you begin shopping. It's important to find a mattress that meets your personal preferences. Since your little one will be sleeping on it, you will want to make sure that it's comfortable for them as well.
Price: Crib mattresses are pretty affordable in general. Organic options are going to be somewhat more expensive, but the price difference is totally worth it. Take a look at several different organic crib mattresses to get an idea of how much they cost. Then you can make a reasonable decision as far as your budget goes. If you are trying to save money, you should look online for crib mattresses. You will be able to see price comparisons and look for sales more easily this way. Be on the lookout for coupon codes and free shipping as well!
Warranty: Some mattresses, of any type, come complete with a warranty. This will protect you in case of any issues with the mattress. These sometimes exist with crib mattresses, but they might not be very useful. This is because most people only use crib mattresses for a couple of years. Mattresses can usually hold up for that long without a need for a warranty to be used. Still, it's a nice option to have. It can definitely come in handy if you have multiple children using the same crib mattress over several years.
Materials: When you're looking at organic crib mattresses, you'll see that they are made up of organic or chemical-free materials. If you know you want an organic mattress, you probably already know the dangers of some of the chemicals used on standard crib mattresses.
Size: If you are shopping for a crib mattress after you have already purchased a crib, you should take measurements of the crib. Most crib mattresses fit a standard sized crib, but this isn't true in all cases. To be on the safe side, look for a crib mattress that is the same size as the crib. Sometimes, even if a crib is supposed to be the standard size, a standard sized mattress won't fit. It's important to use exact measurements to be exactly sure.
Durability: Durability is more important in adult mattresses because they are used long-term. Still, it's nice to know that your baby's mattress is going to hold up over time. Durability can be tricky to measure until you start using the mattress. Luckily, you can use reviews to hear from people who have been using the mattress for several months or a year. If it shows major signs of wear right away, it may not be a good choice. You should look for a more durable option if you will be using the same crib mattress for multiple babies. This will also be a better investment than buying a new crib mattress each time you have another child.
Fireproof: One reason that standard crib mattresses contain so many chemicals is because they are treated with flame retardants. The purpose of these chemicals is to prevent your baby's mattress from catching on fire in case a fire happens. Unfortunately, the chemicals used are very dangerous for little ones. Organic crib mattresses are often still fireproof, so be sure to double check on that. You might have thought you can't get an organic mattress that is fireproof, but most still meet the flammability requirements!
Firmness: If you feel a crib mattress, you will quickly notice that they aren't nearly as comfortable or plush as regular mattresses are. This is a good thing though! It keeps babies safe. Infants should sleep on a firmer surface in order to make sure they can breathe at all times. Some crib mattresses can be too plush or cause danger to little ones. If a crib mattress is listed as being plush, you should probably choose a different one in order to keep your baby safe.
Waterproofness: Little ones often have diaper leaks and other spills in their beds. Because of this, you should look for a crib mattress that has a waterproof cover. If you can't find one that you like, you can buy a waterproof cover to slide over any crib mattress. No parent wants to deal with cleaning a complicated crib mattress in the middle of the night. Having a waterproof mattress or cover simplifies the process and lets parents get back to bed sooner.
5 Best Organic Crib Mattress Reviews
All of the mattresses that have made this list are organic. They haven't been treated with toxic fireproof chemicals, but they meet the requirements for flammability. This means that you can worry less about fire hazards and chemicals at the same time.
Any of the mattresses we've selected would be an excellent resting spot for your little one!  You will want to think about your own personal preferences as you shop for a crib mattress. We'll outline a few of those major considerations and preferences later.
Best Organic Crib Mattress – Final Thoughts
Overall, we like the Naturepedic No Compromise Organic Cotton Classic 150 Seamless Dual Firmness Crib Mattress the most. It's got the most impressive features and has just about everything your little one needs. It should work for most babies and their parents.
Of course, as mentioned before, any of the mattresses on this list are excellent choices. They are all safer for your baby than some alternatives. They are also all relatively affordable. One bonus that most of these mattresses offer is that they can be used for both infants and toddlers. Some are even double sided to give your infant a firm surface and your toddler a plusher side.
It's important for your baby to have a cozy place to sleep. You also want to make sure that the organic crib mattress you choose is easy to wash and fits in the crib well. It might seem tricky to find the perfect crib mattress, but it will be well worth it!
When you are making your final decision, you should keep our list of considerations in mind so that you make the best choice for your little one. The factors that come into play should be the ones that matter the most to you. This should help you to narrow your search!