When it comes to shopping for a mattress, you'll quickly find that there are an overwhelming number of options available.
Quick Look at Our Top Pick:
DreamCloud Memory Foam Mattress
Our Top choice is DreamCloud 's Memory Foam Mattress due to its advanced technology,  breathability and  overall level of comfort.
FEATURES
Good combination of comfort and support
Suitable for all sleeping positions
Good cooling
Motion isolation properties
Lifetime warranty
There are mattresses that are perfect for people of any shape, size, or sleeping position. You are sure to find something that works well for you and your partner.
In addition to the standard mattress considerations that most of us can think of, like firmness or size, you can find mattresses made of different materials. Some of these materials are even organic!
If you're concerned about the safety of your current mattress's materials, it might be time to upgrade to an organic option.
Standard mattresses contain chemicals, which can result in diseases and respiratory issues. This is just what they're made of and sometimes can be caused by the flame retardants used.
Luckily, organic mattresses are available, and they don't have any of those toxic chemicals. It's easier to find organic mattresses than you might think.
It turns out that there are plenty of options out there, so we decided to narrow it down for you.
First, we'll get into the considerations that you should make when you're shopping for an organic or non toxic mattress. Then we'll take a look at five of the best non toxic mattress options.
What Should I Consider When Shopping for an Organic Mattress?
Mattress shopping can be a tricky task. There's a lot to keep track of, and it's easy to become overwhelmed with all of the options you have.
We've outlined a few of the most important considerations that you should keep in mind when you're on the hunt for a new mattress.
Note that these will vary by individual, so you don't need to stick to the list. Your own consideration list will be tailored to your wants and needs.
It can be a good idea to come up with a few of your top concerns before you go out shopping. If a warranty is important to you, keep that at the top of your list.
Warranty: When you're shopping for a mattress, you will quickly notice how big of an investment it is. Mattresses can be expensive, so you want to make sure that you're getting a high-quality item. Warranties are helpful because they give you the peace of mind you need. With a warranty, your mattress can often be repaired or replaced if any issues arise.
Not all companies offer warranties, so this can be something to look for. It shouldn't be the final determiner of your mattress decision, but it can be a nice bonus! If anything, it can take some of the worry out of making this big purchase!
Size: Before you go shopping for a new mattress, make sure you know which size you're looking for. Most mattresses come in standard sizes, but some aren't available in all sizes. Additionally, it can be worthwhile to measure your bed or your existing mattress to make sure that the mattress you want to buy will work. This might seem unnecessary, but it's a helpful precaution to take.
If you've had your bed for a while, you might consider upgrading to a newer or nicer bed at the time that you're buying a new mattress. This can be a lot at once, but it's good timing if you were looking into both upgrades.
Material: Mattresses are available in many different materials. One isn't necessarily better than any of the others, but some will be more comfortable to you personally. If your previous mattress was made out of latex, you will know whether you want another latex mattress.
You can also use user reviews to see how your comfort preferences align with different materials.
Trial Periods: Some mattress companies offer trial periods. This is where you are able to use a mattress for a given amount of time before making a final decision. These are very helpful in ensuring that you choose the mattress that works best for you and your partner.
Not all mattress companies offer these trial periods, so you can't limit yourself too much. If you do have the option to buy a mattress with a trial period, you might want to opt for that! An average trial period is about 30 days, but this varies by company. A few companies even offer year-long trial periods, but these are rare. Make sure you know exactly what the trial period terms are so that you can return the mattress on time if needed.
Durability: Because mattresses can be so expensive and such big purchases, you'll want to make sure that you're getting a strong and durable mattress. Most people hope to use their mattress for more than a few years before searching for a replacement.
If you want your mattress to hold up, you should look for a strong and durable mattress. One of the best ways to do this is to look at user reviews from people who have used a mattress for a couple of years. This will help you to know how well the mattress actually holds up.
In an effort to keep your mattress in good shape for a longer amount of time, you might consider investing in a mattress cover. If you want to keep things organic, you can look for the best organic mattress protector.
User: Depending on which member of your family will be using the new mattress, there are some extra considerations to keep in mind. For example, if a potty training toddler is using the mattress, you will want to buy a waterproof mattress. If your young child is going to be using a mattress, it can be useful to search for the best organic crib mattress or the best organic baby mattress! If you're sharing a bed with a partner, you will want a mattress that is quiet and won't move too much when somebody moves during the night.
These considerations will help to ensure everyone gets a good night's sleep!
7 Best Organic Mattress Reviews
DreamCloud Sleep
If you're looking for an organic hybrid mattress but other brands prove too pricey, you might consider a compromise. Time for full disclosure: The DreamCloud Sleep mattress is not organic, however the company does use quality natural materials in its construction.
The DreamCloud Sleep mattress features natural cashmere fiber in its luxurious tufted Euro top cover. Gel-infused memory foam, super-soft quilted memory foam, and hypoallergenic natural latex combine to provide cooling support with medium-firm cushioning and a pleasant touch of bounce.
A 5-zone pocketed micro-coil compression system provides support for the entire body, and a base made with high-density foundation foam provides a combination of comfort and support while preventing motion from transferring between sleeping partners.
All foams are CertiPUR-US® Certified. This certification is granted to less than one percent of all mattresses on the market. It assures consumers that the materials used contain no formaldehyde, heavy metals, chemical flame retardants, harmful phthalates, or ozone depleting substances.
Besides medium-firm comfort and a surprisingly affordable price point, the DreamCloud Sleep mattress comes with a 365-night trial period to ensure that it's the right choice for the long run. Additionally, it is backed by DreamCloud's Everlong warranty, which provides protection against defects for as long as the original owner has the mattress.
Pros:
Affordable price
Natural components including cashmere and latex
Contains CertiPUR-US® certified foams
Built to last, less wasteful than many other options
Cons:
Contains natural materials but not organic ones
Not suitable for those with latex allergies
[/su_note]
Zinus Memory Foam Green Tea Mattress
The Zinus Memory Foam Green Tea Mattress is one of our favorites organic mattress options. It's made of green tea infused memory foam. It's also infused with castor natural seed oil, which works to fight against odors.
The memory foam works to relieve pressure and give users just enough support. The 12-inch option has 3 inches of memory foam, 2 inches of comfort foam, 3.5 inches of airflow high-density foam, and 3.5 inches of airflow high-density base support foam. I
t's CertiPUR certified for its durability, performance, and content.
It comes in four different thicknesses, including 6-inch, 8-inch, 10-inch, and 12-inch. Note that the price will increase as the thickness increases. The thicker versions will be plusher, which is important to note if you're looking for a firm mattress.
You can also purchase this mattress in any standard mattress size. It even comes in narrow twin and short queen options!
It comes with a 10-year warranty for protection!
Pros:
10-year warranty
Relieves pressure
Wide variety of thicknesses
Wide variety of sizes
Affordable
Cons:
Nectar
We'll preface this review by noting that Nectar mattresses contain some organic components, along with some CertiPUR-US® Certified materials that don't pass the organic test. So, why is this mattress making it onto our list of the best organic mattresses? In short, it's due to the company's commitment to sustainability. And, it's a bit less expensive than most organic mattresses, meaning a good compromise for those who have to place their budgets ahead of a 100 percent organic lifestyle.
Nectar mattresses feature Tencel cooling covers made with Fair Trade, GOTS certified organic, non-GMO cotton. That's quite a mouthful! This cotton is hand-picked for greater sustainability.
What about the memory foam? Nectar chooses foams made mostly with vegetable-based polyurethane, which is naturally resistant to dust mites and bedbugs. This is an excellent compromise for those with latex allergies; Nectar mattresses are latex free. All foams are CetiPUR-US® certified, meaning they contain no ozone depleting substances, formaldehyde, heavy metals, phthalates, or chemical flame retardants.
Besides Nectar's commitment to quality, the company prides itself on its' customers' satisfaction. These mattresses come with a 365-day trial period, which is plenty of time to determine whether it's the right choice. Nectar mattresses come in all sizes.
Pros:
Compatible with all beds and foundations, including adjustable ones
Made with eco-friendly materials
Designed for longevity, protecting your investment while reducing carbon footprint
Cons:
Not 100 percent organic
Too firm for some people
My Green Mattress Pure Echo Organic Cotton Natural Mattress
The My Green Mattress Pure Echo Organic Cotton Natural Mattress is a pretty impressive organic mattress. It falls a little bit on the expensive side, but it's worth the money if you can spend it.
Its thickness is 9.75 inches, and it doesn't come in any other options there. It's available in all of the standard sizes from twin to California king.
It's an innerspring mattress with a 3-zone pocketed coil mechanism. This is excellent at providing lumbar support to those who need it. It also has reduced motion transfer, which is helpful for anyone who shares a bed. Overall, it has a firm and supportive feel to it.
This mattress is made of GOTS certified organic cotton and eco-wool. This makes for a very clean and healthy sleeping surface.
It comes with a 100-night sleep trial and a 10-year warranty as well.
Pros:
100-night sleep trial
10-year warranty
Firm and supportive
Variety of sizes
Cons:
Might be too firm for some users
On the more expensive side
No alternative thickness options
Oliver Smith Organic Cotton 12 Inch Cool Memory Foam and Pocket Spring Mattress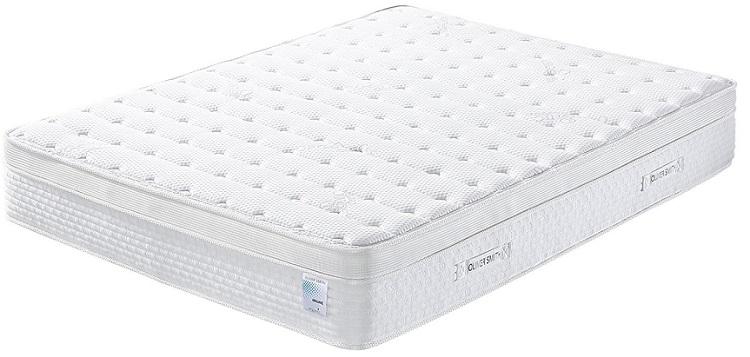 The Oliver Smith Organic Cotton 12 Inch Cool Memory Foam and Pocket Spring Mattress comes from a less well-known company, but that doesn't mean you'll be compromising on quality.
This mattress has a 100% natural organic cover. Its memory foam is both ventilated and cooling. This type of memory foam is the highest rated of all non toxic foams. The foam is 100% green foam certified.
It comes in twin, full, queen, and California king sizes. This is good enough for most people, but it will cause some limitations. The 12-inch option is the only thickness available. This makes for a very comfortable and plush mattress. It even has a Euro pillow top, which is extra plush.
The company hasn't published any warranty information, so there may not be one.
Pros:
Variety of sizes
Affordable
Comfortable and plush
Cons:
Might be too plush for some users
Only one thickness
No warranty information available
Eco Terra Natural Latex and Coil Spring Luxury Hybrid Mattress
The Eco Terra Natural Latex and Coil Spring Luxury Hybrid Mattress is a great option for anyone who is looking for an eco-friendly alternative to a traditional hybrid mattress. It's made up of 100% natural latex and fabric-encased coils.
It's 11 inches thick, and no other thicknesses are available. The mattress comes in all sizes from twin to king, so it is missing a couple of options. This will work for most users though.
It has a medium firm feel, so it's the perfect firmness for anyone. This can be a little bit too firm for users who opt for plush mattresses. The fabric is cotton, which is also backed with a soft foam material. This works to give you additional comfort.
The company hasn't published any warranty or trial information, so there may not be a warranty available.
This mattress is a little bit more expensive than some of the other mattresses on this list. It's definitely worth the money, but this may not work with everyone's budget. If you can afford it, you will be getting a great mattress!
Pros:
Medium firmness
Variety of sizes
Soft foam backing for added comfort
Great for side sleepers
Cons:
Might be too firm for some users
More expensive than alternatives
Only one thickness
No warranty information available
Sleep on Latex Pure Green Natural Latex Mattress
The Sleep on Latex Pure Green Natural Latex Mattress is the last on our list, but it's not a bad choice. It's made out of natural latex foam. Its cover is made of a blend of organic cotton and organic wool.
It's the best organic latex mattress that we've taken a look at. The latex is very comfortable and durable for most users. It ends up being very supportive in this particular mattress. It comes in a variety of standard sizes, so most people should be able to use this mattress. It does only come in one thickness though, which is nine inches.
The company hasn't published any warranty or trial information, so it may be non-existent.
Pros:
Variety of sizes
Very supportive
Medium firmness
Great for back sleepers
Cons:
More expensive than alternatives
Might be too firm for users
No warranty information
Final Thoughts
Our favorite organic mattress is the Zinus Memory Foam Green Tea Mattress. It has lots of amazing features to help you to sleep well and comfortably. It's affordable, but it isn't too cheap or flimsy.
The Zinus Memory Foam Green Tea Mattress has several layers of foam, which come together to make a very comfortable but firm mattress. It's a great choice!
Any of the other mattresses on this list will give you a comfortable place to sleep. You can't go wrong with any of them! We did rank them in order of our personal preferences, but be sure to keep your own thoughts in mind.
Everybody is different and has certain things in mind when looking for a new mattress.
Be sure to make a list of your considerations to help you make a final decision. Knowing what's most important to you can lead you to narrow your search until you find exactly what you want. It can be useful to come up with these considerations prior to actually going shopping.
Buying an organic non-toxic mattress can be an excellent start when it comes to wanting to take care of yourself.
In addition to having benefits for your own health, organic mattresses are healthier for the world around us.