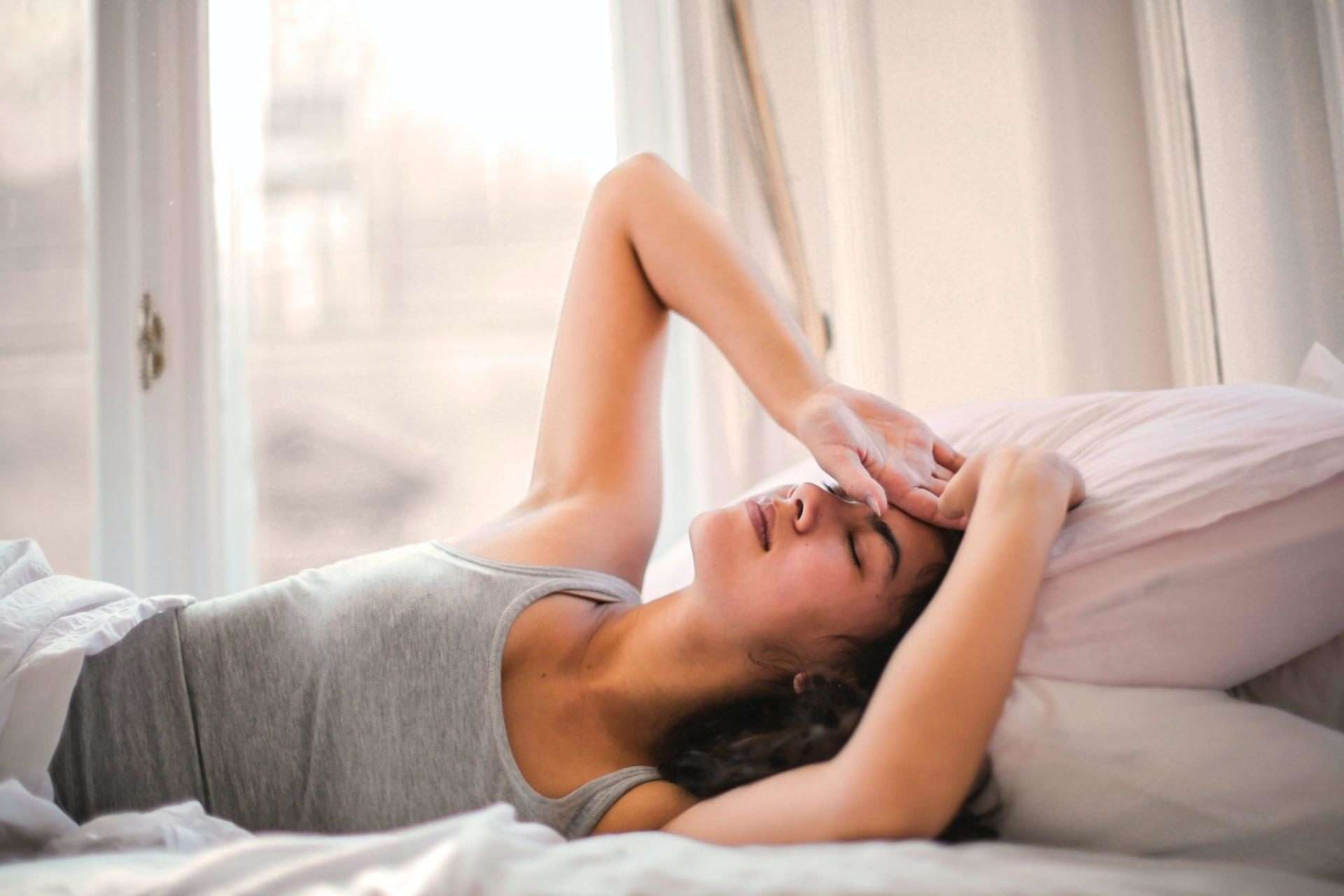 Simply put, a pillow speaker or speaker pillow is an electronic device used for playing music and other sounds during sleep. They are mainly small and portable, specifically designed to work with sleeping pads. It increases the possibility of placing them underneath the pillow, or just anywhere (but close to it) that one may prefer. 
Small portable speakers are often single units that release loud audio, but pillow speaker models are designed differently. The flat under-pillow type has a small, flat design and can send sound through layers of material and fit right under the pad. This type lets you listen in without disturbing your partner in any way. 
Then there's the pillow with built-in speaker variety. They are your typical full-fledged sleeping pillows with the addition of a speaker within them, meaning you can get a pad and a sound source all in one. Pillow speakers can be particularly useful in ensuring you sleep longer and much better. The goal here is to inform you about them and help you find the right option.
An Overview of the Top 5 Picks
The Best Pillow Speakers: Reviews
Based on extensive research and consideration of customer opinions, here are the best five pillow speakers currently available: 
This top-class pillow speaker is a combination of both sleekness and high audio quality. If you are looking for a speaker for your pillow, this is just the one. You get to enjoy clear sound even if placed under the sleeping pad due to its high audio capability.
Pros:
High audio quality
In-line volume control
Amplifier feature
Cons:
Short battery life when using amplifier
Low durability
The Sangean PS-300 Pillow Speaker is a small, flat, and lightweight model placed anywhere (under or above the pillow). It has a standard 3.5mm jack plug compatible with just about any device, including iPhones and iPads. Its standard 6.5-foot long cord equals no strain in reaching for any audio device. This model is set apart from other pillow speakers by its inbuilt amplifier, making a sound loud enough for others to hear when switched on.
Users of this model find its high audio quality as its most outstanding feature. Combined with an affordable price, this speaker deserves nothing but the top spot.
This speaker stands out with its affordable price and high comfortability rate combined.
Pros:
Affordable
Comfortable
Removable/washable soft padding
Sleep timer
Dual-mode (voice or music)
Cons:
Needs 2 AAA batteries for amplifier use
Single speaker
The Soft Speaker 3 from C. Crane is a favorite among fellow pillow speakers. Customers revere it for not only its comfortability but also its user-friendliness. This model has a useful control box built into its 78 inches long cord, making it easy to carry out amplifier and volume control functions. The speaker is enclosed within soft removable padding, making it one that can be placed directly underneath your ear to enjoy the full sound quality. 
This speaker also has a sleep timer feature of 1, 4, or 8 hours, making saving battery life easy. There's also the choice of alternating between the two sound modes -voice or music modes- making it possible to enjoy listening to anything conveniently.
This model's trump card is undoubtedly its comfortability, yet it can also emit clear quality audio even through thick pillows. It is your go-to if you want to enjoy deep slumber at any time of the day.
As its name suggests, this model is more than just your average pillow with an inbuilt speaker. It is the definition of luxury where pillow speakers are concerned. 
Pros:
Amazing sound quality
Comfortable
Smart functions
Remote control
Long battery life
Cons:
Expensive
Requires app for audio function
The ZEEQ Smart Pillow does more than play audio during bed hours. It can be connected to other smart devices in the house, tracks sleep, stops snoring, and is customized for maximum comfort. Users get a remote control device for carrying out operations. It also has a sleep and music timer feature plus a removable memory foam fill. Its eight inbuilt speakers make sure the audio quality is on the high side.
Designed for mainly wireless operations and IOS compatibility, this model is strictly for those ready to deal with its sophisticated requirements. You can give it a shot if you want to experience that luxurious feel as you sleep.
The PillowSonic FM 15 is a long flat speaker that fits mainly under any pillow. It is designed with a balanced rectangular silhouette making it easier to slide under the pillow. Plus, its foam layers ensure you do not feel pressure from the speakers as you sleep.
Pros:
Great under pillow fit
Dual stereo speakers
In-line volume control
Heightened music experience
No batteries
Cons:
The PillowSonic FM 15 is built for the task of being placed under the pillow. This model prioritizes playing music with its two micro speakers placed side by side to give that modern stereo feel. With an included cable to extend cord length, it can reach any smart device in the room, including the TV, without any strain. Like other speakers, it has a 3.5mm audio jack.
The dual speakers of the FM 15 produce a clear stereo sound, which gets muffled if you use a thick pillow. But you can still enjoy the great sound and improved music experience this speaker has to offer.
This particular pillow speaker from C. Crane is well known for its loud volume, even as a single speaker. Compared to the C. Crane Speaker 3, it lacks in size and control but boasts a simpler design and similar audio quality.
Pros:
Loud volume
In-line volume control
No batteries neede
Cons:
No amplifier
Not ideal for thick pillows
Smaller than version 3, this model still has all it takes to be the right pillow speaker. Alongside a simple design with cord length the same as version 3, you get a long reach and a good sound quality. Its in-line volume control makes it easy to raise or reduce sound intensity. If you want a simplistic and easy-to-use pillow speaker, the C. Crane soft speaker 2 should be on the top of your list.
Tips on Picking the Best Pillow Speaker
Do you want to buy the right pillow speaker? You would need some guidelines when going through different options to ensure you make the right choice.
Material and Design: Picking the right pillow speaker begins with selecting the design material type you desire. This issue rests solely on preference. You may prefer models with a soft plush cover surrounding the speaker, making it more suitable for being placed on the pillow or underneath your ear. Others may choose models that offer less comfort but give them a louder, clearer sound even when placed under the pillow.  You can also opt for models with longer speakers, usually of a normal head length, to enjoy sound on both ears. Those who do not want to be bothered with choosing a suitable placement spot can opt for the two in one model; a sleeping pad with a built-in sound source.
Power Source: Some pillow speaker models require batteries, while others use any smart device as a power source. If your pick is the type that needs batteries, look out for features such as amplifiers or preloaded soundtracks, which drain the battery quicker. Most people prefer models without an independent power source, so they don't have to bother about charging it or replacing the batteries.
Sound Quality and Volume Control: You will not get a cinematic sound experience with any of these speakers. But you can watch out for models with an improved sound quality capable of penetrating layers of materials. If you are not placing the sound source directly in your ear, then you need one loud and clear enough for you to enjoy without disturbing others. Also, look out for speakers that let you conveniently adjust the volume with an in-line control system. Other models can allow volume adjustment from the smart device or music player connected to the speaker.
Cord Length: You want a pillow speaker with a standard cord length of 6 to 6.5 feet. There are models with an extension, although it is not advisable to go for any below the standard to avoid a case of cords not being long enough. You would want to use it with any device in the desired position without strain. The issue of cord length is dismissible by going for wireless models that use Bluetooth for connectivity.
Additional Features: Pillow speakers generally work via a connecting cable from the speaker to MP3 or smart devices, which may or may not serve as a power source. New models tend to have pre-recorded soundtracks and other features, such as wireless connectivity (Bluetooth). There is also a timer you can set to turn off the device at a required time automatically.
Why Pillow Speakers
Several individuals prefer natural sleeping aids when they cannot enjoy deep slumber, but that may not cut it. Besides the fact that pillow speakers can enhance your sleep quality, you also stand to reap amazing benefits if you choose to sow into them. First off, if you are the type that has experience in using earbuds, sleeping headphones, or headbands, you'll discover that they tend to fall off after some time. 
Sleeping headphones may not fall off, but you could experience some pain after using them for a while., especially if you are a side sleeper. With pillow speakers, you are guaranteed to have a safe sleep and soothing sounds till you completely drift off. A downside to using pillow speakers is the reduction in sound quality, but when compared to safety, plus other benefits, pillow speakers come out on top. 
Pillow speakers are also useful to those with specific health challenges, such as tinnitus, needing sound therapy. Pillow speakers make great tinnitus maskers as they release music or background sounds that calm the hissing, buzzing, whooshing, whistling, or other non-existent noise. Those in need of sound therapy due to stress, depression, anxiety, PTSD, insomnia, or pain can find using pillow speakers a big help.
Conclusion
According to an article on the USNEWS website, sleep medication is not always the remedy for sleeping disorders. While every pillow speaker on this list can do the job satisfactorily, the best pillow speaker is one that meets your requirements perfectly. Whether it's something sleek, soft, small, or loud you want, there is an option for everyone.