Who Are Adjustable Beds Good For?
Adjustable beds are for everyone, regardless of age, height or weight and you can find a bed that best suits your body and needs. These beds are so much more helpful for you in your lifestyle and good for your body, because of the way it allows your body to be positioned.
Quick Look at Our Top Picks
Ergonomics is a fascinating study that has been getting a lot of attention lately because it studies how humans and objects interact. This study has risen in popularity throughout the years as people have been finding their bodies stressed and strained to fit to relatively flat objects.
Ergonomics is trying to make inanimate objects designed to better suit our bodies rather than we forcing our bodies to conform to objects, causing our joints, muscles and bones to twist and turn in unnecessary ways. When you force your hands to lay flat on a computer keyboard or your body to lay flat against a bed, it is causing your body to strain in ways it does not need to.
Beds that are adjustable allow the bed to conform to the natural curve of your body and keep each of your joints supported. They are ergonomic and help you to fully relax, rest and take strain that perhaps you have not even felt throughout the day, off of you.
Quick Look at Our Top Pick:
iDealBed 4i Custom Adjustable Bed Base
iDealBed was the obvious editor's choice because it not only comes adjustable with bonuses like the other beds, but it comes with bonus features like memory mode and massage settings.
FEATURES
Zero-gravity mode
Under bed light
Low-hassle setup
Affordable
Special considerations for creating this list
Remote control: For your convenience, I chose beds that came equipped with a remote control or two in order to make moving the bed around more easy.
Easy to adjust: The beds should be easy to set up but more importantly afterward it should be easy for you to adjust from one position to another.
Not only split style option: The beds may be more comfortable as a split style but i chose beds that can be either split style or as a single large bed.
Top 5 Adjustable Beds For You
Classic Brands Adjustable Bed Base
If you are looking for an ergonomic bed that conforms to your body and allows you to really take a load off at the end of the day and fully relax, then you may want the base to as easily adjustable as this one is. Classic Brands bed offers you the option to purchase the bed in either just the base or the base with an adjustable mattress as well, and the bed can be raised or lowered to the optimal height as well.
The base itself is not as expensive as some can be to purchase and even when you buy the base with the mattress together it is on the lower end of the cost. This bed allows you to lift your feet, arch your back up and prop up your shoulders if you would like, but the entire bed moves, not just half of the bed, unless you purchase the split king size option.
You can actually order this bed for multiple different people and rooms in your house as it comes in various sizes. You can order a king size for your room, and the twin XL for your kids and queen for the guest room, or order the split king for you and your partner to get maximum comfort.
There are massage features on the bed so if you are looking to have your body relaxed even more then you may enjoy this feature.
Pros:
Ergonomic
Height adjustable
Available to purchase with adjustable mattress
Many size options
Cons:
Difficult set up
Attachments are fragile
LUCID L300 Adjustable Bed Base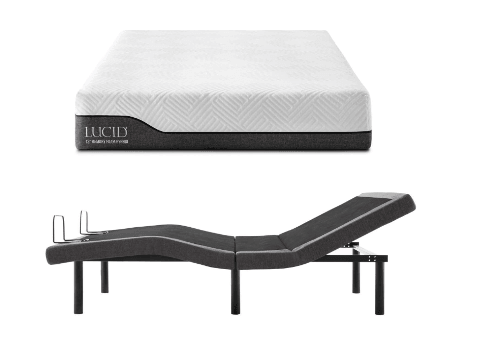 Lucid's L300 adjustable bed is another one that you can purchase as either a combination frame and mattress or just the frame by itself. This is a medium priced bed and frame and though it would cost you a bit, it would be truly being mindful of your sleep and how it affects your overall health.
There are USB charging points located on the sides of the bed so you can keep all of your most important gadgets charged throughout the night. The bed itself has a folding hinge on it which helps to make it ship and set up more easily.
There are six size options for this bed plus a split king size bed, and the size options include twin XL and California king as well as the typical twin, full, queen or king size. The mattress that you can order along with the bed is memory foam and extremely comfortable as well as durable as it is infused with aloe and bamboo charcoal.
Pros:
USB charging points
Folding hinge technology
California king size option
Aloe infused memory foam
Cons:
Mattress may be too firm
Chemical odor
iDealBed 4i Custom Adjustable Bed Base
iDealBed's adjustable bed is a bit more customizable than others because you can choose your memory mode from either Zero Gravity, Anti-snore or Flat mode. You can also use this bed for massages and you can choose from four different settings and three intensities.
The bed comes with a remote that lights up and allows you to comfortably adjust the settings on your bed without having to get up or move from your comfortable position. The bed also comes with a under the bed night light that keeps the room slightly lightened so that it is not too dark to sleep in your room each night.
The entire bed is created in the United States and every thing from the factory to the shipping is done with standards you can trust. The bed is extremely easy to assemble and is described as having only two steps to completion and low hassle.
Though you can purchase this frame with a mattress, you do not have to worry if you do not want to buy the mattress it comes with. The frame is compatible with all different kinds of mattresses.
Pros:
Memory sleep modes
Massage settings
Under bed light
Cons:
Mattress slips
Factory inaccuracies
LEGGET AND PLATT Performance Adjustable Bed Base
Legget and Platt has created a perfect performance adjustable bed base that is slightly on the pricey side but it is worth the buy in amount. The bed can handle up to seven hundred pounds of weight which allows for not just one or two people but an entire pajama party if you want.
The pillow is not only adjustable but it is split so you can change the bed to fit your specific needs without bothering your partner as he or she adjusts to his or her specific needs. The bed comes with two remotes to help you conveniently adjust the bed without having to become uncomfortable or get out of bed to change it.
This is a split king size bed that was manufactured in the United States by people you know and trust. There are multiple massage options for this bed but the motor that adjusts the bed as well as activates the massage is very quiet and will not disrupt your evening.
Pros:
Massage options
Split style
Quiet motor
King size
Cons:
Expensive
Difficult setup
2018 Prodigy 2.0 Split King Adjustable Bed
If you are a fan of split style beds then you may really enjoy this adjustable bed that comes with your choice to purchase it as a combination with a mattress or without. The bed and combination options are both a little more pricey than other options may be but perhaps the higher price accounts for better quality.
Regardless of whether you are a heavy or light sleeper, you may appreciate that this bed comes equipped with an alarm system that you actually enjoy. Rather than an extremely annoying buzzer or ear splitting ringing noise, this bed uses vibration technology to help you wake up easily, and more naturally.
The mattresses that you purchase to go with the adjustable bed frame are all made with cooling gels that help to keep the bed cool and you from sweating. It is a high density memory foam bed that comes with a removable and washable cover to help keep your bed clean and looking like new.
Pros:
Split style
Washable mattress cover
Massage option
Massage alarm
Cons:
Closing Thoughts
Adjustable beds are a way of the future, moving us toward more ergonomic lifestyles that promote wellness by lessening the strain and stress on our bodies. By allowing your body to be propped up into positions that keep you not only comfortable but supported as well, you are doing your body a favor.
Taking care of your body is one of the biggest responsibilities we have each have as humans, and should be something that keeps most of our attention. Your personal health and overall well being should not take a backseat in your life to anything else.
Sleep is of paramount importance in our lives as it, accompanied by lots of water and eating enough food, affects our bodies ability to function well. When you decide which bed and mattress you want to purchase, comfort is not enough but support as well needs to be a factor you consider.
Each bed on this list has been specifically chosen because they are highly supportive, durable, extremely comfortable and overall attractive beds to have. Once you feel like you have done enough research, you will be off shopping and selecting not only your new piece of furniture but a tool that should help you to be more healthy and overall to feel better.