It seems like so many of us these days fall under the category of being an "allergy sufferer" as not only food allergies but household allergens and seasonal allergies have been wreaking havoc on our systems. For this reason, the word "hypoallergenic" has just become a buzz word in society as all kinds of products and companies are marketing and labeling products as hypoallergenic.
Hypoallergenic means that the pillow is free from allergens and does not collect irritants that may cause you to have an allergic reaction throughout the evening. The pillow is made without products that easily spike allergies, and the entire factory it is produced in does not contain any of the most common allergens.
Quick Look At Our Top 5 Picks
IMAGE
PRODUCT

Made without harsh chemicals or metals
Large pillow sizes
Fully adjustable

VIEW LATEST PRICE →

2 pack for the price of the one
Mold and mildew free
Fade and stain resistant

VIEW LATEST PRICE →

Inexpensive two-pack
The US made
High thread count

VIEW LATEST PRICE →

A company you trust
Great for combination sleepers
Shredded memory foam

VIEW LATEST PRICE →

2-pack pillows
Sent without chemicals
Cheap

VIEW LATEST PRICE →
Special considerations for creating this list
Comfortable: These pillows have been selected because they are extremely comfortable not only for one time use but over a period of time.
Durable: These pillows are sturdy and hold up throughout the night and are durable enough to last you throughout the year.
Hypoallergenic: As in the title of this particular article, the pillows on this list are each hypoallergenic and many go the extra step to being dust mite resistant.
Top 5 Hypoallergenic Pillows
Coop Home Goods Premium Adjustable Pillow
As you may have noticed, the company uses the word "premium" in the title and marketing of this pillow because it is not just standard, common, or good but actually a superior pillow that can be called premium. This pillow is particularly wonderful because it is completely adjustable so you can make it firmer or flatter depending on which type of pillow you are more comfortable sleeping on.
This pillow is made of a material known as shredded visco elastic memory foam that is then encased with a mixed material that is made up of sixty percent polyester and forty percent bamboo rayon. The pillow is made completely in the United States by companies you know and people you live and work by.
These pillows are each made to be completely hypoallergenic to fit the criteria you are searching for and keep allergens off of the surface of your pillow and out of your body's systems. The pillow is also resistant to dust mites which is good for those of you who suffer from dust allergies as well as just keeping your pillow clean.
This pillow is made completely without ozone depleters, harsh chemicals or heavy metals so it is not only hypoallergenic but safe for you and your family. The pillow is machine washable and is available to you in one of two sizes, either queen or king size.
Pros:
Made without harsh chemicals or metals
Large pillow sizes
Fully adjustable
Dust mite resistant
Cons:
Non-cotton cover
Some report an odor upon arrival
Beckham Hotel Collection Gel Pillow (2-Pack)
If you are a hot sleeper or one who simply has overheated in the past, and sweats through the evening, you may find that this particular hypoallergenic pillow is great for you, because it is made of cooling gel fibers. Though there is gel in the fiber work of this pillow, it does not keep the pillow from being extremely comfortable and even plush.
This pillow is hypoallergenic and keeps the allergens clear from irritants, but is also is dust mite, mildew and mold resistant regardless of where you leave the pillow in your house, workplace or guest home. Hypoallergenic is a really wonderful feature to have in your pillow, but being free of dust mites, mold and mildew is a step up because mold and mildew can cause some serious health problems.
These pillows are designed to be not only stain resistant but fade resistant as well which keeps your pillows looking clean and new. You can wash the pillows as often as you need to in order keep it in great condition, and can be purchase in queen or king size options.
Pros:
2 pack for the price of the one
Mold and mildew free
Fade and stain resistant
Machine washable
Cons:
Some report being overly soft
Some report having some neck pain
Digital Decor 2-pack Down Alternative Pillows
Digital Decor is a great option for two pack pillows at a reasonable price and even better than that it is a new option for filling of the pillow, as most are simply memory foam or shredded memory foam, while this is down alternative pillow. Though it is not all natural down, it is offering you another alternative while you are searching for a hypoallergenic pillow.
This pillow is completely manufactured, cleaned, packaged, and sent by American workers with standards that are used and trusted in the United States. The company boasts that this pillow is made with only the highest quality products so when you order the two pillows you can rest assured that you are making a good purchase.
The casing of the pillow is made from a fiber that you know, trust and love, and it is completely made from only one fiber and that is 100% hypoallergenic cotton. The thread count of this pillow is a high one, at 200, which makes it more plush, softer and smoother against your face when you go to sleep each night.
You can order these pillows in a two pack for a very reasonable price that you could only buy one of if you chose a typical down pillow. The pillows are specifically designed so that you can sleep on the pillow in any position that you would feel the most comfortable in, be it on your back, stomach, or on your side.
Pros:
Inexpensive two-pack
The US made
High thread count
Perfect for all positions
Cons:
Not actually down
Maybe too soft
Snuggle-Pedic Shredded Bamboo Memory Foam Pillow
Snuggle-pedic sounds like a company you want to love and trust just by hearing the name, i mean, snuggling is something we all love and it makes us feel not only comfortable, but warm and fuzzy and it gets us through some rough times. But the name isn't the only thing that is important in this company, they also specialize in creating quality sleep products, that are sturdy, comfortable and reliable.
This pillow seems to be an all-in-one kind of pillow that takes care of many issues people have with pillows and makes it available to all different kind of sleepers. The pillow is marketed as being great for combination sleepers which means it is great for those who sleep on their back, stomach, side or even all three of the types each time.
The pillow is made of hypoallergenic shredded memory foam that allows you to completely adjust the pillow to your specific fill needs, rather firm or soft. This is also what makes the pillow great for the wide range of sleeping styles.
While it is great that this pillow is made to be hypoallergenic, it is even better that is sent in an eco-friendly way which most pillows do now come with. The pillows are made without ozone depleters, harsh chemicals or heavy metals from the beginning of the process to the end.
The pillow can be purchased in one of three different sizing options from standard, to queen to king size pillows. You can choose your pillow and test it out for 120 days and if you find an issue you can make good on your warranty and send it back, hassle-free.
Pros:
A company you trust
Great for combination sleepers
Shredded memory foam
120-day warranty
Cons:
Some report neck pain
Slightly expensive
In Style Furnishings 2-pack Down Alternative Pillows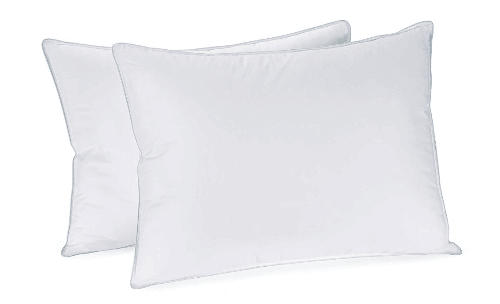 In Style Furnishings has created a 2-pack option of down alternative pillows that are hypoallergenic and comfortable. The pillows are relatively cheap and comes in two size options in either the standard or queen size pillow.
The pillows are not only made hypoallergenically but they are shipped without chemicals and irritants that you do not want in your home. You can wash these pillows easily by spot cleaning them or you can put it in the washer to get it clean.
The pillow needs time to be unwrapped, fluffed and come to the full capacity, so give it a little time to fluff up. The pillow is dust, mold and mildew free as well as hypoallergenic in order to keep absolutely all irritants out of your sleep cycle.
Pros:
2-pack pillows
Sent without chemicals
Cheap
Dust. mold and mildew resistant
Cons:
Some report it is very firm
Some report not supportive enough
Closing Thoughts
If you are looking to have a good night's rest without an issue with your allergies or to have more allergens stick to the pillow. Hypoallergenic pillows are made with the consumers in mind, so they are very careful when creating the pillows without allergens to irritate you.
When you choose a pillow, make sure that you read the label to know exactly what materials are in the pillow and that they are natural and do not contain heavy metals or toxins that would irritate your sleep. While no pillow is completely full proof, a pillow that is free from allergens will help you to breathe better which helps you to sleep better and get on to a better day.